9 Shark Movies You Should Watch During Shark Week (That Aren't 'Jaws')!
07-26-2022 by Hayden Roberts and Katie Marzullo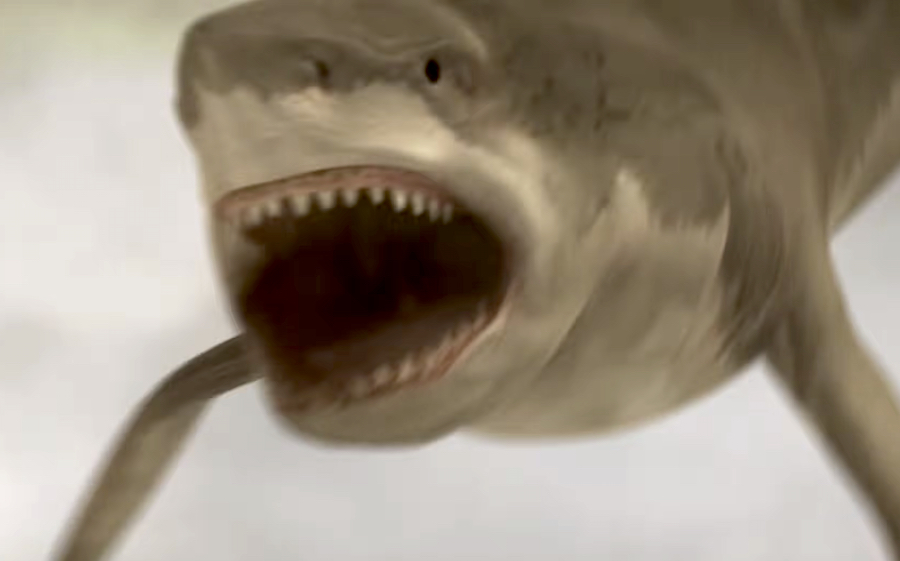 (SyFy)
Nothing says summer like a classic shark thriller.
Nearly 50 years ago, Steven Spielberg spooked audiences right out of the water with his iconic thriller Jaws. Not only did the film set into motion the trend of the Summer blockbuster, but it subsequently created an entirely new sub-genre of films. Shark films, which often fall under the purview of thriller, horror, "creature features", and sci-fi categories, have become a Summer staple. Ever since the release of Jaws, countless other filmmakers have tried to replicate the terror that Spielberg inflicted on audiences in the summer of 1975. While some shark movies have garnered their own reputations and fanbases, very few have even come close to gaining the worldwide attention and esteem that Jaws has. Despite all of this, shark movies continue to be made. Even in 2022, we still see the release of new shark movies every Summer.
If you're anything like me, then you've probably seen every film in the Jaws franchise at least three times. In fact, I've seen most of the notable shark movies out there. I just can't get enough! While the Jaws films are great to revisit time and time again, there are so many other shark films out there that deserve some recognition too.
Here are 7 other shark movies to sink your teeth into!
1. The Shallows (2016)
This film is an absolute no-brainer when it comes to handing out shark movie recommendations. Blake Lively gives an impressive performance, spending most of her time alone on screen. Furthermore, her character, Nancy, is a fully-developed, well-rounded character that the audience is able to connect to and root for. The Shallows is also visually appealing, as the cinematography and overall camera work put you right alongside Nancy in her fight for survival.
The Shallows is available to stream on Peacock.
2. 47 Meters Down: Uncaged (2019)
Although this film brought in around $15 million less than its 2017 predecessor 47 Meters Down, 47 Meters Down: Uncaged is notably more entertaining. The film follows 4 teen girls who become trapped while exploring underwater ruins. Oh, and there are sharks, of course. While this film may not be winning any Oscars, the combination of sharks with a claustrophobic setting and the threat of a dwindling air supply is cause for a highly suspenseful film that gets the blood pumping.
47 Meters Down: Uncaged is available to stream on Amazon Prime.
3. Sharknado 2: The Second One (2014)
Did you really expect to get through this list without seeing the addition of a Sharknado movie? The infamously bad Syfy channel franchise has become a rather successful joke in the past 9 years since the release of the first film. The outrageous plots and hilariously bad special effects somehow make these films endearing and loveable in a way that not even I can quite understand. Although the franchise boasts 6 films (so far), the second installment is by far the best with its introduction of celebrity cameos and slightly better effects. Sharknado 2: The Second One may be the stupidest movie you'll ever see and simultaneously love.
Sharknado 2: The Second One is available to stream on Amazon Prime.
4. Open Water (2003)
Open Water follows a couple stranded in shark-infested waters after being accidentally left behind by their scuba diving tour boat. Did I mention that it's based on a true story? In 1998, Eileen and Tom Lonergan really did get left behind while exploring the Great Barrier Reef. The intensely realistic film even gained recognition at the Sundance Film Festival, which sparked the beginning of the Open Water film franchise.
Open Water is available to stream on Amazon Prime.
5. Bait (2012)
This Australian film is a lesser-known shark flick, yet it features some recognizable actors such as Phoebe Tonkin ("The Originals") and Xavier Samuel (The Twilight Saga). The concept is a little more unusual than your typical shark film, as it takes place entirely inside of a flooded supermarket and parking garage. Although the film may not be as professionally produced as Jaws or The Shallows, it is still enjoyable to watch with quite a few laughs thrown in throughout.
Bait is available to stream on Amazon Prime and Tubi.
6. The Reef (2010)
The Reef is another Australian shark thriller with a classic plot. A group of friends find themselves stranded in shark-infested waters after their boat capsizes. This film, like Open Water, is also based on a true story. However, The Reef is inspired by the retellings of lone survivor Ray Boundy. Furthermore, the unrelated sequel of the film, The Reef: Stalked, will be streaming on Shudder this July 29. 
The Reef is available to stream on Amazon Prime and Tubi.
7. Deep Blue Sea (1999)
As far as shark movies competing with Jaws goes, Deep Blue Sea might be the only one so far that has given the classic a run for its money. In this film, sharks are having their DNA altered in order to harvest a cure for Alzheimer's Disease, with one major caveat -- it has made the sharks a lot smarter. As expected, things get out of hand on the isolated island research facility where the sharks are being kept and experimented on, and, of course, not everyone gets out alive. Featuring tons of heart-pounded, suspenseful moments, jump scares, and just plain creepy imagery, Deep Blue Sea is a must-watch for any shark movie fan.
Deep Blue Sea is available to stream on HBO Max.
8. The Meg (2018)
Action star Jason Statham takes on his most intimidating adversary yet -- a gigantic megalodon shark! Thought to be extinct, a deep-sea research crew comes dangerously face-to-face with the prehistoric monster, and, of course, Statham is the only rescue diver who can save them. If you like your sharks big -- and I mean BIG -- this is the movie for you! A sequel to this film, entitled The Meg 2: The Trench, is slated for a 2023 release.
The Meg is available to stream with a premium Hulu subscription.
9. Playing with Sharks: The Valerie Taylor Story (2021)
This list wouldn't be complete without a documentary about the creatures that we've come to both fear and love. Playing with Sharks: The Valerie Taylor Story follows the life of renowned photographer, diver, conservationist, and shark advocate Valerie Taylor, who is best known for filming the footage of real-life Great White sharks used in Jaws. The now 86-year-old has always been openly passionate about her love for sharks and her longing to help the often misunderstood sea creatures. This documentary chronicles her life, career, and work with sharks over the past seven decades.
Playing with Sharks: The Valerie Taylor Story is available to stream on Disney+.