6 Fierce Fall Fashion Trends!
Written by Caroline Thayer. Published: October 05 2015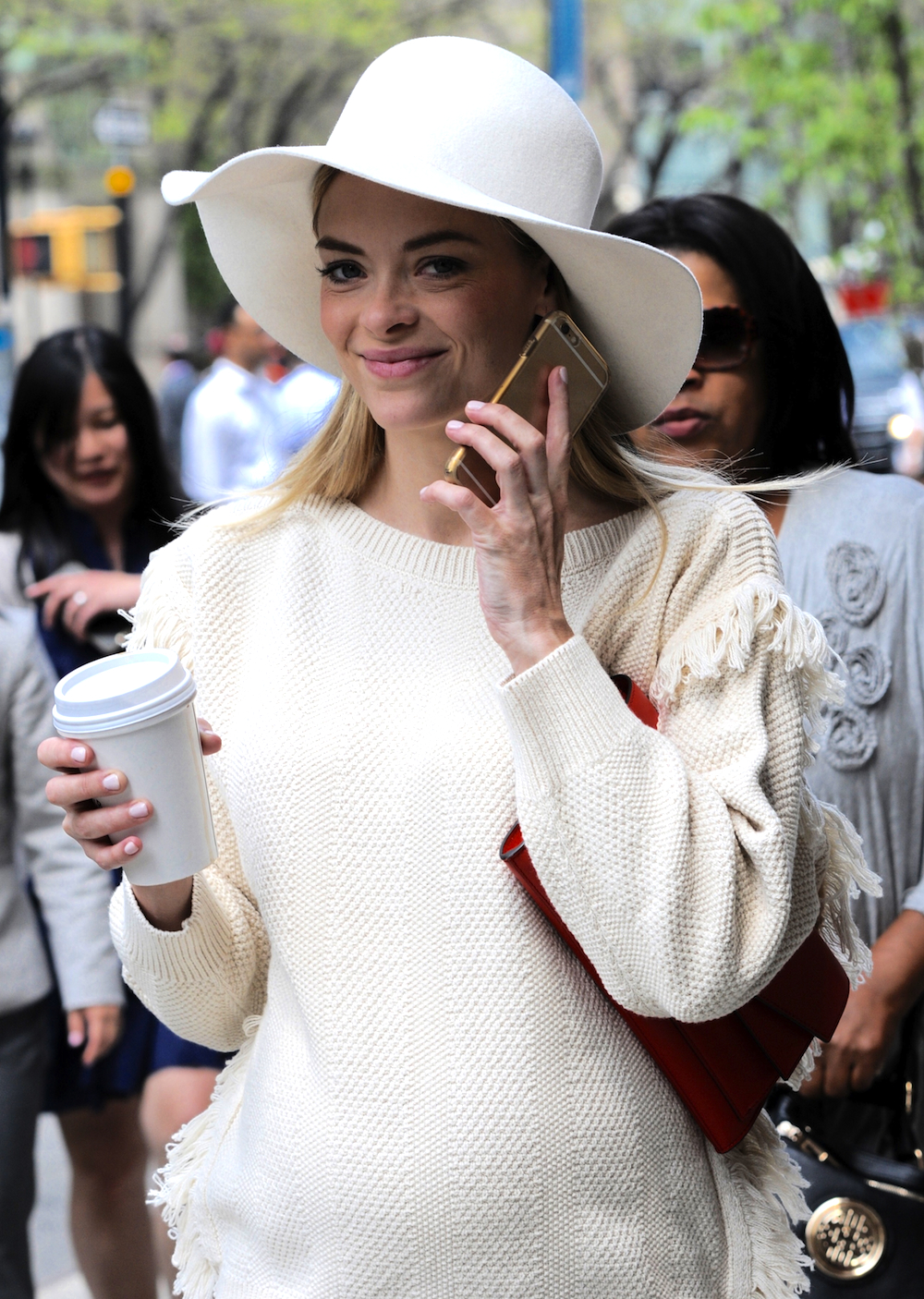 It's the beginning of October, so I guess that means I should start accepting that Summer is finally over and embrace the change that comes along with a new Autumn season. The best part about Summer ending (yes, I did just say that) is the inevitable sweater-weather and new opportunities to shake up your wardrobe. 
With the help of some of my favorite celebrity fashionistas, I have compiled a list of 6 must-have items for your Fall repertoire!
1. The Oversized Sweater
                                                                                                                                                                                 (TNYF/WENN)
Ah,Blake Lively, can you do no wrong? My style icon is seen here wearing a sandy-hued oversized knit sweater; a staple for Fall and a look that anyone can rock. Whether you want to dress this baggy sweater up or down, you can ensure an enviable look that screams coziness and comfort. I love this neutral color for Fall because you can continue to style the rest of your outfit around earthy, grunge tones, like Blake does with black, or opt to add some flare to your look with a bright-colored pant or scarf. If the weather isn't too cold, you can get away with not wearing a jacket – sometimes a constraint because it hides your outfit.
2. Maroon and White Tones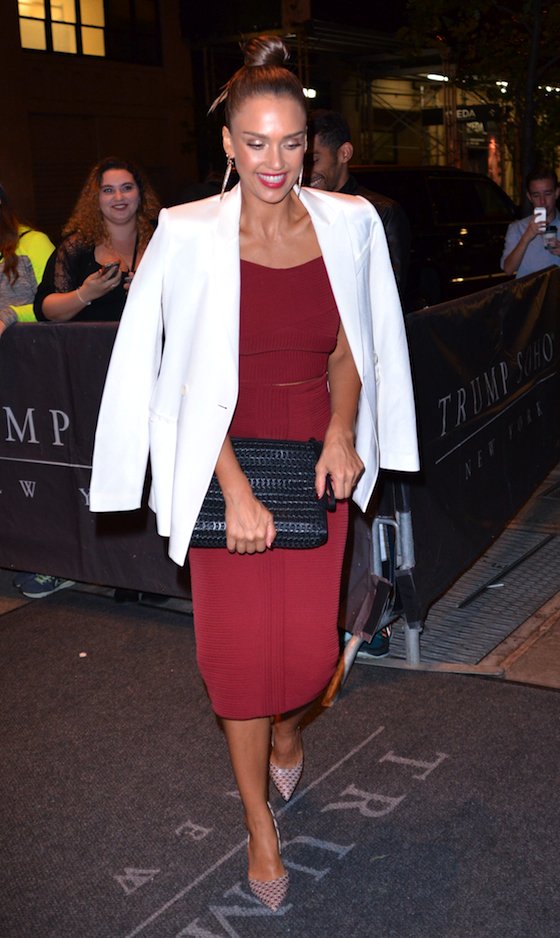 I honestly would like to know who came up with the rule that says you shouldn't wear white after Labor Day, because they are just plain wrong. Jessica Alba, always looking fabulous, rocks a contrasted, classy look of a deep maroon top/skirt set with a crisp white blazer. Maroon is a wonderful Fall color that complements the colors of nature in the late months of the year and looks good on everyone! White, especially worn alongside a rich color like maroon, can still be worn into the colder months. I have noticed that white blazers are VERY in right now, whether you wear them in a casual or dressy manor, and the change in season shouldn't stop you from draping a jacket like Jessica's on your shoulders for a walk through campus or out on the town. 
3. Hats
There are so many different types of hats that you could wear into the months of Fall, but my personal fav is the floppy hat. Yes, I am wearing a floppy hat as I write this right now. Who doesn't love a good hat – even Selena Gomez flashes an ecstatic smile as she spends her day in, yes, a floppy two-toned hat. The classic floppy hat, typically made from a canvas, felt material, or  sometimes wool, can dress up any outfit and make you look instantly trendy and important. Plus, if you wake up and are not feeling your hair, cover it up with a cute hat. Your hat doesn't always have to perfectly match your outfit – just look at Selena's gray and maroon (yes, my favorite Fall color) hat pieced with a black leather jacket – the colors are different but blend together for a relaxed Fall look. Whether your hat is two-toned or a solid color (gray, black, cream, navy, and brown are great staple colors for Fall), you'll add a great accessory to your outfit.
4.  Fringe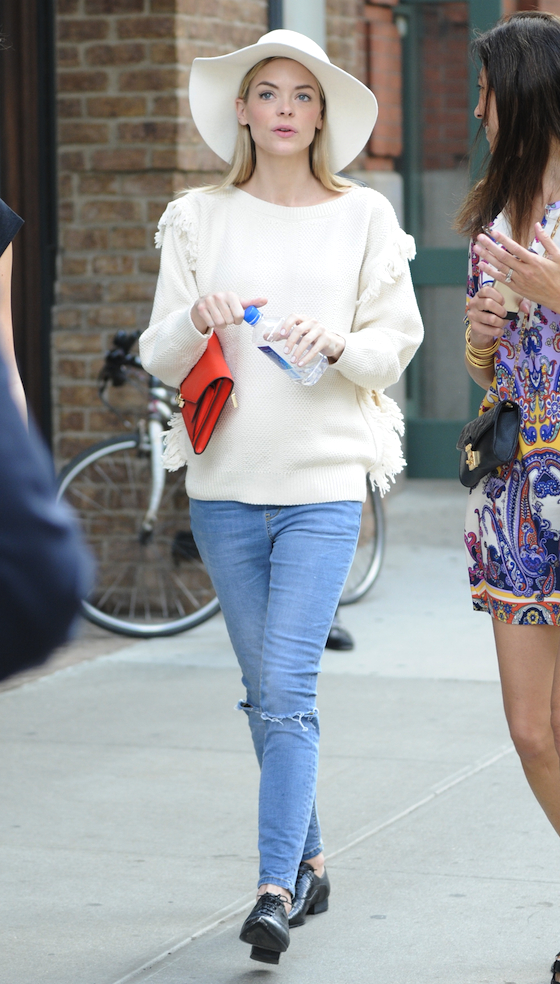 Jaime King is wearing an amazing sweater (trend #1 of my list), and it has fringe. Bohemian-styled wear is the hottest trend to be seen wearing all over the country right now, and I love how Jaime's simple cream sweater is flared with some fringe. Fringe is a great detail on dresses, tops, and skirts, and can drastically change a basic look into something more unique. Jaime has also checked trend #3 off her list (floppy hat), and trend #5 (stay tuned). A+ work, Jaime.
5. Distressed Jeans
Before the unbearable cold roles around, stock your closet with a perfect pair of distressed (ripped) jeans. I love the edgy lookChristina Milian has created here, not over-doing her outfit to a point where the jeans are too much! Distressed jeans are hard to work with; you have to let them be the foundation for your look. They work best when you don't try to overpower them with a busy top or too many accessories. Christina's jeans are perfect because the rips aren't too stringy and there isn't an abundant amount of exposure. I love when distressed jeans don't look "too perfect" – meaning the rips aren't strategically placed and designed, so try to find a quality pair that will look naturally trendy.
6. Long Vest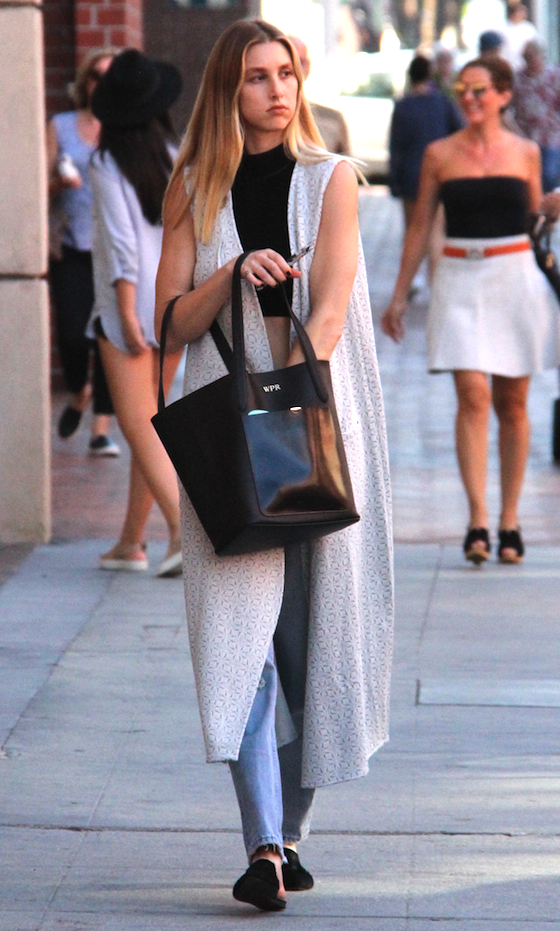 As with some of my other favorite trends, they have come in an out of style over the past decade, but my last look is something I haven't seen highlighted on the streets in quite some time. Whitney Port's slick, long cardi-vest is the perfect look for those warmer fall days. Whether you want to wear a long sleeve top underneath or a cropped tank like Whitney, you're really highlighting the vest. When you strut down the street in your long vest, just imagine how bomb you'll look as the extra fabric follows you in the wake of your walk – almost as if you were wearing a cape... almost as if you were a superhero. That's reason enough to buy a long vest.
So take these six style tips and do with them what you will. I know I need to have them all in my closet this Fall, and have seen uniquely worn all over the country. 
Summer may be over, but Fall fashion is here. Get excited!
(Photo via TNYF/WENN)
- Caroline Thayer, YH Contributing Writer