5 TV Dogs That Stole The Show!
06-01-2021 by Heather Barette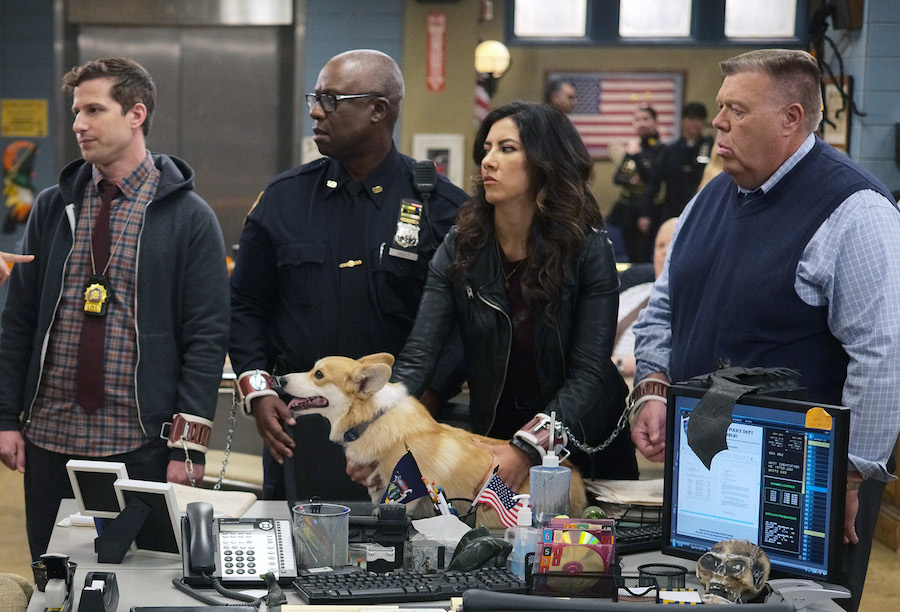 ( © Jordin Althaus/NBC/NBCU Photo Bank via Getty Images)  
I love dogs. You love dogs. Hollywood loves dogs. So here are my favorite TV dogs in no particular order, because … why not?
1. Brian from "Family Guy"
"Family Guy" is, in my opinion, one of the best comedies on television, one that I think gets overlooked due to the fact that its more ground-breaking rival "The Simpsons" is still on the air. But man, "Family Guy" has already been on for like 20+ years, and the fact that they've stayed SO relevant through all of that time is pretty incredible. The relationship between Brian and Stewie is definitely one of the show's highlights for me, and Brian makes me laugh just as much, if not more so, than the rest of the "Family Guy" crew. What Brian lacks in the "cuteness" and "fluffiness" departments he makes up for in spades with his Sinatra-esque voice (the trio of Stewie, Brian, and Frank Sinatra Jr. is still the stuff of legends) and his next-level snark. Gotta love that canine, man. Looking forward to many more years of Brian adventures (and misadventures) ahead!
2. Cheddar from "Brooklyn Nine-Nine"
This will probably be most people's favorite dog on the list, and I totally get it. Who doesn't love a Corgi? And this Corgi can seemingly do just about anything – he competed in a Halloween Heist, for goodness' sake! As far as behavior goes, forget it – Holt and Kevin have done a much better job with Cheddar than my mom and I have with our Bernedoodle Lucy, and we've been at the obedience game since she was 6 months old! Overall, Cheddar is impressive in just about everything he does, adorable as hell, and if he hasn't won you over at this point, I'm not sure any dog can.
3. Eddie from "Frasier"
The younger folks reading this article may not even know who Eddie is, and that's a real bummer. Go watch "Frasier", kids – if not for Frasier himself, Niles, Daphne, Roz, Martin, and company, then for Martin's spunky little Jack Russell Terrier. Eddie's personality is second-to none, and his loyalty to the otherwise-cynical Martin is almost as endearing as how uncomfortable he makes the uptight Frasier. I think many "Frasier" fans can see themselves in this multi-faceted canine, and that Seattle high-rise just wouldn't be the same without him. He's smart, he's funny, he's super cute – what more could you want? Interesting Fact: the pup who originally played Eddie, Moose, retired after the 8th season of the show and was replaced by his own son, Enzo!
4. Comet from "Full House"
Come on, you knew this list wouldn't be complete without Comet! We all grew up with this Golden Retriever on our TV sets, and I don't even think we realized at the time how lucky we were. Admittedly, I'm a sucker for a good Golden Retriever (do you know they STILL haven't won Best in Show at the dog show we all watch on Thanksgiving?! Like what??), and Comet for sure checks all of the boxes. And, I mean, is there a cuter television tandem than Michelle and Comet? Like those Olsen Twins, Comet got himself into a bit of trouble from time to time, but I think it's safe to say he had everybody in the Tanner house wrapped around his little paw. I guess the only downside to Comet is that he had to be replaced by Cosmo in "Fuller House" – which, like the sequel itself, didn't have nearly the same impact. Ugh, does anyone else have that theme song stuck in their head now? I'm not even that mad about it.
5. Stella from "Modern Family"
This may be the saddest thing you read for a while, but did you know that the French Bulldog who played Stella died just days after the filming of the series finale concluded? You only hope that she was treated like the queen she was on that "Modern Family" set. Similarly to the aforementioned Eddie, Stella made a crotchety old man happy (and others in her residence not-so happy) and provided plenty of laughs to go around. While I'm not the biggest French Bulldog fan in the whole world (I know, I know, I suck, sorry), I feel a kind of spiritual connection to this one; I'd like to think that my tendency to get into trouble is my charm, too. RIP Stella (and most of the other dogs on this list)!
I'm sure I missed some great pups, but these five are pretty awesome in their own ways. So what are you, #TeamBrian, #TeamCheddar, #TeamEddie, #TeamComet, or #TeamStella? This may be too much of a dilemma for me. Make sure to give your dog some extra love today; I know I will!