5 Reasons You Should Be Watching Comedy Central's "Broad City"!
Written by Nicole Koch. Published: January 16 2015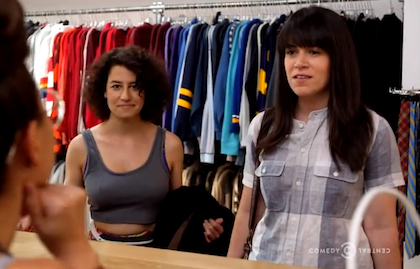 Congratulations to "Broad City" on their Season 3 renewal!
But wait, didn't Season 2 JUST premiere a couple nights ago? Oh, yes it did. Which brings me to my main point, in that "Broad City" really is THAT good and totally deserves another season.
The show stars real-life BFFs Abbi Jacobson andIlana Glazer as two twentysomethings trying to deal with life, love, and all of the bullsh--er, charm, that New York City has to offer. Comedy Central did themselves a favor by picking up the show, and here are 5 reasons why YOU need to jump on board if you haven't already:
1) It was originally a web series
The fact that "Broad City" started out on YouTube somehow just makes me love it even more. With videos only a few short minutes long, you get to witness two girls with hilariously candid jokes that people (especially NYC residents) can relate to, and root for them at the same time! How can you hate on these girls who hustled so hard for their success? Congrats on the TV series, ladies.           
2) Despite the comparisons, it's not "Girls"
No offense to the HBO show, because it can be funny sometimes. But when people compare the two, I see no competition. I mean, sure, both shows are about young Millennial women struggling in the Big Apple, but "Broad City" has the ability to make me actually LOL. Maybe it's because their female friendship doesn't seem scripted, or maybe it's because the girls aren't trying to be inspirational -- they're just being. Abbi and Ilana don't have to prove anything to anyone. They just want to make people laugh!
3) Abbi and Ilana look so… normal. And I love it!
You know when you watch a TV show and the characters totally look like, well,actors? Like you know you're watching something that isn't genuine? Women full of caked on makeup and hairspray, that could probably gain a few pounds, or twenty? Yeah, "Broad City" is pretty much the opposite of all that. Both of the girls look like girls you know in real life, and the jokes aren't centered around their normal, decent (and beautiful) physicality. Talk about refreshing!
4) The guest stars are awesome
Just to name a few… Seth Rogen (ugh, love you!) appears as Male Stacy (yes, a man named Stacy) and has a physical relationship with Abbi. SNL alums Rachel Dratch and Fred Armisen make cameos as well. And, of course, the amazingly talented funny genius Amy Poehler plays a chef at a fancy restaurant where the girls have birthday dinner! Comedic gold, I tell you!
5) Amy Poehler is an executive producer
I mean, what more can I say about this? You know it's gotta be good if this queen of comedy backs it up!
So what are you guys waiting for?
Check out the trailer for Season 2 below (Warning: NSFW due to some saucy language):
You can watch full episodes of Season 1 on Comedy Central's website, and tune in every Wednesday night at to catch all-new episodes!
(Screenshot via YouTube)
- Nicole Koch, YH Staff