5 Reasons to Start Watching "Outlander" Before Its Season 2 Premiere!
Written by Sarah Osman. Published: January 18 2016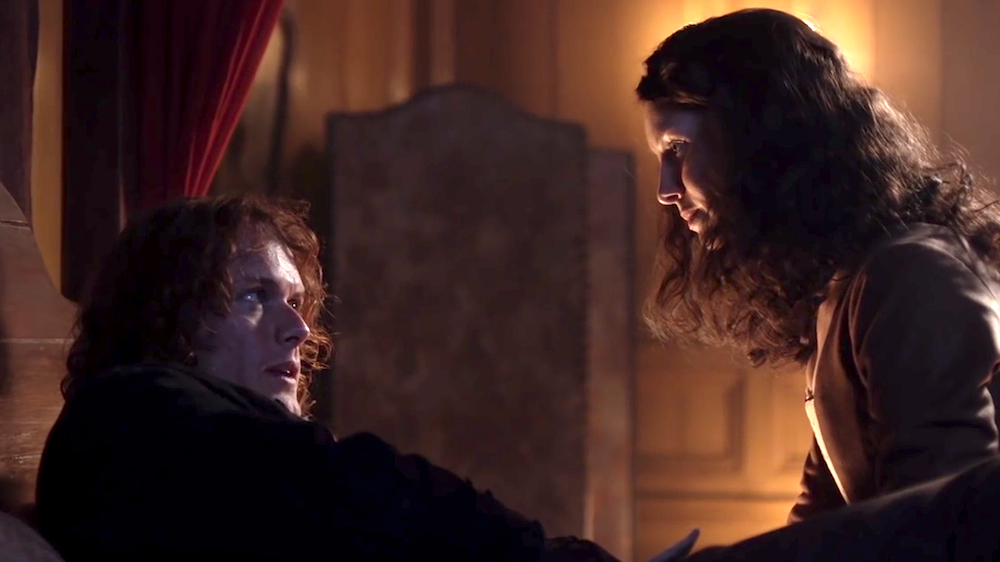 Strike up the bagpipes, "Outlander" fans -- Season 2 of Starz's sexy Scottish drama will return in April (which is so close, yet so far!), and there are going to be a few big changes, including a change of scenery (our favorites are headed to Paris!), new relatives, and even a time jump.
For those of you who haven't watched "Outlander", you are missing out -- there's a reason this show was named Most Exciting New Series in 2014 and was nominated for 3 Golden Globes this year (including Best Drama Series). Here's the deal: Set in the 1940s, Claire Randall (Caitriona Balfe), a British nurse, takes a dreamy holiday to Scotland with her husband Frank Randall (Tobias Menzies). After visiting a mysterious set of stones, she's transported back in time to 1743. While there, she faces one of Frank's dangerous ancestors, uses her nursing skills to heal the sick, and meets the fetching Scot Jamie Fraser (Sam Heughan). If you haven't watched "Outlander," there is plenty of time to catch up -- and if the synopsis isn't enough to entice you, then here are five more reasons on you need to check it out: 
1. Claire Randall is the ultimate feminine heroine: The female protagonist of "Outlander" is one of the coolest women on television today. Even before she was sent back in time to 1700s Scotland, she was a strong feminist during her own time. Claire served as a nurse for England during WWII, and she uses her medical knowledge to help heal everyone around her. While living in 1700s Scotland, Claire challenges gender roles and proves to the men that even though she may be just be a "lowly" woman, she can do anything that they can. If that's not enough to make you love Claire, she also takes charge of her own sexuality and swears like a sailor. If you're looking for a kickass heroine, then look no further than Claire Randall.
2. Jamie Fraser is a refreshing love interest: After being transported back in time to Scotland, Claire meets hunky scotsmen Jamie Fraser. Aside from the fact that Jamie is a bonafide Adonis, he's also surprisingly real for a love interest. While Jamie possesses many traits that are common in the hunky hero archetype, such as being funny, sweet, and gorgeous, he is far from perfect. He fights with Claire and his family, he isn't perfectly behaved, and although his and Claire's chemistry is red-hot, they still have problems (such as Claire's refusal to follow gender roles), and Jamie still has a lot to learn (like when to back down from a fight).
3. The cinematography is breathtaking: Every episode of "Outlander" includes shots of rolling emerald hills, spectacular forests, and impressive castles. It's like watching a fairy tale come to life. If you loved the cinematography in the Harry Potter films (which was also filmed in Scotland), then you will live for the beauty of "Outlander".
4. The writers handle controversial subjects well: Towards the end of the first season, "Outlander" veers into a highly sensitive topic. However, unlike other similar shows, "Outlander" doesn't include this particular plotline for shock value. After a certain character is sexually assauted, they struggle to deal with the aftermath of the incident, which will carry over into the next season. "Outlander's" shocking events actually affect their characters, just as any polarizing event would affect a normal human being, and the writers take care to depict such a traumatic event with sensitivity and not treat it as a simple plot device.
5. Scottish Men in Kilts: Enough said!
For those of you who have watched the first season, there's plenty to look forward to, including new relatives of Jamie's and a brand new location! Take a peek at the preview below:
And be sure to check out our YH Studio interview with Black Jack Randall himself, Tobias Menzies!
(Screenshot via YouTube)
- Sarah Osman, YH Contributing Writer