5 Reasons to Get Scott Eastwood on Your Radar!
Written by Nicole Koch. Published: March 05 2015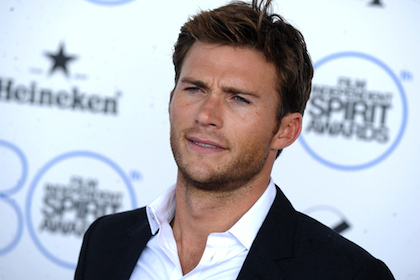 Okay, YH readers, I have a confession to make.
I didn't really know much about Clint Eastwood's handsome offspring until a few months ago. Scott Eastwoodis his name, and he is one of the dreamiest guys I've ever seen. Sigh… those dimples. Anyway, he's starring in an upcoming film called The Longest Ride (hitting theatres on April 10) and I am excited! The movie is based on Nicholas Sparks's 2013 book, so you know it's filled with idealistic romance and intense, dramatic scenes. And even though Sparks has taught us to keep our love standards high, us hopeless romantics can't help but wish those storylines would happen in real life.
Here's the trailer if you haven't seen it. Beware, it's smoldering hot!
I told you! He's perfection. Which leads me to the entire point of this article: a list of why you should start paying closer attention to the Next Gen Eastwood!
1. He's the son of a legend
Scott looked up to daddy Clint while growing up (I mean, how could you not?) and has even appeared in some of his movies, such as Flags of Our Fathers (2006) and Gran Torino (2008). Clint is amazing, so we can conclude that Scott is too!
2. He believes acting should be like storytelling
Scott wasn't sure if he was going to follow his father's footsteps in the beginning but fell in love with acting after high school. He's very specific and wants everyone to know that he doesn't want to be a "kid actor or glitzy pop star" but a "no bullshit leading man." His belief that acting should be like storytelling was inspired by his father's successes.
3. He claims to be an "old soul"
And enjoys music genres like blues and jazz. How sexy is that? I always swoon over men who embrace music from previous generations.
4. He's a really good model (like, really good)
Scott took over Paul Walker's gig and is the new face for DAVIDOFF's Cool Water fragrance. He's done other modeling jobs too, but how can you resist him looking soaking wet in a pretty blue ocean!?
5. He describes himself as a "surfer cowboy"
Scott grew up in California, so he's obsessed with the beach. But he claims he loves to fish, go horseback riding, and chill in the mountains. "Surfer Cowboy" is probably the hottest way a man can identify himself. And in The Longest Ride, he wears a cowboy hat like the entire time. SOLD.
Be sure to keep tabs on the hottie by following him on Instagram, Twitter, and Facebook.
(Photo via Dennis Van Tine/Future Image/WENN)
- Nicole Koch, YH Staff