5 Can't-Miss Shows This Winter!
Written by Sarah Osman. Published: January 17 2014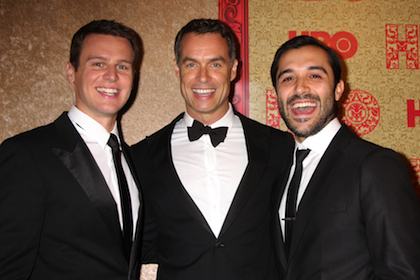 I'll admit this to you, my dear readers: I feel very conflicted about the end of the holiday season. I can't help but lament the dark houses in my neighborhood and the blank spot where my Christmas tree used to be. On the other hand, I don't miss feeling like I'm in the trenches of Normandy every time I go to the shopping mall, and since it's January, that means one thing: new and returning TV shows! Some of my favorites are once again gracing my television screen, while I am also curious for the fresh ones to start. Here are my top five picks for new and returning TV shows this winter:
1. "Girls" (HBO): My favorite dysfunctional New Yorkers are back! The third season of "Girls", which debuted on January 12, looks like it will be even crazier than the second (and hopefully less depressing). A slew of guest stars are set to appear this season, including Felicity Jones, Richard E. Grant, and Jessica Williams from "The Daily Show". Creator, writer, and star Lena Dunhamhas revealed that Hannah (Dunham) will actually attempt to have a relationship with her oddball boyfriend, Adam (Adam Driver), her wonderful GBF (Andrew Rannells) will return, and we will find out why Marnie (Allison Williams) and Charlie (Christopher Abbott) split. I think we're in for a great time!
2. "Enlisted" (Fox): This charming new sitcom from "Scrubs" creator Kevin Biegel looks like it has potential. Similar to the structure of "Scrubs", "Enlisted" is a workplace comedy, except that this time it's set in the military. The show follows three brothers (Geoff Stults,Chris Lowell, and Parker Young) in a rear detachment unit as they try to get along with one another. The rest of the unit includes other wackos who cause just as much mischief as the brothers. I'm hoping the show will have a vibe similar to "Brooklyn Nine Nine" and "Parks and Recreation", both of which have wonderful ensemble casts. "Enlisted" premiered January 10.
3. "Bates Motel" (A&E): I know that our own Katie Marzullo is excited for this drama to return! The delectable "Bates Motel" will return with a bang on March 3 and will focus on whether or not Norman (Freddie Highmore) and his mother Norma (Vera Farmiga) will be able to live out their dream. We'll learn whether or not Norman murdered his teacher, and Norma's estranged brother, Caleb (Kenny Johnson), whom Norma claimed raped her, will pop back up into her life. It looks like this season will be even more outrageous than the first!
4. "RuPaul's Drag Race" (Logo): The world's best drag queens are about to sashay in for a brand new season beginning Monday, February 10. This season's queens have even more charisma, uniqueness, nerve, and talent. I'm personally intrigued byCourtney Act, who is serving some serious fish and is originally from Australia. I find April Carrion's fashion sense to be incredibly edgy, andBenDeLaCreme has an adorable vintage look I'm eating up. Weigh in and let us know who you're rooting for this season!
5. "Looking" (HBO): This half-hour comedy has been described as the gay version of "Girls", but I have a feeling the show will be a bit different. Premiering on January 19, "Looking" follows three gay friends (Jonathan Groff, Frankie J. Alvarez, and Murray Bartlett) as they try to navigate their personal and professional lives in San Francisco. I personally feel that not enough shows are set in the stunning Bay area, and the gamer nerd in me appreciates that Groff's character is a video game developer. The characters also seem far less dysfunctional than the ones on "Girls", so it will be nice to see a comedy following fairly normal characters trying to find their soul mate.
Which shows are you most excited to see?
(Photo via Nikki Nelson/WENN)
- Sarah Osman, YH Staff