4 Social Media Creators We're Taking Major Fashion Inspiration From This Summer!
07-08-2022 by Amelia Gorman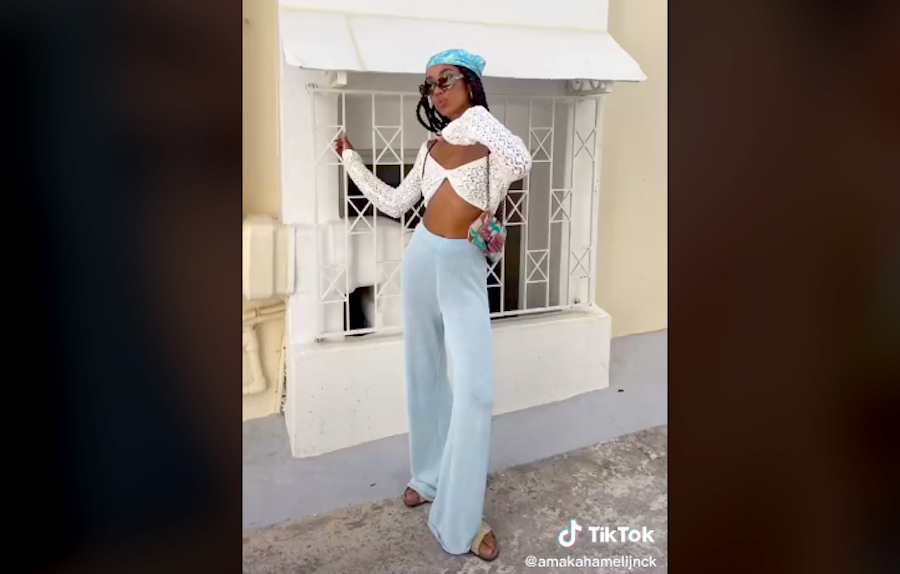 (Amaka Hamelijnck/TikTok/

@amaka.hamelijnck)
Want to ditch your jean shorts and basic tee for an upgraded Summer look but can't think of any cute ideas? We know battling the Summer heat can often make picking out a stylish outfit feel like an uninspiring chore; that's why we've created a list of four social media creators that are providing us with some major fashion inspiration this Summer!
1. Amaka Hamelijnck
Based in Amsterdam, Amaka Hamelijnck's (@amaka.hamelijnck) feed is a swirl of vibrant, summery colors and adorable outfits. She can often be found in cute, beachy attire — such as two-piece crochet sets and a fun bucket hat — or casual yet chic dresses. If you're in need of an elevated beach look or a stylish outfit for a Summer night out, head to her page and take some notes (or screenshots)!
2. Lindsay Vrckovnik
Fashion designer and influencer Lindsay Vrckovnik (@linmick) offers some major unique fashion inspo from both the outfits she puts together and the ones she designs. Her signature style includes bright, vibrant colors and a range of eclectic influences. Some days she's clad in a Y2K-inspired fit, and others she's in lacey, vintage dresses. Regardless of what styles she chooses, her outfits are sure to impress!
3. @best.dressed
Known under the handle @best.dressed on both YouTube and Instagram, fashion influencer Ashley certainly lives up to the name. On her social media, you can find stylish, chic looks with just a bit of edge that sets her apart from the bright colors of a traditional summer wardrobe. She mixes feminine pieces, like neutral silk dresses, with a chunky platform shoe — the perfect balance of classic and alternative.
4. Matilda Djerf
Of course, this list wouldn't be complete without Scandinavian influencer and creator of clothing line Djerf Avenue, Matilda Djerf (@matildadjerf). Known for her soft pastels and oversized dress shirts, her feed is the quintessential "Scandi-girl" style that is perfect for summer. Lucky for us, Maggie Haddad of The Zoe Reportcompiled the essential shopping list needed to replicate @matildadjerf's style. Check out her list and you'll be inspired in no time!
Hopefully we provided you with some newfound inspiration — and while there's nothing wrong with the tried and true Summer uniform of shorts and a comfortable tee, there's nothing wrong with dressing up either!