Hanson touched by fan's soldier tribute
Written by . Published: August 13 2011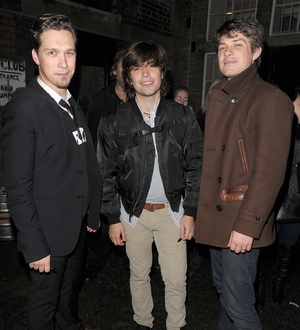 Hanson have been rocked by a "heartwrenching" online tribute to their music from a fan who recently lost her boyfriend in Iraq.
The unnamed devotee posted a message to the fallen soldier under the group's I Will Come To You video on YouTube.com, explaining how important the song has become following his death.
She writes, "This song is dedicated to my first love Mike... He just recently lost his life in Iraq... I still love him and probably always will... But the line in this song 'Cause even if we can't be together... We'll be friends NOW and FOREVER... that line is soo true... Mike, I truly miss you and you're my GUARDIAN ANGEL I love you hunn!!!"
And the message has deeply touched the trio.
Bandmate Isaac Hanson tells WENN, "When you hear stories like that it's hard not to get choked up... We've got the greatest job in the entire world, and, as hard as this job can be, and, as hard as it is to be away from your friends and your family, it is the coolest job in the world, and we're not getting bullets shot at us.
"The fact that there are so many guys and girls in our armed services who are doing their job and risking their lives every day is a humbling thing. We do have the extraordinary pleasure of meeting not only servicemen and women, but also the spouses and girlfriends of people who are in the military.
"It's a huge honor to feel that something you've done - your attempt at an emotionally honest expression of care and love... and for people to have an emotional connection that is palpable and for it to mean something to them, ultimately, is what you're always hoping for.
"It's an honor and it's heartwrenching and it's hard to know exactly how to react. When someone gives that kind of circumstance for which that song has meaning for them you can't help but have an emotional pause within yourself, like, 'Wow, this is intense stuff.'
"Based on those kinds of comments and the conversations we have with our fans, it's clear our love for our music and our care for what our music means to us has translated to people."