Women Who Are Dominating the TV Game!
Written by Kevin Donaldson. Published: December 02 2014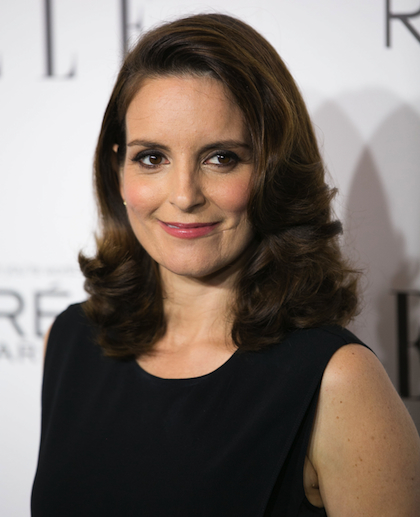 In honor ofTina Fey (my favorite television writer) and her newest show "Unbreakable Kimmy Schmidt" getting picked up by Netflix, I thought it'd be nice to take a look at some of the many women thriving in the world of television these days. The entertainment industry has always been labeled as a big "boy's club", where women struggle for positions to create content or for acting work after a certain age. That certainly seems to be changing these days, with talented women (of ALL ages)  thriving in television more than ever. So let's take a look at some of the ladies who are dominating the TV game right now...
Tina Fey
How could we not start off with Tina, or, as she was born, Elizabeth Stamatina Fey? She's had so many accomplishments in her career and is arguably a pioneer in modern television. Fey got her start in show business in Chicago after she graduated from the University of Virginia in 1992. While in Chitown, she set her sights on the famous Second City Improv Theater, which was known to showcase talent such as John Belushi, Harold Ramis, Gilda Radner, and pretty much everybody that's ever been involved in "Saturday Night Live", and then some.
At Second City, Fey made connections with SNL's head writer at the time,Adam McKay, which would later land her a writing job at SNL. She was the only female writer on the staff, and at times thought she was shrinking in height, since everyone she was around was so much taller than her. After a couple of years at SNL, Fey was elevated to the Head Writer position, the first woman to ever do so. It would be another year before she could convince creator Lorne Michaels to put her in front of the camera, and she's been in front of it ever since. During her tenure with SNL, she also wrote and appeared in Mean Girls to much critical acclaim, spawning a hundred-and-one quotable lines. "Is butter a carb?" It's still a question I ask myself on a daily basis, and then I say, "Screw it, I'm getting cheese fries."
After the success of Mean Girls, Fey left SNL and started her own TV show, "30 Rock", which, in my opinion, is one of the funniest shows ever created. It's loosely based on Fey's experiences at SNL as head writer, but it takes place in a slightly different universe where things that shouldn't happen, happen, and everybody has a snappy, witty, and on-point joke every other line. It's also one of the few shows that I believe has a very fitting ending. Her new show, "Unbreakable Kimmy Schmidt", is due out on Netflix in Spring and will revolve around Ellie Kemper living life in New York City after spending 15 years in a doomsday cult. Sounds like more drama than comedy, so I have high expectations that this show will be hilarious.
Amy Poehler
Poehler and Fey were already great friends at Second City before they worked together on SNL, and Poehler has helped the careers of many different comedians, both big and small, thanks to her own improv theaters located in Los Angeles and New York City called the Upright Citizens Brigade (UCB). She is also known for being the third SNL cast member ever to be promoted from featured player to full cast member in her first season.
Today, Poehler enjoys roles in movies and in the hit NBC comedy "Parks and Recreation", for which she has also produced, written, and directed. In addition, she produces her brother Greg Poehler's show "Welcome to Sweden", which you can watch on Hulu for free. Rumor has it that the show will start airing in America on NBC, but nothing is completely solid yet, but a second season is being filmed. "Welcome to Sweden" features guest-starring roles from stars such as Will Ferrell and UCB alumni Aubrey Plaza. She also just released her autobiography Yes, Please; Here is a link to the official website.
Jessica Lange
Lange is 65 years old, and although she has received six Academy Award nominations and six Emmy Award nominations, it's usually difficult for women her age to find roles outside of a lead character's grandmother on television. Not Jessica Lange. She's meant for bigger and better things than that.
"American Horror Story" isn't her first venture into television, but these days it's probably her best-known television work. From Season 1 as Constance Langdon, she made a huge wave playing the nosey and bigoted neighbor of the main characters. "American Horror Story" is now in it's 4th season, and like all the past installments, Lange is standing out for her incredible portrayal of German freak show proprietor Elsa Mars. It also happens to be her last season with the show. Given that she was nominated for Emmys for all three past seasons of "American Horror Story", it's hard to imagine that she wouldn't be nominated for this one as well.
Lena Dunham
Lena Dunham speaks her mind up front and is very opinionated; sounds like a New Yorker to me! Dunham grew up in the Big Apple with artistic parents. After graduating from Oberlain College in 2008 with a degree in creative writing, she made her own film called Tiny Furniture, which is available on Netflix. Somehow the movie got into the hands of comedy king Judd Apatow, who liked it so much that he got Dunham a deal at HBO to create her own show, "Girls".
"Girls" is a show about, well... girls! They're young women trying to make it in New York City while dealing with the fact that they are indeed stereotypes of what millennials are… usually selfish. While her characters do have redeeming qualities the things about them that I love to see is when they act oblivious and feel cheated with what happens in the real world. Dunham stars, writes most of the episodes, and has directed quite a few of them too. Who knows what's next for her, but given the waves she's made with "Girls", it'll probably be something great.
Some other women working in television and the movie industry today and killing it include: former "Parks and Rec" writer and now feature film screenwriter for The Heat, Katie Dippold; "New Girl" star Zooey Deschanel; "New Girl" creator Elizabeth Meriwether; and, of course, star of "Mike and Molly" and pretty much every comedy movie to come out in the past two years, Melissa McCarthy. It's great to see so many diverse and talented ladies shining bright on screens big and small!
(Photo via Brian To/WENN)
- Kevin Donaldson, YH Staff