WOMEN WE LOVE: Phoebe Bridgers
08-31-2021 by Emily Blake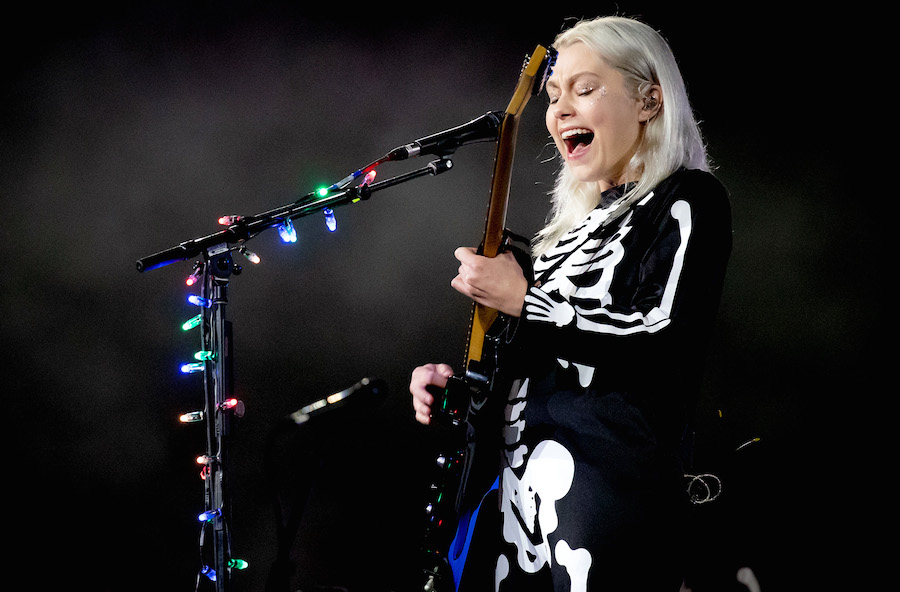 ( © Rich Fury/Getty Images for Visible)  
The past month has definitely been Phoebe Bridgers's moment. Her birthday on August 17 ended Leo season with a bang, 
Her first post-Pandemic tour has already almost sold out, and includes a stage at NYC's Governors Ball Music Festival at the end of September. Last week, she made the announcement that she will no longer be performing at indoor venues out of growing concern for everyone's safety amidst the Delta variant and the COVID-19 case numbers rising in many places throughout the country. Phoebe said it was her personal request to require proof of vaccination/same-day test to protect everyone involved. Previous indoor venues will just be moved outside, so more Phoebe for everyone! 
Let's try this again…
In the interest of safety, I've decided to only play outdoors for the upcoming tour. We are moving all previously scheduled indoor shows to outdoor venues and we've needed to postpone shows in a couple cities so please check the updated schedule. pic.twitter.com/WFMvvnYUH0

— traitor joe (@phoebe_bridgers) August 23, 2021
Responsible Gen-Zers everywhere applauded her decision. 
Even Olivia Rodrigo is a fan. Here is our teen queen in Phoebe's iconic skeleton sweatpants:
I mean, the last year has really been Phoebe Bridgers's moment. Her song "Motion Sickness" is the angsty, insanely good Sad Girl Summer bop everyone needed, skyrocketing her to fame and opening up more of the world to the genius that is her full-length album Punisher, which includes my personal favorite song of hers, "Kyoto". She just announced a remix to "Kyoto" on her Instagram, featuring a pixelated version of her iconic skeleton suit self-portrait on the Punisher album cover. 
Back in February, she performed "Kyoto" and "I Know the End" during her appearance as the musical guest on "Saturday Night Live". Between "Kyoto" and her finale song, she changed into a more high-fashion version of her skeleton costume, which Out pointed out on their website that they feel like Moira Rose definitely wore it before! In the aforementioned glam skeleton dress at the end of "I Know the End", Phoebe infamously smashed a guitar. Sorry, internet trolls, but that moment was badass.
Phoebe is a woman we love for sooooo many reasons, but her contributions to Twitter are especially iconic. Phoebe is a relatable girl for the ages, a fan of Lorde's Solar Power like the rest of us, the list goes on and on why she is a woman we love.
I mean, she wears a different, chic iteration of a skeleton costume for every performance, are you kidding? What's not to love?