What We're Most Hype For At This Year's MTV VMAs!
09-10-2021 by Emily Blake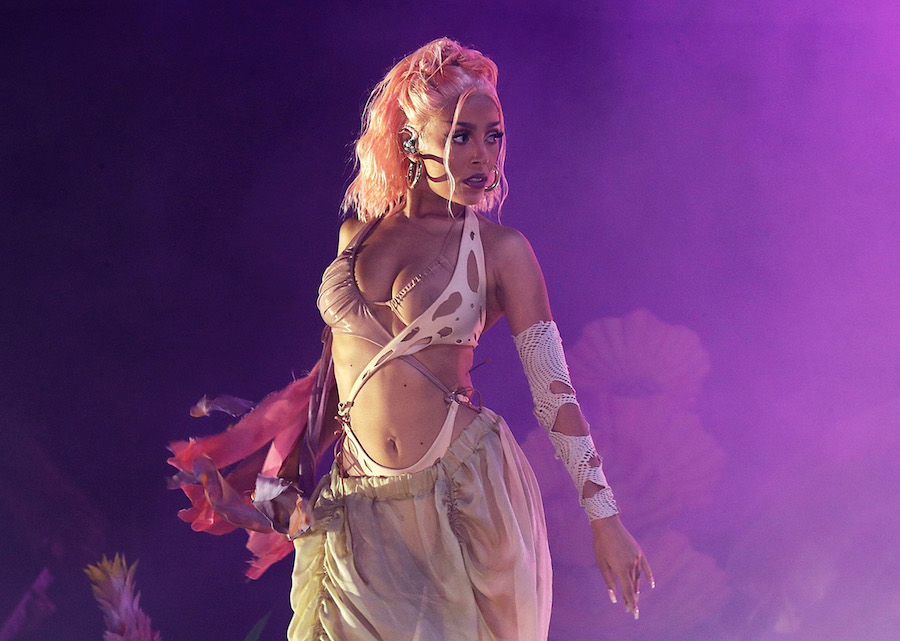 ( © Shareif Ziyadat/WireImage via Getty Images)  
The VMAs are coming, the VMAs are coming! This Sunday, September 12, this year's awards will debut a newly redesigned Moonperson statue from fine artist Kehinde Wiley, will be hosted by Doja Cat, and will include more iconic performances and appearances than we can even keep track of!
While the VMAs always bring it in terms of live musical performance, we actually can't wait to see the presenters this year too! Hailey Bieber, Billy Porter, and Travis Barker are all slated to be on stage. (Will Travis do a little Kourtney shout-out? Not gonna lie and act like we're not totally obsessed with #Kravis, so we are secretly hoping he does!) Travis will also be on stage drumming for protegeMachine Gun Kelly, who already announced he will be performing his pop punk banger "Papercuts" at this year's show. You know what that means -- insanely good MGK + Megan Fox red carpet photos are coming our way!
We also can't wait to see Kim Petras crush this year's VMAs. During this week's New York Fashion Week, she performed with the iconic Paris Hilton, so, what can't she do?
The performances aren't all we have to be hype for; it is an awards show, after all! Right now, Megan Thee Stallion and Justin Bieber are in the lead for nominations, with my personal fav Olivia Rodrigo (I mean, isn't she everyone's?) potentially earning the title of Best New Artist. 
Unfortunately, everyone's fave back-and-better-than-ever it girl, Lorde, will no longer be performing at the VMAs due to "change in production elements". But we have no doubt the first in-person VMAs since the Pandemic will all bring us back to some of our fave MTV moments. Especially since this year's show is returning to one of its previous locations -- Barclays Center in Brooklyn, New York. Sound familiar? This is where Miley Cyrus did her notorious performance with Robin Thicke (remember the foam finger?). 
We can't wait to see if the 2021 VMAs keeps that same energy!