The New Wave of Pop-Punk Artists Travis Barker is Mentoring!
03-31-2021 by Madison Murray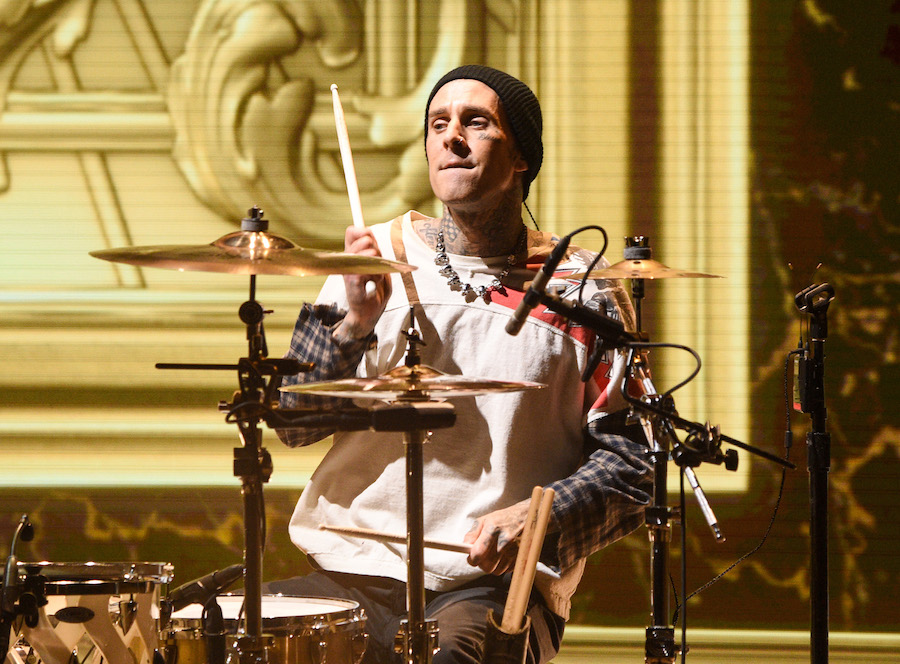 ( © Kevin Mazur/2020 MTV Movie & TV Awards/Getty Images)  
If you're at all interested in rock music, you're probably well aware of how influential Travis Barker is. Best known for being the drummer in blink-182, he has also worked with the likes of The Aquabats, Slash, and The Transplants. More recently, he's turned his focus to the next generation of rock stars, working with younger pop-punk and alt-rock artists to help bring the genre back to the mainstream.
Here are the artists Travis has been working with!
 
1. Machine Gun Kelly
Machine Gun Kelly was just 19 when he befriended Travis, after growing up listening to blink-182. They first worked together on 2019's "I Think I'm OKAY", and after seeing how successful the song was, they decided to work on a full album together. MGK's Tickets to My Downfall album, which came out in September 2020, is the product of their time in the studio, with Travis co-writing and co-producing every musical track. Travis also appears in Downfalls High, a movie MGK created based on the album.
2. Trippie Redd
After becoming one of today's biggest rappers, Trippie Redd ventured into rock with his newest record, Neon Shark, which he released as part of a deluxe edition for his previous album, Pegasus. Travis produced and co-wrote nearly every song on Neon Shark, and the extended title on streaming services even reads Neon Shark… Presented by Travis Barker. The two also worked together on Machine Gun Kelly's "all i know", which Travis co-wrote, co-produced, and drummed on. 
3. Tyler Posey
Best known for playing Scott on "Teen Wolf", Tyler Posey recently broke into music with the debut of his first solo single, "Shut Up", which features phem, as well as drums and a co-writing credit by Travis. Tyler previously worked in the band PVMNTS for about a year, before leaving to focus on his own work. He also recently appeared on the podcast "Valentine's Day In Hell" -- the series featured his song "This Luv Sucks", another collaboration with phem. 
4. phem 
phem is quickly becoming a standout alt-rock darling, appearing on tracks like Machine Gun Kelly's "5:3666" and collaborating with Tyler Posey on "Shut Up" after releasing her new EP, how u stop hating urself pt. 1. In addition to working with artists Travis often collaborates with, Travis has brought her onto some projects to co-write, including jxdn's single "So What".  
5. jxdn
Jaden Hossler, better known as jxdn, is the first artist Travis signed to his label, DTA Records. Travis has co-written and co-produced every original song jxdn has released so far, including the ones on his So What! and drivers license EPs.