What Can We Expect In Season 4 of "Riverdale"?!
09-20-2019 by Rishi Patel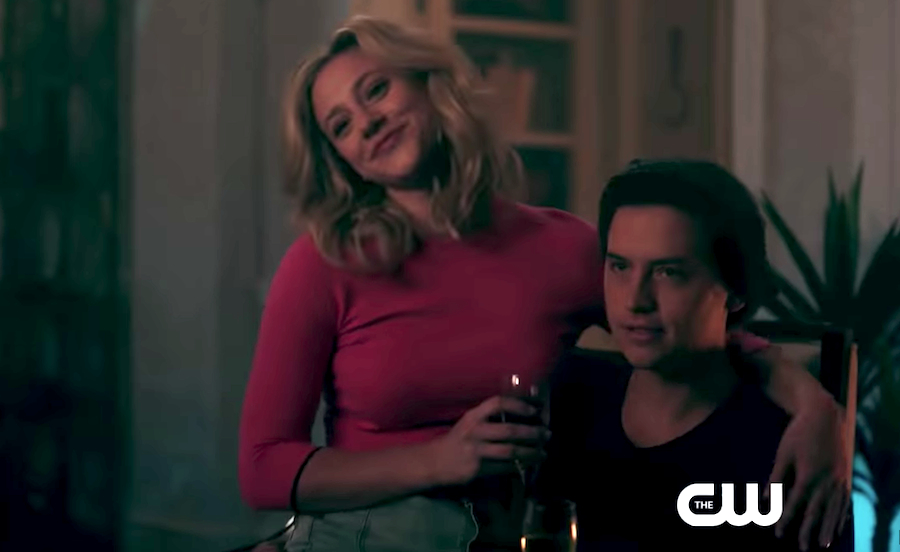 ( © The CW)  
Archie Andrews and the entire gang from "Riverdale" are coming back to our TV screens very soon! The dark, edgy teen drama is slated to return on The CW in just a few weeks.

Much of Season 3 centered around the vaunted, mysterious Gargoyle King and the addicting yet treacherous board game of Griffins and Gargoyles, both of which were wreaking havoc in Riverdale. Some other crazy things happened too, including Veronica's parents both getting arrested, Betty finally meeting her brother, and witnessing the spellbound followers of the "Farm". The drama and suspense was at an all-time high!
Last we saw in the Season 3 finale in May, there was an eerie, foreboding scene where Archie (KJ Apa), Veronica (Camila Mendes), and Betty (Lili Reinhart) were burning their clothes in the woods during Spring Break of the following year, their senior year, as a sort of cleansing. Here's a clip of the last moments during the finale:
There is a lot of mystery surrounding this scene, as the reasoning behind how this happened, and why Betty wants to keep this a secret, seems blurry. Yet, it's probably a point of focus in Season 4! In addition, Jughead (Cole Sprouse) was missing from the scene, immediately catching my eye.
With the takedown of the Gargoyle King and Black Hood, who could possibly be bothering the four main heroes? This scene may be foreshadowing another mystery lurking in the shadows of Riverdale, and the gang seemed to have taken it too far.
What else can we expect for Season 4?
Well, the official trailer dropped recently, and Riverdale is still engulfed in more secrets and mystery!

Wow, that was a lot to take in! I guess the gang's senior year is going to be just as action-filled! For one, the dark vibe that the show seems to emanate was on full display in this trailer.
Making a search party for Jughead in the woods caught my attention! It could also be connected to the Season 3 finale where he was missing in the "burning of the clothes" scene.
It seems the teen drama is bringing on a strong palette of secrets, romance, drama, and mystery in the upcoming season! Yet, the trailer overshadows Jughead's potential disappearance, inciting a bit of nervousness from a fan like myself.
One thing's for sure: Senior Year for the protagonists in Riverdale won't be without some major action/drama. Just how turbulent will senior year be for Archie and his friends? What will become of Veronica's parents? What is going to happen to Jughead? And most of all, why are Veronica, Betty, and Archie not trying to get caught?
The anticipation is building, and if I learned anything, expect the unexpected in Riverdale.
Stay tuned for Season 4, which premieres on Wednesday, October 9!