"Weird" Al Yankovic Demands 'Mandatory Fun' with New Album!
Written by Kevin Donaldson. Published: July 15 2014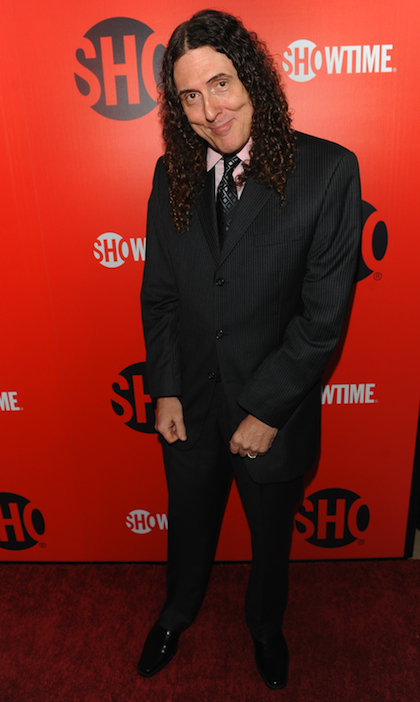 Everyone's favorite polka parody musician, "Weird" Al Yankovic, is back at it again with his new album,Mandatory Fun. The musical comedy legend drops his latest album today, his first in three years and also the 14th of his career! Wow, that's a lot of funny! If you would like a sneak peak of Mandatory Fun before purchasing it, Weird Al is releasing eight music videos in eight days just for you! Keeping with the times, the campaign is being called... #8videos8days.
The first video premiered yesterday, the first song off of Mandatory Fun entitled "Tacky", which is both a visual and musical parody of the popular Despicable Me song, "Happy" byPharrell Williams. Directed by Yankovic, the video is impressively shot in one take throughout the historic Palace Theater in Downtown, Los Angeles, and features comedy favoritesJack Black, Kristen Schaal (she's my favorite), Eric Stonestreet, Margaret Cho, Aisha Tyler, and of course, Weird Al himself.
The second video of Weird Al's #8videos8days campaign satirzing another Pharrell hit -- namely Robin Thicke's "Blurred Lines". For this parody, Weird Al takes on the controversial world of grammar! Check out "Word Crimes" below:
What else will you have to look forward to while having Mandatory Fun? The album includes original songs celebrating the styles of artist such as Cat Stevens, The Pixies and Crosby, Stills & Nash. Other parodies featured on the album will include popular artists likeIggy Azalea, Lorde, andImagine Dragons. I can pretty much guess which songs will be parodied, and, naturally, I'm pretty excited for that!
While you wait in anticipation for each new music video, why not check out our YH interview with the man himself below?!
(Photo via Daniel Tanner/WENN)
- Kevin Donaldson, YH Staff