We're So Excited for Jimmy Fallon's "Saved By The Bell" Reunion!
Written by Katie Marzullo. Published: February 05 2015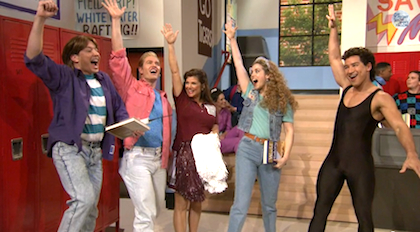 Raise your hand if you're in the mood for some late-'80s/early-'90s nostalgia!
In possibly one of the greatest skits to ever grace the Jimmy Fallon-era "Tonight Show", the host was able to reunite ALL of the principle members of "Saved By The Bell" for a glorious segment on his show last night. Yep, they were all there –Marc-Paul Gosselaar, Tiffani Thiessen, Elizabeth Berkeley, andMario Lopez all slapped on some day-glo and teased their hair to the gods to revisit their classic characters in a "flashback" sequence where Jimmy remembers his high school days in California (even though he's from Brooklyn, but SHHHH, don't ruin it!). This skit has everything -- Slater in spandex, brick cell phones, and Jessie spazzing out. Check it out below:
Wow, those kids aged well, didn't they? There's virtually no difference!!!
Full disclosure: When I first saw this, I thought, "Why is Mike Myers hanging out with the cast of 'Saved By the Bell'?" (You can't unsee it now, can you?)
(Screenshot via YouTube)
- Katie Marzullo, YH Staff Editor
katie@younghollywood