ARTIST TO WATCH: The Weekend Riot (Plus EXCLUSIVE Single Premiere!)
Written by . Published: February 05 2015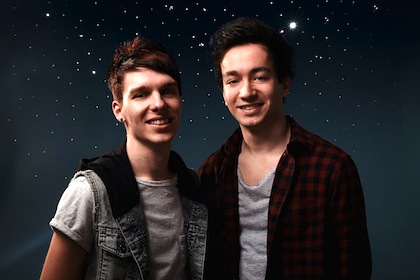 What do you get when you combine the sweet chords of a ukulele, the classic sounds of the guitar, and two adorable dudes? Answer: The Weekend Riot! With a full U.S. tour set for summer, the NJ/PA-based pop duo, made up of best friends Johnny Costa and Bruce Wiegner, has hit the ground running, having already shared stages with some of today's hottest pop acts including MKTO, Emblem3, and AJR.
And this is only beginning. The Weekend Riot's debut EP Remember This Night is set to release on March 9 with sounds similar to Fall Out Boy and American Authors. Their first single, the catchy and pop-rocky "Remember This Night", is contagiously upbeat and will be sure to have you tapping your toes and whistling along. "We are super proud of how this track turned out," the boys stated. "It was written by the both of us with our producer, Ace Enders. The song is about a summer night spent with a friend and you finally muster up the courage to ask your friend to be your bae." Check out this EXCLUSIVE premiere of the track below!
Like what you're hearing? Then be sure to pre-order the Remember This Night EP starting on February 9, and you will receive a FREE copy of the "Remember This Night" single! (You can get physical pre-order bundles here.)
And if you haven't already, I highly recommend you check out the group's #RiotMonday posts every week on their YouTube Channel. These posts include the guys crushing cover songs like Ariana Grande's sassy hit  "Problem" and Ed Sheeran's love ballad "Thinking Out Loud" and also show the guys' comedic sides featuring exclusive videos that will make you seriously LOL.
And don't forget to catch The Weekend Riot on tour withSayWeCanFly and Austin Jones this February! Show dates and locations listed below!
February 7 - Boston, MA @ Brighton Music Hall
February 8 - New York, NY @ Webster Hall
February 10 - Philadelphia, PA @ The Trocadero
February 11 - Stanhope, NJ @ The Stanhope House
February 12 -Allentown, PA @ Crocodile Rock
Be sure to follow The Weekend Riot on Facebook and Twitter!
(Photo via Jon Stars)
- Gabi Crowley, YH Staff