VIRAL ALERT: Madeline Pendleton
08-17-2021 by Emily Blake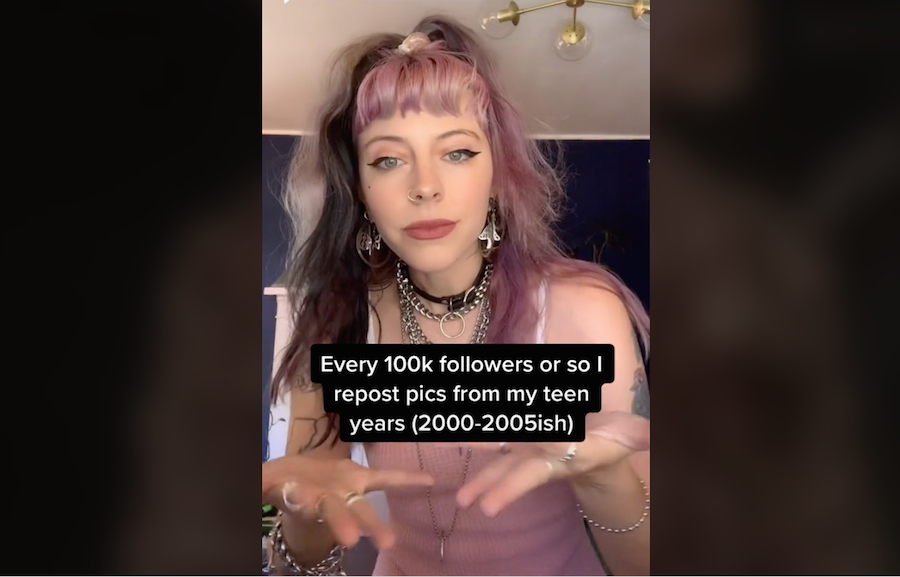 (MadelinePendleton/TikTok/@madeline_pendleton)
I came across viral TikToker Madeline Pendleton on my FYP a month or two ago and instantly followed. Her posts cover punk culture, sustainable habits, and her own clothing line, Tunnel Vision. She has a seriously dedicated fanbase and is constantly on my FYP, despite her videos largely being her just talking to her iPhone camera and answering commentors' questions.
Pendleton's fans (really, fans) listen to every last word she says because they care not only about her interesting life experiences and knowledge of subculture but her style and approach to consumption. Her videos represent the pursuit of a more ethical, nostalgic approach to buying and producing clothing, in the case of her experience founding and sourcing clothing for Tunnel Vision. She's basically an advice columnist for Gen-Zers dipping their toes in the water of alternative style at large, combined with a seriously cool knowledge of an attention to counterculture. Her videos on her crazy stories, her recommendations of punk music, photos of her early Y2K fashion choices, and more have all led her to rack up now a total of over 741k TikTok followers throughout the Pandemic. Every 100k followers she gains, Madeleine posts a series of photos from when she was a teenager in the early-2000s, gaining hundreds of thousands of likes and representing the 2021 absolute fascination with iconic Y2K aesthetics.
She doesn't often talk about her brand Tunnel Vision but instead offers a broader punk approach to repurposing clothing. However, her influence has become so strong that Tunnel Vision is racking up popularity. On July 16, the online vintage store had a sample sale that sold out in under 10 minutes! Madeleine is representative of what is really hot right now for Zoomers interested in vintage, counterculture, and general trends. Her responses to followers' questions fill a gap in the more recent Gen-Z interest in the largely gatekept world of vintage clothing, countercultural style, and music, and other things you need a cool-big-sister-type of person to tell you about.
Madeleine Pendleton represents a culmination of everything Gen-Z wants to see right now when they scroll through TikTok: cool stories, even cooler style, and an attention to values that they actually care about, whether it be economic equality, size inclusivity, or sustainable fashion.