Tyler Hilton's Tour Blog!
Written by . Published: May 19 2010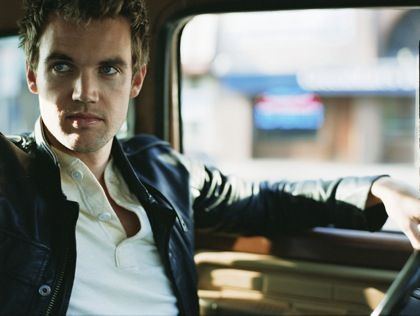 Being on the road is my absolute favorite thing in the world. The shows, the travel, the community... it doesn't get any better. For those of you who have never done anything like this before, here is a handy look at the life I love!
A Beginners Guide to My Road Routine:
Morning: Your morning, and therefore your day, starts about an hour before your alarm clock goes off. This is when you start to half-sleep, half-worry about whether the front desk is going to remember your wake up call and whether your back-up alarm on your phone was properly set to "am" instead of "pm" time.  However, no matter how prepared you think you are for that alarm to sound, the phone rings its awful, horror movie ring and you're begging for more sleep. You realize, though, that you've set your alarm for the last possible second, so there is no snooze button. Just shoes, pants, brush the teeth, zip the suitcase, and zombie walk to the lobby where other zombies from your crew and band meet for morning "lobby call." The exception to this rule is always the tour manager, who is inexplicably chirpy and chatty. Van pulls away and naps or zombie stares out the window occur until stomachs grumble and feeding becomes all you can think about. Van needs gas? Great! Breakfast! Peanuts, power bars, naked juices, whatever you can grab while the van gases. Its a very special occasion when we have time to sit down to eat! Back in the van and drive into the afternoon.
Afternoon: pull into a venue and load all the gear into the club. Usually another band is sound checking, so this is your down time to stretch your legs, find things to feed on, and make phone calls that are better made without 6 people in proximity. Sound check has arrived, and we make sure all our instruments are working and sound good in the audience. It's after this that we either find a hotel and clean ourselves or freshen up in the club bathroom. It's important to become an expert at the latter, just in case. Evening has come...
Night: As the audience filters in, you are backstage checking emails and taking advantage of the free internet the club has until about an hour before you're on. That's when the hair gets checked, shirt gets smelled, pants get patted... everything look show ready? Maybe grab a guitar and strum strum strum. Sing a bit. Get everything loosened up, and now you feel yourself get really pumped. You can hear the audience settling. 30 minutes before you're on, the band all gets together to talk out the set for the night, joke, sing, and get ready to perform! Then show time comes, and all that really means is you hear your name called, black-out, and before you know it, you're blissfully running off the stage sweating, screaming, "Yea! What just happened! Woo!" You towel off, drink some water, pack up, and head out to meet fans, sign CD's, and take pictures. By the time you're done, the place has cleared out and its time to drive to the hotel, check in, feed somewhere, shower, and pray that something funny is on either TBS or Adult Swim. You fall asleep replaying your show in your head and smiling. You are living your dream! Oh... you can't sleep cause you're too excited? Sigh... Finally it happens and before long its....
Morning?
This is the routine I know and love and wouldn't change for the world! Thanks everyone for making it possible for me to keep doing what I'm doing!
(Image via Warner Bros. Records)
-Tyler Hiltonis a singer/actor who has appeared on "One Tree Hill" and inWalk the Line. He has recently been on tour with Spill Canvas, and his third studio album is scheduled to drop this summer.