14 Questions with Jillian Michaels
Written by Katie Marzullo. Published: May 10 2010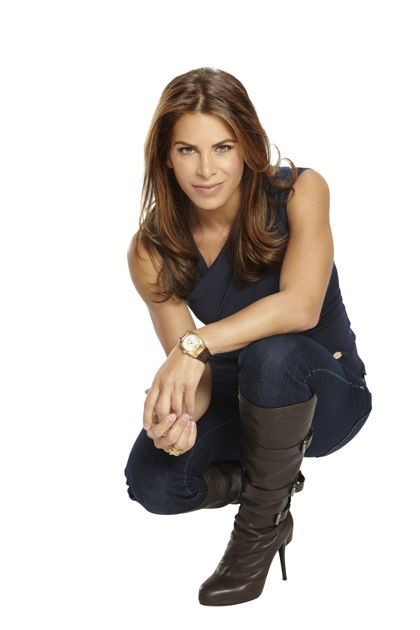 If there is truth in the phrase "what goes around comes around," then Karma has been very kind toJillian Michaels.
After getting herself in shape as an overweight child, Jillian has since dedicated her life to showing others how they too can benefit from healthy living. This has in turn materialized into national fame for the personal trainer, appearing on the hit reality series, "The Biggest Loser," and now its upcoming spin-off, "Losing It with Jillian."
Most recently, she appeared on the 2
nd
episode of the MTV series, "When I Was 17" (which you can watch in its entirety on
MTV.com
). Jillian was kind enough to take some time out from her hectic schedule to answer some questions for YH via email:
---------------------------
YH: How were you first approached about doing "When I Was 17"?
JM: The MTV peeps approached the NBC PR team and asked if I'd be interested.
YH: Without revealing too much about the show, but what might your fans expect from this episode?
JM: 17 was one of the most pivotal years in my life. People will get an idea of how I became the woman I am today.
YH: What was it like taking a step back to the days when you were 17 years old?
JM:
So trippy. Years of memories that I had forgot came flooding back. Made me want to call old boyfriends and see how they're doing. So odd.
YH: How have you and your goals changed since then?
JM: I know who I am now. 17 was when I began to find myself.
YH: If you had the opportunity to go back and shake some sense into your younger self, what would your advice be?
JM: Skip all the beating yourself up. It does no good and wastes precious energy. You're perfect with your imperfections.
YH: What's one thing you wish you could have done differently?
JM: I wish I had finished school and become a doctor.
YH: Are there any habits or parts of your personality that remain 17 years old?
JM: I'm still passionate, intense, and adventurous.
YH: Celebrities often have had a moment or event that completely altered the course of their lives and brought them success.  What was yours?
JM: There were two. The minute my martial arts instructor through me out of his studio when I was a kid until I got my act together and getting cast on The Biggest Loser.
YH: I would imagine that when you decided to make a career out of health and fitness, you didn't foresee yourself becoming a celebrity in the process. How has the adjustment been since you've entered the public eye?
JM: It has definitely been jarring. With that said, I realize that this is the life I chose and with good always comes bad.  I spend my days being grateful for the opportunities I have been given and learning that to whom much is given much is required.
YH: We all have our vices, admit it! What's yours?
JM: CHOCOLATE, CAFFEINE - flat out.
YH: Putting someone on a TV show about weight loss seems like it would be enough motivation for them to lose weight, but that rarely seems to be the case. How do you get people motivated to make healthy decisions and break their bad habits?
JM: By identifying the reasons they want to change and making every decision in their daily routine with that agenda in mind.  "When people have a why to live for they can tolerate any how."
YH: Sometimes the small things can make a big difference. Can you think of a simple change people can make in their daily lives to be healthier?
JM: Quit drinking soda (of all kinds including diet). Go for a walk every morning or every evening after dinner. Avoid processed foods as much as possible and eat fresh fruits, vegetables, grains, and lean protein. Count calories.
YH: When you became the The Biggest Loser trainer, did you have to make adjustments from the way you normally work with your trainees?
JM: Hugely.  On the The Biggest Loser we are often dealing with life or death interventions in which I sometimes have only a week to get through to someone.  In real life Los Angeles most people want an 8 pack instead of a 6 pack.  VERY different world.
YH: What can we expect to see from you in the future?
----------------------------
"The Biggest Loser" airs Tuesdays at 8PM on NBC.
"When I was 17" airs Saturdays at 11AM on MTV.
"Losing It with Jillian" premieres June 1 at 10PM on NBC.
(Image provided by Fanscape)
- Katie Marzullo, YH Staff Editor
-Additional reporting: Nick Rasmussen, YH Staff