TRACK BY TRACK: TOMORROW X TOGETHER's 'Still Dreaming'
02-10-2021 by Tania Ortiz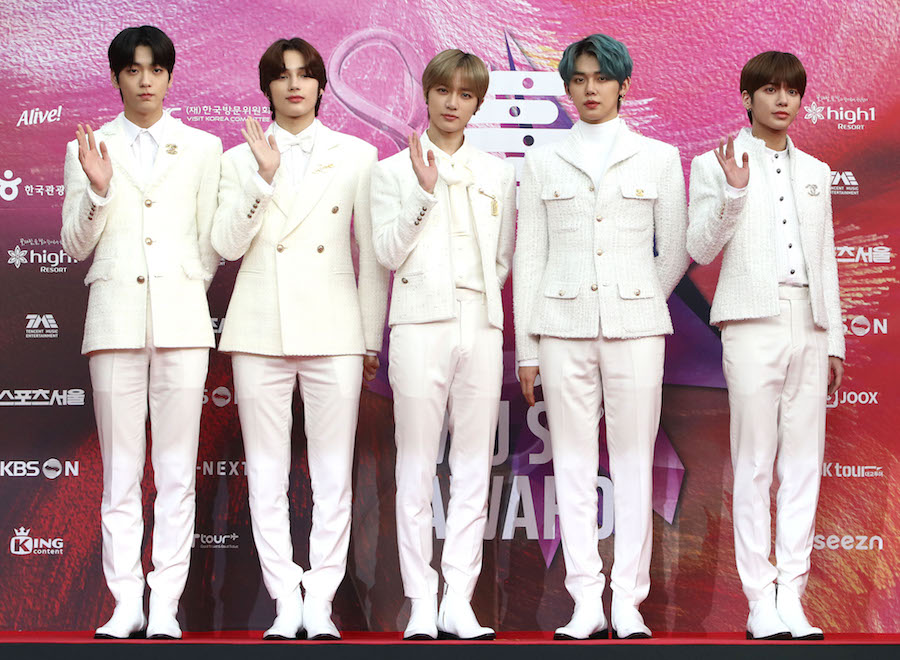 ( © Chung Sung-Jun/Getty Images)  
K-Pop rising stars TOMORROW X TOGETHER (or "TXT" for short) are starting the new year with a bang, dropping their first Japanese-language album, Still Dreaming, on January 20. The album marks the quintet's second full-length album. TXT proves that their music exists beyond language with this record, and we are obsessed!

Let'sb break it down track by track!
1. "Intro: Dreaming"
The first track on the album is just over a minute long. While there aren't many lyrics, this intro reels you in with the incredible harmonies, ending with member Yeonjun whispering "still dreaming".
2. "Force"
The second song from the album, "Force", proves itself to be an uplifting anthem. The quintet reminds listeners to keep on dreaming and continue having fun adventures. It's most definitely the perfect song to get you motivated to keep going during a pandemic!
Favorite lyrics: "Our tomorrow is still a light that cannot be seen / There are often times that are disheartening / But break out from this labyrinth / Don't stop!"
3. "Blue Hour"
The disco-inspired track is one of my personal favorites from this album, hands down! The song embodies a very cheerful and bright attitude, while the lyrics portray the exciting yet fearful emotions of a boy.
Favorite lyrics: "You are my special / My only one special / The door of dreams opens / The 'you' from my memories becomes reality"...

4. "9 and Three Quarters (Run Away)"
"9 and Three Quarters (Run Away)" is a synth-pop track (the title gives off major Harry Potter vibes, btw) inspired by the world of magic. The song tells the story of the five members, Soobin, Yeonjun, Beomgyu, Taehyun, andHueningKai, exploring the idea of escaping the burdens of life and running away with their friends.
Favorite lyrics: "Don't wanna stay, now we go / Please take me now / To the magic named 'us'..."
5. "Crown"
Another favorite of mine, "Crown" tells the story of a boy who grows horns on his head and is insecure about them; he even thinks he is a monster. Eventually, the boy learns to accept himself—the storytelling lyrics highlight TXT's imagination.
Favorite lyrics: "Your life changed my world like magic / I'm not in pain anymore..."
6. "Angel Or Devil"
"Angel Or Devil" is a pure pop song talking about love and weighing out whether the main character in this story should make the first move. The song also references BTS's song "Boy in Luv" and Morgan Stark's memorable line fromAvengers: Endgame, "I love you 3000."

7. "Drama"
The seventh track off the alum, "Drama" is an indie-pop inspired track about drama and dreaming about being the main character in the story. But as it turns out, the character in this drama is just an "extra".
Favorite lyrics: "Those kind words that you throw towards me / I became a lead actor in that moment..."
8. "Everlasting Shine"
The rock-inspired track "Everlasting Shine" is a very hopeful song about overcoming difficult moments in our lives. It reminds us that, no matter how many times we need to leap an obstacle, we'll be able to move forward.
Favorite Lyrics: "Our rainbow-colored days will advance forward / Shine forever, you'll shine like a diamond..."
9. "Can't You See Me"
"Can't You See Me" talks about young friendship and the challenges that teenagers face. The song also highlights the relatable feeling of not being seen and having mixed emotions during our teenage years.

Favorite lyrics: "My heart incinerated, come and feel me feel me / Oh can't you see me?"
10. "Outro: Still"
The album closes out with an ethereal instrumental that encourages listeners to keep dreaming.
What's your favorite song on Still Dreaming?