TikTok's Dark Circles Makeup Trend: Yay or Nay?
02-09-2021 by Melanie Haid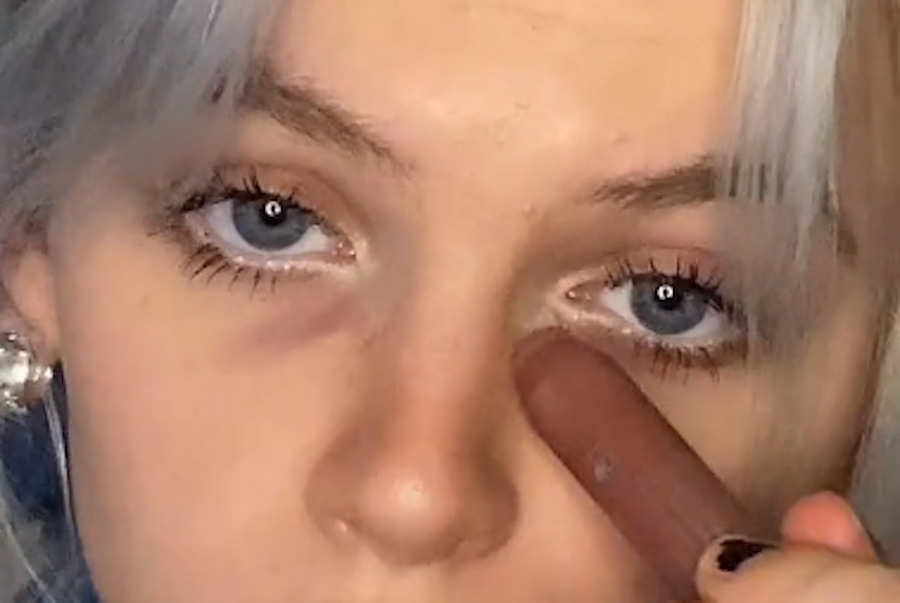 ( © Sara Carstens/TikTok)  
Undereye bags are something we've generally sought to cover up; when you type "How to get rid of" into Google, "eye bags" is one of the first things that comes up. There are all different kinds of undereye concealer, including matte, cream, anti-aging, SPF, and popular concealers can range from as little as $5 to almost $40! And of course, this does not include the prices of medicated creams to reduce the look of dark circles. An entire portion of the beauty industry is devoted to getting rid of undereye bags, so why in the world are people on social media using makeup to enhancethem?

In January, TikTok users started a trend where they use make-up not just to define dark circles, but use make-up to create them. How can something we've always tried to hide become the newest trend? When TikTok is involved, we can't say we're surprised.
TikTok userSara Carstens (@sarathefreeelf), who has nearly 150k followers and 3.4 million likes, posted a video in late-December lip-synching to The Wombats' "Greek Tragedy" while applying darker, reddish-brown lipstick to her undereye area to create the appearance of dark circles. Since this video, which has over one million likes and a whopping 7.5 million views, many people have things to say about the trend -- and they're not all positive.
Perhaps it's the rise of more "effortless" natural-looking make-up and style over the years, or just embracing your flaws, but either way, it's one of the more interesting trends to come out of the pandemic. Maybe people are just tired of pretending they're not tired – but not everyone is thrilled about this becoming a new trend.

Popular Instagrammer, journalist, and ex-Editor-in-Chief of Women's HealthMEDanae Marcer, posted her thoughts on the trend, and she loves it. Mercer's post radiates the reality of Instagram, women's bodies, and promotes self-love, so addressing trends like this are right in her wheelhouse.
"Recently, A TikTok video with a teen drawing in DARK EYE CIRCLES went viral. Then makeup artists picked it up, doing their own version. Then models. And now magazines are covering it. As someone with dark eye circles all her life, I was born for this," Mercer wrote in her Instagram post. "It's BEAUTY STANDARDS changing in REAL TIME. As we watch. As we notice. It comes with an incredible lesson: At the end of the day, Fashion trends come and go. But how we feel INSIDE doesn't need to shift in the slightest."
People with genetically dark circles are having "a moment" according to some social media users, while others like Carstens just want to embrace their insecurities. Since posting this video, models and influencers alike are giving the look a try, or simply not covering their dark circles anymore.
Others don't think this trend will last. Mary (@maryworewhat), an Instagram influencer of over 20k who posts mainly outfits and beauty content, has naturally dark circles and has frequently posted about trying to find good products to conceal them.
"I've had genetic dark circles all my life that I've been trying to 'fix' and used to constantly cry over," she said over Instagram Direct Messages. "It's annoying that one quick moment someone will think it's 'trendy' and it will blow up – but who knows how long it'll last. I'm afraid it'll die fast and then I'll be stuck with mine that I can't just draw on/remove like makeup."
Will this trend be something that becomes a new part of our beauty routines, or phase out as quickly as it became popular? Only time will tell. Will you try it?