TRACK-BY-TRACK: Taylor Swift's 'Folklore'
07-31-2020 by Victoria Martinez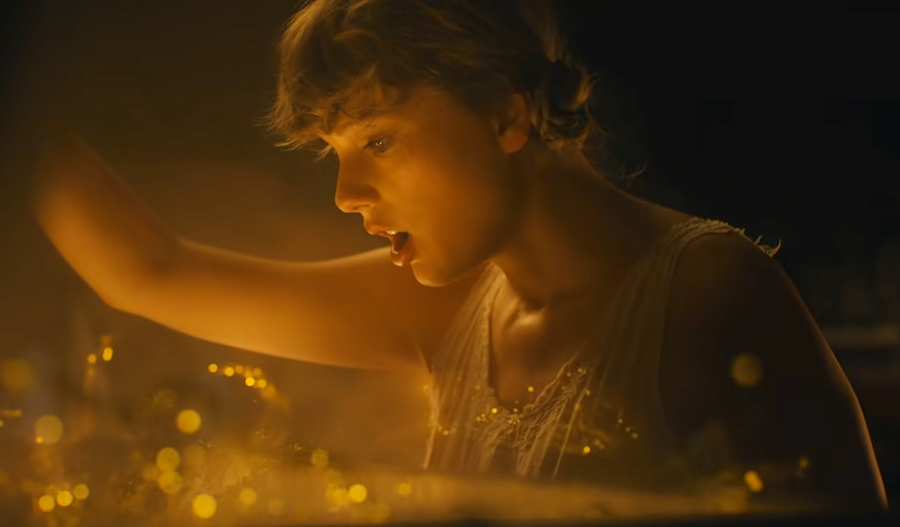 ( © Taylor Swift/YouTube)  
It's not a "Cruel Summer" after all!
On July 23, Taylor Swift announced that she was releasing her surprise album, Folklore, as soon as the clock struck midnight. Fans were in total shock and instantly became excited for the beginning of a new era (it literally felt like Christmas in July!). Having absolutely no idea what to expect, Swifties placed their bets on what this new album would be like. They did so with only the album title, track list, artwork, and Taylor's statement to help. A lot of them connected the album's aesthetic with Swift's 2011 track "Safe & Sound". 
How did the album come about? Well, quarantine also got to Taylor Swift. With the postponement of Lover Fest (rescheduled for 2021), Taylor's summer plans were gone. Along with her imagination, Swift took what she loves doing the most and wrote each of these tracks to escape the current reality. "The lines between fantasy and reality blur and the boundaries between truth and fiction become almost indiscernible," she shared in the album's prologue.
Folklore is full of stories based on Taylor Swift herself and other characters she created. Personally, I believe that Taylor is one of the best songwriters of our time, and after listening to the beautifully narrated and emotional album, we have broken down each of these 16 tracks for you. Let's just dive in!
1. "the 1"
The opening track welcomes us to the Folklore universe. Hearing "I'm doing good" as the first words of the album was a wonderful feeling. Ever since Reputation, Taylor has expressed how happy and better she has been doing lately (we love that for her!). "The 1" is the track Swift used to reminisce a lost love. It's that thought of "what would have been" that crawls back when you think about someone you had quite the connection with but had to let go. Our minds are full of "what ifs", and Taylor portrays those running thoughts perfectly in this track.
Favorite lyrics: "Roaring twenties, tossing pennies in the pool / And if my wishes came true / It would've been you..."
2. "cardigan"
This was the first track I listened to from the album, because I obviously needed to tune into the official music video premiere. The track is based on an emotional rollercoaster experienced while in a young relationship. Swift even shared on the live Q&A for the "cardigan" music video premiere that, "The song is about a lost romance and why young love is often fixed so permanently within our memories. Why it leaves such an indelible mark."
I'm in love with the visuals from the "cardigan" music video. Taylor is seen climbing in and out of her piano, transporting her to different places. The most powerful and captivating moment for me was the scene where we see Taylor clenching to her piano in the middle of the ocean. What a wave of emotions (pun intended) seeing her hold onto something that is essentially her safe place. At the end, we see her put on the cardigan (which you can get from her official merch store!).  
Favorite lyrics: "But I knew you'd linger like a tattoo kiss / I knew you'd haunt all of my what-ifs / The smell of smoke would hang around this long / 'Cause I knew everything when I was young..."
Taylor also made sure her friends got all cozy to celebrate the release of Folklore by sending them a replica of the "cardigan" cardigan. Halsey, Kesha, the "Queer Eye" Fab Five, Olivia Rodrigo, Kelsea Ballerini, Sabrina Carpenter, and Kaitlyn Dever were amongst the many that received the gift!
3 "the last great american dynasty"
This third track is the type of song I'd listen to at full blast with the windows down during a road trip (it just has that vibe!). Being one of the most upbeat songs off the album, "the last great american dynasty" tells the history of Swift's Rhode Island home. Taylor tells the story of Rebekah Harkness, who was also once owner to the "Holiday House". The track mentions the parties Harkness would throw, similar to the Fourth of July parties Taylor hosts. "Fifty years is a long time / Holiday House sat quietly on that beach… And then it was bought by me"; after years of being abandoned, the house was eventually bought by Taylor and here we are now listening to its story.
Favorite lyrics: "There goes the maddest woman this town has ever seen / She had a marvelous time ruining everything..."
4. "exile" (feat. Bon Iver)
Taylor Swift is joined by Justin Vernon, member of Bon Iver, to narrate the story of a broken relationship. The track offers both perspectives of that relationship. There's that feeling of seeing someone you once loved with someone else and then there's the other person who has moved on from said relationship, regardless of the many chances given. Taylor's and Justin's voices complement each other very nicely, bringing sentiment to the track, particularly during the bridge and outro where you hear the verbal battle: "You didn't even hear me out (You didn't even hear me out) / You never gave a warning sign (I gave so many signs)."
Favorite lyrics: "I think I've seen this film before / And I didn't like the ending / You're not my homeland anymore / So what am I defending now?"
5. "my tears ricochet"
Joining the list of Swift's iconic "track five" list is "my tears ricochet". Crafted with the help of Jack Antonoff (also worked with Taylor on 1989, Reputation, and Lover), it was the first track off the album that Taylor wrote (and she did so alone). The track itself is emotional and heartbreaking. While it is open to interpretation, it can be connected to broken love (which we've seen ongoing in the album), but there's also a connection with Taylor's battle with her ex-record label. To elaborate on the broken love -- sure, there are troubles in a relationship, but some are more notable as toxic; "Even on my worst day, did I deserve, babe / All the hell you gave me?" This line expresses that, even when agitated, no person should be given further trouble.
Meanwhile, "and when you can't sleep at night (you hear my stolen lullabies)" supports the idea that Swift is sharing the experience she had after drifting away from her former label company, which led to losing ownership of her previous work. She also sings "cursing my name, wishing I stayed," which could also refer to her departure from the label.
Favorite lyrics: "I didn't have it in myself to go with grace / And so the battleships will sink beneath the waves..."
6. "mirrorball"
"Mirrorball" is one of the tracks you can visualize as you listen. As the song opens, it reminded me of a melancholic version of Sheryl Crow's "Soak Up the Sun". Two songs with way different meanings, but once you listen, you'll understand what I mean. Swift states that she's feels like a mirrorball (or disco ball), spinning around in a room shining for everyone there. While also helping others reflect about themselves, "I'll show you every version of yourself tonight." It's a vulnerable track; when you arrive at the bridge, you notice it. Taylor sings, "and they called off the circus, burned the disco down… I'm still on that tight rope... I'm still trying everything to keep you looking at me," meaning that, despite all of the obstacles, there's no stopping or giving up.
Favorite lyrics: "You'll find me on my tallest tiptoes / Spinning in my highest heels, love / Shining just for you"...
7. "seven"
Taylor Swift labeling the seventh track off of Folklore "seven" is something she most definitely did intentionally. With her soothing voice and beautiful instrumentals, she tells the story of a childhood friendship. A lyric that stood out was from the chorus: "And though I can't recall your face / I still got love for you." As a child, you may have had that special friend (bet you thought of someone), but the sad thing is you may not remember what they looked like, yet they hold a special place in your heart. Taylor also mentions how she would try to help a friend who was having a rough time at home: "And I think you should come live with me / And we can be pirates / Then you won't have to cry / Or hide in the closet." That is what makes the song emotional -- it's the memories one holds from the young age. 
Favorite lyrics: "Sweet tea in the summer / Cross your heart, won't tell no other..."
8 "august"
We've made it to the midpoint of Taylor Swift's eighth studio album with this memorable track. "August" takes us to the narrative of young summer love. Hinted in the lyrics, August is the month in which many return to school and so it marks the end of the summer. "Will you call when you're back at school? / I remember thinkin' I had you..." Swift brings back those questions in a relationship; in this case, there's the realization that they were maybe not there at all. Rather, the person who captured the feelings recollects the memories of that summer: "Remember when I pulled up and said, 'Get in the car' / And then canceled my plans just in case you'd call?"
Favorite lyrics: "But I can see us lost in the memory / August slipped away into a moment in time..."
9. "this is me trying"
"This is me trying" is another track full of vulnerability and expression of trying -- mainly, the healing of a heartbreak. Throughout the album, it is notable that Swift often uses "film" metaphors in the tracks. We see her do it again in this ninth track: "You're a flashback in a film reel on the one screen in my town." It's reminiscing a relationship, particularly one you failed in this time. It's like a continuation to her track "Afterglow" from Lover; she has noted her faults and is trying to make amends, although this time she lost them.
Favorite lyrics: "They told me all of my cages were mental / So I got wasted like all my potential / And my words shoot to kill when I'm mad / I have a lot of regrets about that..."
10. "illicit affairs"
As the track starts with the lines, "Make sure nobody sees you leave / Hood over your head, keep your eyes down," we note the struggle of being stuck in an affair. The stages of the affair are laid out through the verses, from the sneaking around to the emotions incited. The effects of "illicit affairs" are heard in the track's bridge when Taylor exclaims, "Look at this godforsaken mess that you made me / You showed me colors you know I can't see with anyone else." The heartbreak that comes after is what essentially ruins the person that caught feelings in the illicit love story.
Favorite lyrics: "What started in beautiful rooms / Ends with meetings in parking lots..."
11. "invisible string"
Like most of the tracks off of Folklore, Taylor created this song with the help of Aaron Dessner. The lyrics to this track were gracefully crafted to tell the story of love. "Time" is something mentioned frequently in the song, because, like the old saying "time will only tell", love happens at unexpected times with someone who was once a stranger. The "invisible string" all along was the fate that brought the couple together. "A string that pulled me / Out of all the wrong arms, right into that dive bar"; this line supports the idea of fate and it's also connecting to the line "Dive bar on the East Side, where you at?" from her track "Delicate" off of Reputation.
In "invisible string", Taylor also mentions "the lakes", which is also the title of another track that is featured in physical copies of Folklore (which are yet to be released!).
Favorite lyrics: "Gold was the color of the leaves / When I showed you around Centennial Park..."
12. "mad woman"
The tale of "mad woman" narrates the desire of seeking revenge. She opens the song with "What did you think I'd say to that?", which is the reaction to a provocation. In other words, when someone snaps back, the opposing side is stunned, which gives off that question: what did you expect? There is also an association between the track and the situation involving Taylor's masters (also mentioned in "my tears ricochet"). The most recognizable line for the narrative is, "It's obvious that wanting me dead / Has really brought you two together," which expresses the proximity in a relationship when you have a mutual rival. There's something about Swift's serene tone as she expresses enragement in the track that ties it altogether. 
Favorite lyrics: "And you'll poke that bear 'til her claws come out / And you find something to wrap your noose around..."
13. "epiphany"
This song is based on Taylor's grandfather and his involvement in the military. She mentioned that in the album's prologue: "My grandfather, Dean, landing at Guadalcanal in 1942." The track begins with a verbal representation of the experience her grandfather had as he began his service: "Keep your helmet, keep your life, son / Just a flesh wound, here's your rifle." Followed by saying, "And some things you just can't speak about," which is the difficulty of telling stories due to the heavy impact it left. She mentions the experience of an epiphany during a dream as a form of escape: "Just one single glimpse of relief / To make some sense of what you've seen."
Favorite lyrics: "Only twenty minutes to sleep / But you dream of some epiphany / Just one single glimpse of relief / To make some sense of what you've seen..."
14. "betty"
Back in the "cardigan" video premiere live chat, Taylor Swift shared some insight on the album. She even mentioned that there is a collection of three songs that are seen as a "teenage love triangle", and the fourteenth track is one of the songs. The song is dedicated to a girl named Betty, hence the title, while this song is from James's point of view, where they struggle with the loss of Betty's love. Instead of the "what ifs," we hear "would you" being the head of constant questioning. James wonders about Betty, "Would you have me? Would you want me?" Would she let them into her party, or would she want to take them back? We actually see a connection between "betty" and the album's lead single "cardigan" when James is said to be wearing Betty's cardigan at the end.
Now we know there is a connection with this track and "cardigan", so then which other track completes the love triangle? Well, there's a line in "betty" that acknowledges the summer fling from the track "august" -- James considers, "If I told you it was just a summer thing?" Yep, it all makes sense now. Once again, Taylor Swift is a genius.
Favorite lyrics: "I was walking home on broken cobblestones / Just thinking of you when she pulled up like / A figment of my worst intentions..."
15. "peace"
This track is like poetry; the amount of visualization is outstanding. Each lyric is unique to its verse, yet they all connect seamlessly. Swift sings, "But I would die for you in secret", and it reminded me of a lyric from "Dancing with Our Hands Tied" (also from Reputation): "I loved you in secret." It all links to the stages of a relationship, from feeling love to laying your life for them, while also having some sort of trouble in expressing it, which is why it's a "secret". She further enhances that idea of finding security in love when it feels true when she says, "Give you the silence that only comes when two people understand each other / Family that I chose, now that I see your brother as my brother." All of that is joined with the conflict of offering "peace" due to her celebrity status while maintaining a normal relationship.
Favorite lyrics: "Give you the silence that only comes when two people understand each other..."
16. "hoax"
We've made it to the final track of Folklore. The first verse is composed of lines with a few words that mainly describe a visual comparison to being in a toxic relationship. This is seen when Taylor sings: "My sleepless night / My winless fight," losing sleep due to discussions or going into fights you know you won't win. We also see the film motif again: "You knew the hero died, so what's the movie for?" This line questions the point of a film if the hero dies at the end. It's a heartbreaking ending as she notices that she accepts the troubles that come with the relationship. She closes the track by saying, "Don't want no other shade of blue but you / No other sadness in the world would do."
Favorite lyrics: "Don't want no other shade of blue but you / No other sadness in the world would do..."
Which is YOUR favorite track off of Folklore? Let us know!