TRACK BY TRACK: Adam Lambert's 'Velvet'
04-14-2020 by Adriana Darcy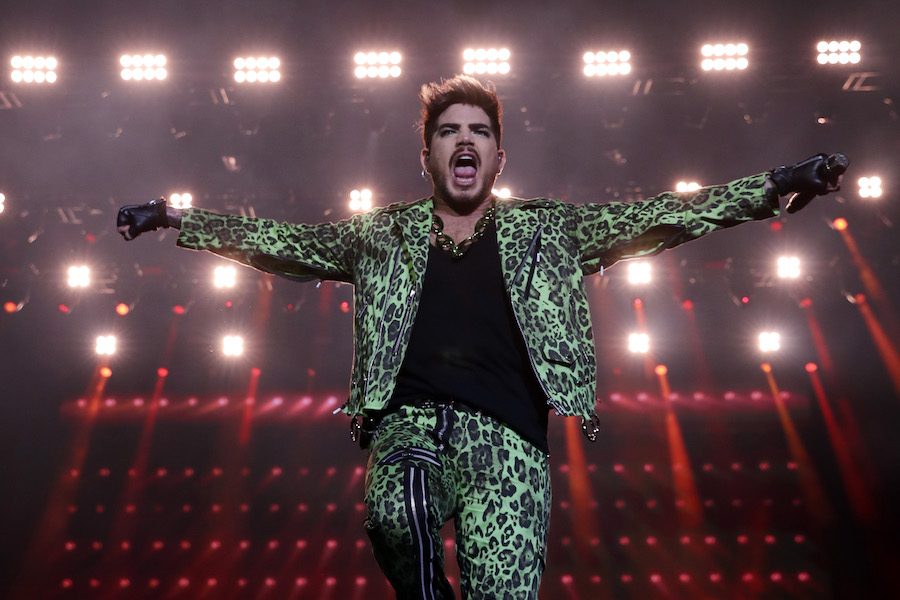 ( © Cole Bennetts/Getty Images)  
Adam Lambert is one of the few artists who consistently releases feel good singles, and his new album, Velvet, is no exception! This album is beautiful, romantic, unique, and sensual, and you will definitely want to listen to it over and over.

One of my favorite parts of this album as a whole is Lambert's use of velvet and his use of color in his music videos. The album lives up to its name with him wearing plenty of velvety suits. In each of his music videos for this album, there's the recurring image of a mystical and magical green light. He also manages to combine the '80s with modern pop to create his own style.
Let's break it down track-by-track!
1. "Velvet"
Lambert planned this album so meticulously and "Velvet" shows it! The very first line of the song that starts the album is "I've been feelin' nostalgic," and we can see it in the '80s influence that is spread across the album, in the music itself as well as the videos.
Another powerful line from this song is, "Wanna rock something in my own kinda way / Like it's tailor-made for me." This album is so undeniably Lambert, you can hear his voice in every single second of it, including the non-singing parts. This song is the perfect introduction to the album.
The music video is just as fun as the song itself, featuring Lambert in various colored velvet suits, designing different outfits. This characters in this video also have a strong '80s presence.
Favorite Lyrics: "Be my velvet / 'Cause I can't get enough of your touch, I'm crushing / I got that feeling..."

2. "Superpower"
Lambert starts off Velvet strong with his first three songs. "Superpower" is angry and powerful. Lambert isn't letting himself be pushed around and controlled anymore and is embracing his unique qualities — his superpowers.
I love the way this music video starts. Lambert takes advantage of old editing styles and makes them modern and unique. His videos have a vintage style to them. Lambert uses this video to showcase people with their own one-of-a-kind styles and lift them up. 
Favorite Lyrics: "You try to put me in a box / Make me something I'm not / Don't give a f**k, 'cause I'm gonna take back / My superpower..."
3. "Stranger You Are"
"Stranger You Are" is all about being yourself and not letting anyone try to drag you down or "lock you in the dark." This is a good, uplifting song and could definitely be the next Pride anthem, despite not having any explicitly LGBT lyrics. If you're having a bad day, this is a good song to remind you to embrace your strangeness.
Favorite Lyrics: "'Cause the stranger you are / They wanna keep you locked in the dark / Said the stranger you are / They gonna try to tear you apart..."

4 "Loverboy"
The beat in the beginning of this song makes it stand out from anything on the rest of the album! It's different from Lambert's typical style but doesn't stray completely.
"Loverboy" is another song about wanting to be the one and not wanting to "be another number." I love the synth in this song, it makes you want to dance. We really see Lambert's unique style and his ability to mix genres with this song.
Favorite Lyrics: "I ain't that different, different from you, ooh yeah / A player playing the player and foolin' the fool, ooh..."
5. "ROSES" ft. Nile Rodgers
"ROSES" is a heartbreaking song about the one-sided love of emotionless romance. In the chorus, Lambert is begging for love but only gets roses. If you've ever experienced unreciprocated feelings, this song is definitely something that you can relate to.
Favorite Lyrics: "But all that I got was roses / Don't mean a thing without emotions..."

6. "Closer to You"
Any song with a strong piano presence automatically makes it onto my favorites list! "Closer to You" is so soft and beautiful, a truly sweet love song expressing Lambert's willingness to give up all his fame and fortune just to be close to the one he loves. This is a song I would love to see performed live and to hear an acoustic version of. 
Favorite Lyrics: "Whatever gets me closer to your touch, your love / I want it all too much, I'm cryin' / I'd give my shirt off my back just to get you back / Baby, baby, now I'd lie in the eye of a hurricane just to have you comin' back..."
7. "Overglow"
I love everything about this song, from his soft, high-pitched voice in the beginning with the beautiful synth, to the fast chorus. I especially love the '80s influence that is apparent on this song; if not for the lyrics, this song could have come straight from that time period.
I love the way Lambert paired lyrics about phones taking over people's everyday lives and taking away the "human connection" with the '80s-style music, a time before smartphones existed, when people still had "human connections."
Favorite Lyrics: "Day and night / If you're lost in delusion / And from every word in your text / Only your fingers are bruising..."

8. "Comin In Hot"
This song is another sensual song about a new lover. "Comin in Hot" is fun and carefree, and the music video is one that you'll want to watch over and over.
The video features effects that send you back to the music video editing style of the '80s, but with a more modern look. I love the way this music video is intertwined with that of "New Eyes". Despite not being next to each other on the album, the two songs fit together perfectly.
Favorite Lyrics: "Read my mind, open up / Faded, I fall into you / Get me high on your touch / Tracin' the outline of you..."
9. "On the Moon"
This is the "trippiest" song on the album, as the lyrics would suggest. The repetitive lyrics and beats add to the calming, carefree feelings of the song and the use of electric instruments add to the trippy, high vibe of the song.
Favorite Lyrics: "Tripping on the, tripping on the moon, baby / I just wanna feel the dark side / Be your nocturnal midnight..."

10. "Love Don't"
I love Lambert's voice right from the beginning of this song; he has you hooked, hanging onto every single word.
This is a good post-breakup song, right up there withHalsey's "Bad at Love". "Love Don't" is all about ruining seemingly good relationships over and over again but not wanting to give up on love yet.
Favorite Lyrics: "'Cause love don't, love don't love me / But I don't wanna give it up..."
11. "Ready to Run"
I absolutely love the beats in this song; right from the beginning, it makes you want to dance. This song gives such cool and collected vibes. "Ready to Run" is all about letting go and not letting anything hold you back. If you need a pick-me-up song, this is the perfect one. The only thing this track is missing is an official music video.
Favorite Lyrics: "I'm goin' to a safer place for livin' / I'm runnin', kickin', never scared of screaming / It's hateful here and don't nobody care, I'm shoutin' / Why everybody being savage 'round here?"

12. "New Eyes"
This song is super soft and sultry. It's such a beautiful song about finding love when you were about to give up. This song makes you appreciate the beauty of falling in love and meeting someone new.
The music video is just as relaxing and carefree as the song itself, showing different people experiencing different types of high. Lambert shows off his ability to pull off any look with long hair and a velvety purple-blue suit.
Favorite Lyrics: "Rainy nights I've known for a while / Getting away from myself again / I was alive but empty inside / Hole in my heart, never thought I'd mend..."
13. "Feel Something"
This song is super soft and slow, sad, and beautiful. This is my favorite song on this album; every single line is beautifully written. It holds so much passion and honesty. "Feel Something" also serves as the perfect ending to this album, capping off the desperate love songs with a soft yearning song. 
This song is perfect for your sad playlist, your rainy day playlist, and your in-your-feels playlist. 
Favorite Lyrics: "I've been leaving my heart in all the wrong places / Took it back way too soon when I should've been patient / I built all these walls so no one could break in / Truth is I miss those nights when my heart could be naked..."