The Many Shades of Channing Tatum
Written by Amanda Baltazar. Published: September 19 2014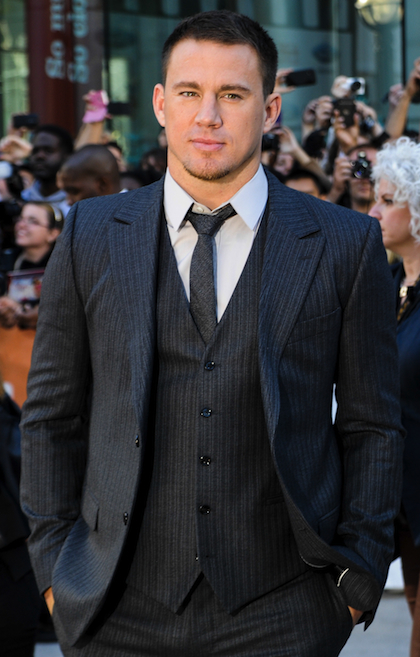 As I'm sure many of you know, a sequel for Magic Mike is in the works.
Over Labor Day weekend, many of Magic Mike XXL's cast and crew delighted us by posting a picture letting us all know that they have started filming. Even the delicious Channing Tatum asked his followers "Who's ready??? #MagicMikeXXL".
It's been a crazy ride for our favorite dancer-turned-actor-turned-action-hero-turned-funnyman. Behind his im-PECK-able body (heehee), Tatum's talents as an actor show through the versatility of his roles. From dramas to comedies, from being the sensitive leading man to one-half of a comedic duo, it seems Tatum can do it all!
Tatum started out in sports movies like Coach Carter andSupercross, and he even lent his soccer skills to one of my favorite movies, She's the Man. Then he got his first leading role as the rough-around-the-edges street dancer/mechanic in Step Up. Of course, his skills as a dancer in this flick were definitely a pre-cursor for his role in Magic Mike. But since then, Tatum has only been padding up his resume and winning over every female's heart. If you didn't know, he is married. Sorry, ladies. He met his wife, Jenna Dewan, on set of Step Up. I mean, they were co-stars, so way to go, Jenna! It's okay, they look really cute together.
                                                                                                                     (FayesVision/WENN)
Tatum slowly moved into the action hero roles with movies like G.I. Joe: The Rise of Cobra and The Eagle. Then, he gave every girl what they only fantasized about -- he was the leading man inNicholas Sparks book-to-movie tearjerkers Dear John and The Vow. We saw Tatum's sensitive side, and we all dreamed of finding a guy like him.
Right when all the females had Channing on our minds, they go and give usMagic Mike. Props to your agent, Channing, I see you. But around the same time, comedic master Jonah Hillapproached Tatum with a proposition that introduced us all to another side of Mr. Tatum.
Comedy. The two made a hilarious duo in a reboot of 21 Jump Street. We found that Tatum had the rocking body to be an action star, the depth to be a sensitive, brooding, lover, and, now, comical and witty. He followed this up with a quick but hilarious cameo inThis Is the End, The Lego Movie, and the sequel22 Jump Street. But Tatum never stopped being the action hero that he is, as we see in White House Down, also starring Jamie Foxx.
But perhaps one of Tatum's most noteworthy performances will be inFoxcatcher, which premiered at Cannes Film Festival. The film is based on a true story of Olympic Westling Champion, Mark Shultz. Tatum is joined by Mark Ruffalo andSteve Carell. Check out the trailer: 
Channing has worked hard to achieve his very prominent and illustrious career. His diligence and talent can be seen through his work and is one of the reasons why he is probably one of my favorite actors. Oh, and his abs, DUH! But in all seriousness, Tatum is more than just a hot bod and a pretty face. This model, actor, and film producer has made a name for himself in this biz. It has also been confirmed that he will be playing Gambit in the X-Men series and may even get his own movie!
Channing Tatum. Action hero. Brooding leading man. Funny guy.
What's YOUR favorite shade of Channing?
(Photo via Jorge Rios/iPhoto/WENN)
- Amanda Baltazar, YH Staff