'The Half of It' Is Netflix's Latest Teen Drama That You'll Fall In Love With!
05-07-2020 by Rishi Patel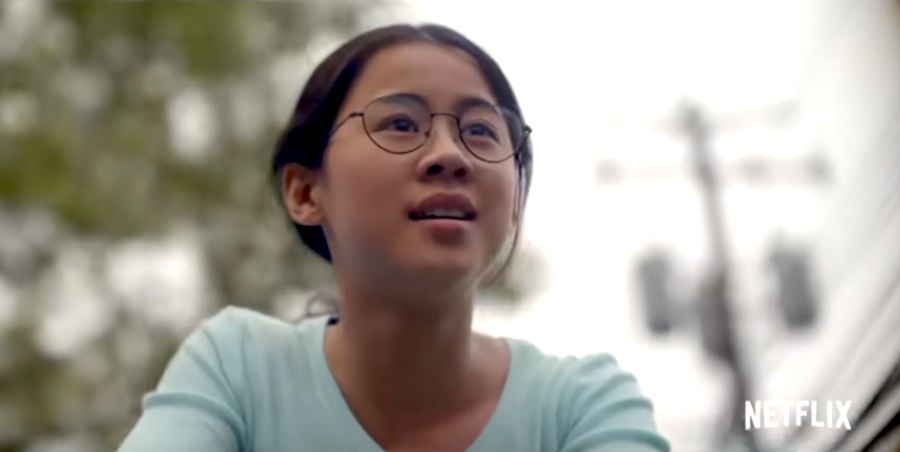 ( © Netflix)  
Another teen drama has released on Netflix and it's out to steal your heart!

The latest movie of this genre, The Half of It, is deep, touching, and charming, and we here at Young Hollywood are suckers for a good teen drama. This film looks through the eyes and perspective of a Chinese-American teen girl in America, which is a huge win for diversity on-screen!
In a small, opportunity-less town called Squahamish, Ellie Chu (Leah Lewis) is a creative but rather reserved teen who expresses her thoughts mostly through the written word. As a "job", she crafts papers for other students to accumulate money for herself and her dad.
She also helps her father with tasks at the local train station. When a football player named Paul Munsky (Daniel Diemer) comes to Ellie in hopes she could write a love letter to the beautiful Aster Flores (Alexxis Lemire), she reluctantly accepts because the money is needed.
Paul is "in love" with Aster, though he never engages in actual conversation with her. This is where the central plot point of the film is formed, as he only knows the half of it! Ellie is also in love with Aster.
The power of words is how Ellie expresses herself. By exchanging letters/text messages, Ellie helps Paul try to charm Aster. A strong bond is formed when Paul (who is really Ellie) and Aster connect on a deeper level through the words, like a modern-day Cyrano de Bergerac with a techie twist.

The Half of It is much more complex than typical high school teen films. It involves diving deeper into feelings, perspectives, emotions, internal conflict, and the power of writing. The typical jock (Paul) is a layered character, he's not afraid to show feelings, talk about love, and be vulnerable. He builds a friendship with a rather introverted person (something that usually never happens in teen films) and tries to be honest and humble with Aster.
The film also shows life is about discovery, the beauty of art, and getting the opportunities to live out dreams. It shows the protagonist Ellie learning about herself and love while helping her widowed father. It shows the power of art, whether it's through writing or painting.
Painting a perfect stroke is like what love is, per Ellie. Love is one huge mess, and Ellie compares it to botching a good painting for a chance at a great one. On the moving train that is the main character Ellie's journey throughout the film, she encounters stops that feature developing a strong friendship with a jock, deciphering the meaning of love, and connecting on a deeper level with somebody else through words. That's one good painting!
She gets a chance to paint an even BETTER one as she heads out of Squahamish via train to attend Grinnell College.
What did you think of The Half of It?