The Final Season of "13 Reasons Why" Is Coming Sooner Than We Thought!
05-15-2020 by Calissa Kirilenko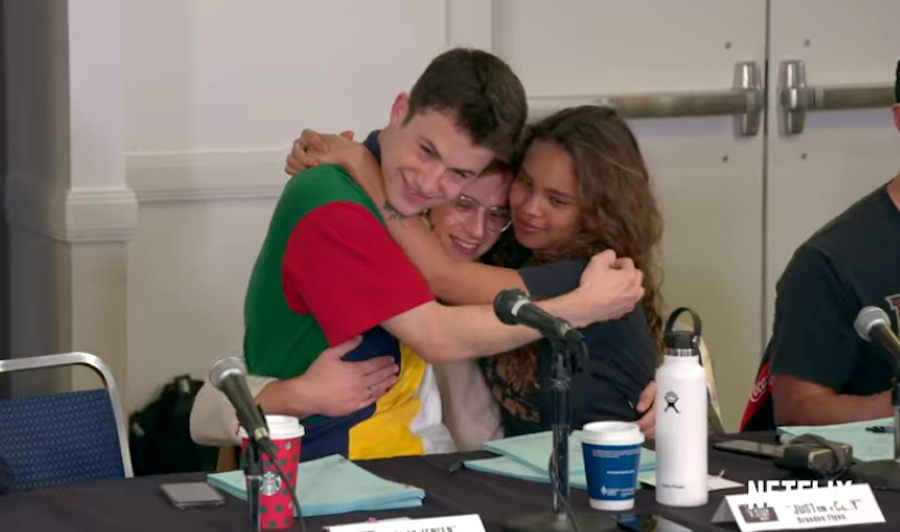 ( © Netflix)  
(WARNING: Spoilers below!)
Mark your calendars, because the 4th and final season of "13 Reasons Why" is returning on June 5! Netflix has yet to release a trailer for the coming season, but earlier this week, they dropped a short video of the cast saying goodbye to the show and each other while filming the final season.
Season 3 of the series ended with Clay (Dylan Minnette) and his friends pinning the murder of Bryce Walker (Justin Prentice) on Monty (Timothy Granaderos), who then in turn ends up getting killed while in jail. The truth is that Alex (Miles Heizer) was the one who killed Bryce, with Jessica (Alisha Boe) there. But their secret may be revealed, as it turns out Winston (Deaken Bluman) was with Monty on the night of Bryce's murder and could reveal the truth, putting all of them in jeopardy.
As for returning faces, we can expect to see Clay Jensen, Jessica Davis, Tony Padilla (Christian Navarro), Justin Foley (Brandon Flynn), Alex Standall, Zach Dempsey (Ross Butler), and Tyler Down (Devin Druid). It doesn't appear that Bryce will be appearing in the final season, even in flashback scenes, but we'll have to wait and see to be sure.
Some new characters are being added to the mix include Gary Sinise, who is known for his roles in Forrest Gump and "C.S.I.", as well as Natalie Lander, who you may have seen on the series "The Middle". Gary will be playing Doctor Robert Ellman, and Natalie will play a character named Amanda.
With no trailer released yet, we aren't sure what storylines will be focused on in the final season, but we're sure there will be lots of explosive secrets revealed along the way. As opposed to previous seasons, this one will have only 10 episodes, and the titles of two have been released: Episode 4 is titled "Senior Camping Trip" and Episode 10 is titled "Graduation". We can only hope this means that, by the end, everything will be wrapped up in a positive way.
Stay tuned!