"The Bachelor" Recap, Episode 6: Say Hi to Peter's Backbone!
02-06-2020 by Nicole Koch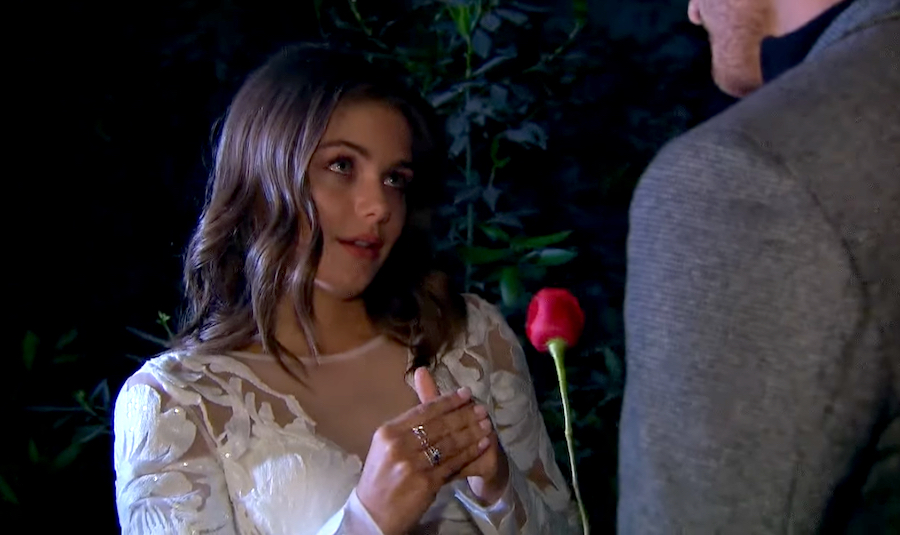 ( © ABC)  
Hey Bachelor Nation, how you feeling after those 5 hours of our show this week?!

I thinkPeter is adorable and so loving but I think we can all agree that we saw a whole other side to him in this episode. Meet his backbone, who helped him speak his full truth and eliminate people who he couldn't see as his wife! [*claps*]
I can't imagine how hard it is to be in that position, and I'm so proud of him for doing it! He's really starting to show us how serious he is about finding the love of his life.
The episode was 2 hours long, so you KNOW there were other amazing stand-out moments, check them out below!
The Most Dramatic Moment
This was one of the moments where Peter's truth really came out.
He eliminatesVictoria P. because he couldn't see her as his wife, and my heart sank for her in that moment. No matter the drama that surrounds her, it's never fun to hear something like that. You could just tell it was ripping her up inside, but I'm glad Peter stood his ground!
The Cringiest Moment
Victoria F. has been getting so much air-time the last few weeks, and it's clear that Peter really likes her.

However, I felt their one-on-one date (their second one this season!) was cringy and awkward. Peter just wants someone who can be open and transparent about their feelings, and Victoria F. really struggles here. I feel for her in this moment because we've all been here, but Peter needs more.
The Most Emotional Moment
Oh my girl Hannah Ann.
Everyone knows she's a model and she's done an excellent job at keeping her composure in front of Peter. In this episode, we see her cry in front of him for the first time. She's young, and people question her intentions, which I totally understand, but I think she's just trying to navigate her emotions.
According to the interwebs, she's a Taurus, which means she strives for perfection and doesn't show her emotions easily. I feel for her because I'm a Virgo, and that's definitely something I'm working on too. We'll see how far she goes, but I'm still rooting for her!
The "Yes, Girl!" Moment
Like we always say, the Devil works hard but "The Bachelor" producers work harder.Mykenna and Tammy get into a huge argument (first clip!) and get the two-on-one date OF COURSE (second clip!), because they're having the most issues right now. Cue the drama!
I feel like Mykenna and Tammy's drama is the perfect example of opposites don't attract. In this episode, it's the battle between the two, and Mykenna stands up to Tammy.

The Funniest Moment
The group date in this episode actually looked so fun! Peter and the girls got to star in their own telenovela and it's hilarious.
What was your favorite moment of Episode 6?!
Tweet/DM us, we'd love to know!
@younghollywood:
@nicoleckoch: