"The Bachelor" Recap: Episode 5 - Big Hair, Big Hoops, Big Energy!
02-02-2021 by Riddhi Chopra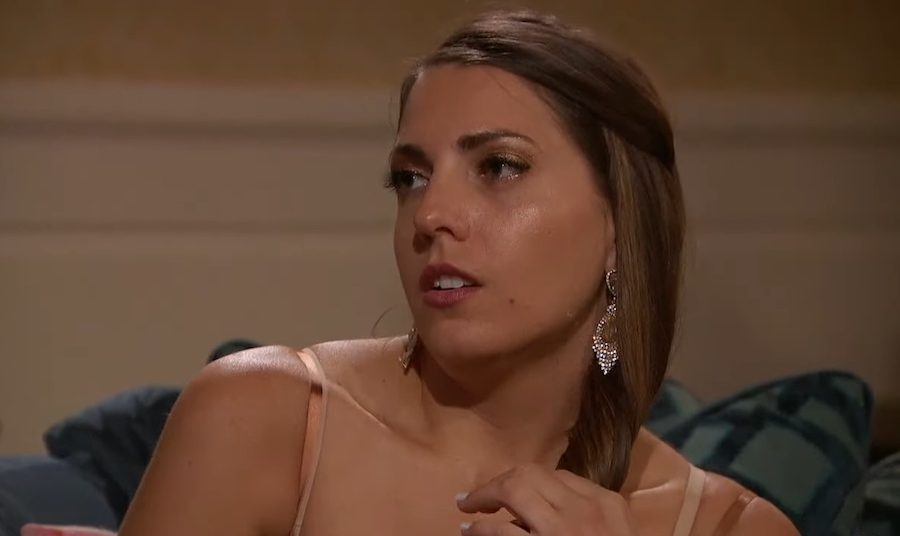 ( © ABC)  
Last night (February 1, 2021) saw another installment of Matt James's season of "The Bachelor" as we officially hit the halfway point in his journey towards love. We saw chemistry increasing and, along with it, a lot of competition and drama.

Here are the highlights from Episode 5 of "The Bachelor"!
1. The Fall of the Queen's Reign
After last week's run of endless bullying, which ended withKatie bringing the issue to Matt, our Bachelor decides to take charge and address the group, stating that his future wife would never "belittle someone else for [her] to shine." He clearly knows about the targeted rumors towardsBrittany and pulls her aside for a chat to comfort and reassure her. Anna, who is next up on Matt's "let's have a talk" roster, desperately admits her fault and brushes it off as an "offhand comment." Though she owns up to her actions, Matt decides that, in order for him to be fair to the other girls, she must go home.
Later, during the same cocktail party, Ryan bursts into tears during her chat with Matt and calls out Victoriafor her bullying, stating that her profession as a dancer had been ridiculed. Victoria fails to defend herself in front of Matt, choosing to sit silently and twirl her hair instead, but later fully breaks down just minutes before the rose ceremony (even shrieking that she is the "only one with a working f---ing brain in this room"). Matt gives out roses to a majority of the women, yet leaves Victoria out. At last, the Queen falls off her throne as she stomps out of the room, refusing to say or hug Matt goodbye, and we finally see the end of a terror-filled era.
2. Reap What You Sow
Matt's first one-on-one date of the week is with Rachael, who undoubtedly lucks out amongst all the women as he (AKA the producers) treats her to a luxury shopping spree. With the help of celebrity stylist Ty Hunter (who has worked with clients like BEYONCÉ), Rachael does a Pretty Woman-esque runway show for Matt, who also gifts her a pair of Louboutins. Though the producers make every effort to cover up the label on the box, the audience and the women of the house immediately recognize the iconic red bottoms. Rachael and Matt get deep over dinner that night, as she opens up about her insecurities and the two admit they are falling in love with each other.
Next is the group date, where 13 girls escape the hustle and bustle of the Pennsylvanian resort life to farm their way to Matt's heart. They get down and dirty as they milk goats, collect eggs in a chicken coop, and push each other in wheelbarrows. MJ's competitive side comes out as she tries to be the center of attention during all activities in an attempt to catch Matt's eye. At the cocktail party later that night, Abigailgets the group rose after she opens up about her fears in starting a family.
The last date of the week is another one-on-one, which 21-year-oldKit is invited to. The two get a glimpse of their potential future life together as they bake cookies in Matt's candlelit apartment and she talks about her life as a public figure, being the daughter of a famous fashion designer. Later that night, Kit becomes the second one this week to tell Matt that she is falling in love with him, to which he just responds with a kiss and a rose.

3. JVs and Varisitys
During a cocktail party, Matt speaks with MJ about concerns that had been brought to his attention regarding her role in some of the bullying within the house. She is obviously furious, and she asks the girls to engage in an open dialogue if they have a problem with her behavior. Jessenia comes forward, revealing that she had been the one to bring the issue to Matt. The two ladies later get invited to a two-on-one chat with Matt prior to the group cocktail party, and we see each of them having packed a suitcase in case they are sent home. After sitting through a painfully awkward and silent car ride, the two argue back and forth until Matt arrives and the episode ends, leaving us with yet another cliffhanger!
We still see MJ in next week's preview, so either Jessenia was sent home or both were given a second chance. We also see "Bachelor" alumHeather Martin crash the party, and it is safe to assume that none of the women will be happy to see this uninvited guest. Stay tuned for a recap of next week's drama!