The 5 Best Films of Hayao Miyazaki
Written by Sarah Osman. Published: September 06 2014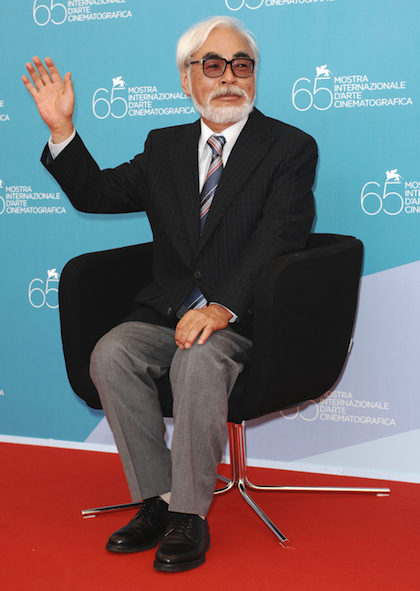 One of the most brilliant visionaries in animation, Hayao Miyazaki, is about to finally receive the acclaim that he deserves. At this year's Governor Awards (part of the Academy Awards), Miyazaki will be given an Honorary Award. It's about time Japan's most well-known director receives some recognition; he has only received one Oscar during his career -- a Best Animated feature award for Spirited Away.
Over the years, Miyazaki has brought us some of animation's most beloved characters, including Totoro, Kiki, and the delightfully manic Howl. In honor of Miyazaki's great award, I have decided to compile a list of the five best Miyazaki films -- these are the ones that you must watch whether you've never seen Miyazaki or this is your millionth time watching them:
1.My Neighbor Totoro (1988):The film that introduced the world to Miyazaki, My Neighbor Totoro is a wonderfully whimsical film about two young sisters who meet a series of adorable creatures known as Totoros. The girls and the totoros quickly embark on a number of magical adventures. I'm pretty sure that it is not humanly possible to dislike My Neighbor Totoro. King Totoro rivals even the cutest Disney characters for being adorable (you just want to cuddle him!). The film's deeper message, of the two girls bonding as their mother is ill, adds a more serious theme to the film, yet it never loses its charm. In recent years, Totoro has become such a well-known character and was featured as one of the toys in Toy Story 3.
2.Princess Mononoke (1997): Princess Mononoke takes a more serious turn when compared to My Neighbor Totoro, due to the fact that the film's main theme is the horrors of war. The film proves that Miyazaki can still make a delightful film, even when the subject matter is dark. Princess Mononoke follows a young warrior named Ashitaka, who, after getting injured by a rampaging bear/demon, travels to the west where he gets entangled in a war with the humans, who are waging war on the gods of the forest and one of their leaders, Princess Mononoke. Ashitaka quickly sees the merits of both sides, and ends up in more trouble than ever. Not only is the film emotionally gripping, it's also visually stunning -- it may be one of Miyazaki's most beautiful films to date.
3.Spirited Away (2001):You will truly get spirited away by this film, which follows Chihiro, a sullen (but still adorable) little girl who, after moving with her parents to a new house, takes a wrong turn and ends up in a world filled with gods, witches, and monsters, and her parents are turned into giant pigs (for fittingly stuffing themselves with too much food). Once trapped in the strange world, it's up to Chihiro to save her parents and return to the real world. Spirited Away is equally as quirky as My Neighbor Totoro, although it has a darker touch to it. This is the film that won Miyazaki his only Academy Award, and rightfully so -- the film's vivid use of color and mystical plot will capture your attention and make you quite happy to live in the real world (unless you want to be turned into a giant pig).
4.Howl's Moving Castle (2004):This may be my personal favorite of Miyazaki's film, and for good reason -- partUp mixed with a dash of unlikely lovers and magic,Howl's Moving Castle is a mystical rom-com. In the film, Sofi, a shy 18-year-old, is cursed into the body of an old witch. While under the curse, Sofi comes across the moody magician Hauru (he really is moody -- he has a complete mental breakdown when his hair is dyed the wrong color) and his moving castle. His fire demon makes a deal with Sofi: if she can break the contract that he is under with Hauru, then he will lift the curse. As these stories tend to go nothing goes as planned, and Sofi and Hauru find that they have more in common than they first thought. I enjoy Hauru's sheer nuttiness -- he fits the mold of "crazy scientist/wizard". There is also a sweetness to the film that I appreciate. It's just endearing to watch Sofi and Hauru come to love one another.
5.Kiki's Delivery Service (1989):Yet another one of Miyazaki's fantastical films, this one follows a young girl who, as a witch, is about to embark on her independent year. She decides to support herself by running a courier service and struggles to fit into her new community (a quaint seaside European village). Kiki is simply darling -- it's impossible to not root for her (she even has a quirky cat!). The film used 462 different colors, and it shows, as the color practically leaps off the screen. Over the years, Kiki has become a role model for spunky young girls everywhere; her can-do spirit is infectious, and her influence is clear in today's modern heroines.
Do you have a favorite Miyazaki film?
(Photo via Apega/WENN)
- Sarah Osman, YH Staff