The 12 Most Hype-Worthy Things From The New "Stranger Things" Season 4 Trailer!
Written by Katie Marzullo. Published: April 13 2022
(Netflix)
Insert Michael Scott GIF here. You know the one.
Yes, kiddos, it's finally happening – Season 4 of "Stranger Things" is just a little over a month away and we cannot contain our excitement in finding out just want the heck is going to happen to Eleven (who moved away from Hawkins with the Byerses), Hopper (who is a prisoner somewhere in Russia), Nancy and Mike Wheeler (both of whose sweeties are no longer in town), Steve, and the rest of the gang.
Well, the full trailer for the new season (which will be split into two parts) has just been released, and we are desperately scanning every frame for any clues as to what to expect! Here are a few things that stood out!
1. The trailer opens with an ominous voice addressing someone about how they destroyed everything and how their "suffering is almost at an end." Somehow we don't think that's a good thing. So who is behind this Emperor Palpatine-sounding voice?! The King of the Demogorgons or something? Sounds like ish is about to get real in the Upside-Down…
2. The main part of the trailer then opens with Max sitting at her stepbrother Billy's grave – as you might remember from the previous season, Billy was corrupted by the Upside-Down but came around thanks to Eleven's compassion and sacrificed himself to save the world. In a voiceover, Max explains how everything has been horrible since he left. This is quite an interesting way to introduce theentire trailer, no? Like, almost as if Max might be playing a bigger role in what happens this season (more on that later)… And maybe Billy isn't as dead as we thought he was after all?! His gravestone very pointedly says "Gone But Not Forgotten"…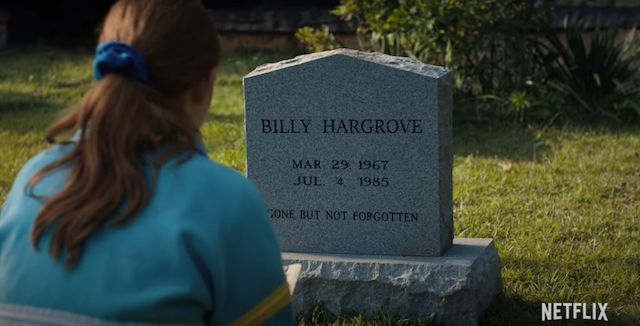 3. Throughout the entire trailer, the '80s Journey hit "Separate Ways (Worlds Apart)" plays, which is all about letting go of someone who is no longer in physical proximity to you. Though it also does feature the lyrics "Someday, love will find you / Break those chains that bind you…" Perhaps hinting that those who were separated will eventually find their way back to each other in the end…
4. Even though Eleven & the Byerses moved away, they apparently still get to see their friends back in Hawkins every now and then, as we see a shot of Eleven and Mike together at a roller skating rink (with Will third-wheelin' it behind them). It remains to be seen, though, how often these meet-ups occur or if it just an occasional thing.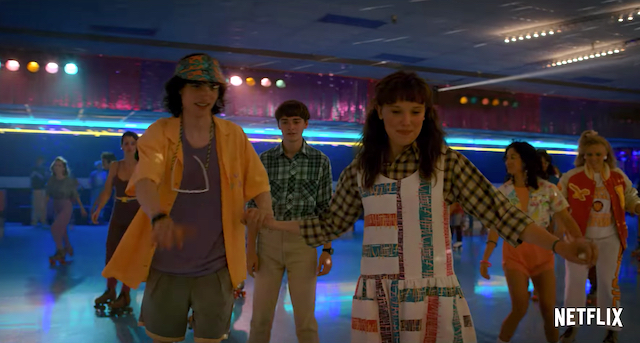 5. We see Joyce Byers eying a package she has received in the mail with a ton of Russian stamps on it – could this be Hopper trying to communicate with her from wherever he is being held?!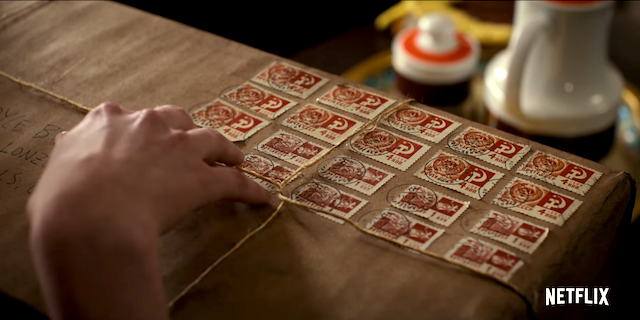 6. We then hear a voice-over from Sam Owens, who we remember primarily from Season 2 as the replacement for Martin Brenner (AKA Eleven's "Papa") as Director of Operations at the Hawkins Lab that was created to contain the craziness from the Upside-Down from leaking into our world. He also helped Hopper (unofficially) adopt Eleven. Now, he has apparently tracked down Eleven again and is trying to convince her to "come out of retirement", as it were, to help take on the new threat in Hawkins.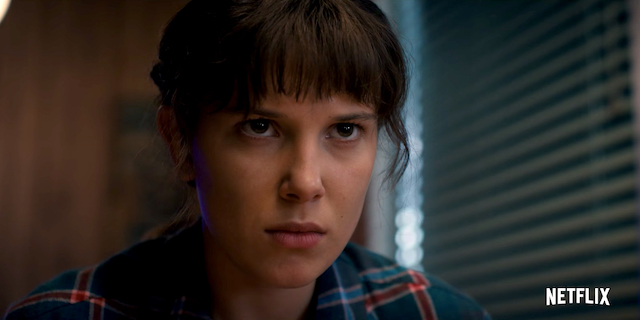 7. While Jonathan now effectively out of the picture – and Robin decidedly unavailable – does this mean there's a chance at Steve and Nancy rekindling their relationship? We definitely get some vibey glimpses of them together in the trailer, and it definitely looks encouraging… #Stancy Nation, where you at?!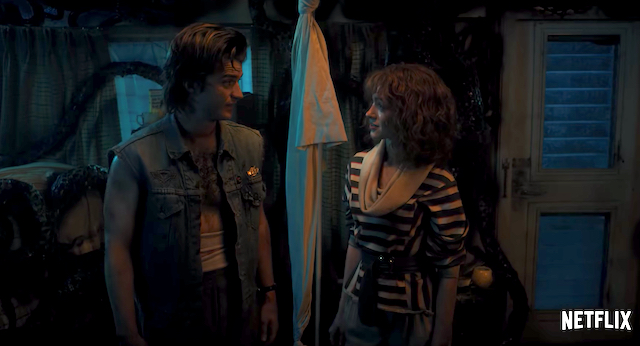 8. Looks like we are going to finally find out everything that happened to Hopper after he was presumed dead in the Starcourt Mall explosion at the end of Season 3 – and from the looks of it, he is being forced by the Russians to fight and kill Demodogs.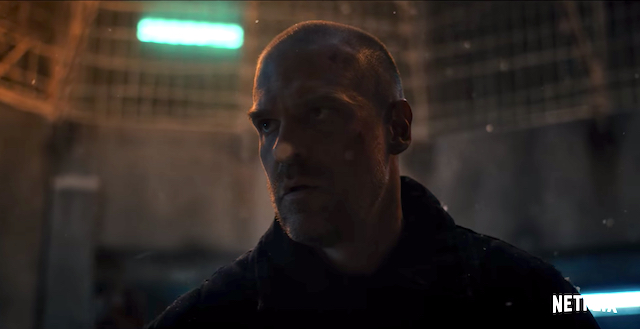 9. There is also a pretty eye-opening moment in the trailer where we see Max LEVITATING over Billy's gravestone, with her friends Steve, Lucas, and Dustin staring in shock. What the heck is happening here?! Is she being influenced by the Upside-Down like her brother was? Does she have some latent powers like Eleven that we don't know about? Is Billy trying to communicate with her from the Other Side? WE NEED TO KNOW NOW!!!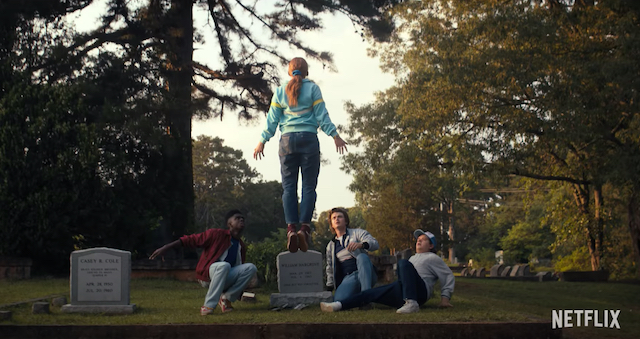 10. Who the heck is the rock god shredding on his guitar in the Upside-Down?? And more importantly… why?? Is he supposed to be like the Doof Warrior from Mad Max: Fury Road? Or do his sweet riffs actually play some vital role is slaying the savage beasts?
11. Murray Bauman is back!!! Our favorite shipper and Russian disenthusiast ended the previous season having discovered Hopper's whereabouts and taking off with Joyce to go find him, and it looks like their adventures are in full swing according to the trailer!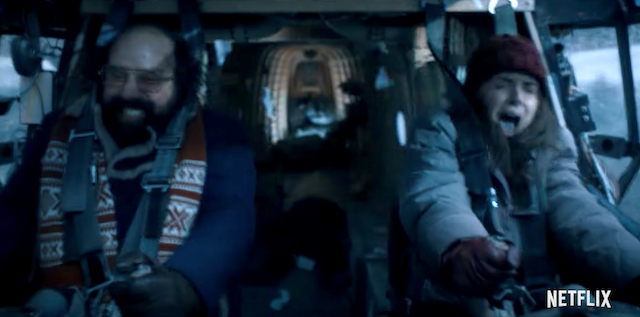 12. The trailer ends with what appears to be the new Big Bad of the season and boy does he look terrifying! He seems to be some kind of humanoid with spider-like appendages and a nasty complexion. Is this the dude we heard in the voice-over at the beginning of the trailer? The Duffer Brothers have revealed that this guy is a god-like character straight out of Dungeons & Dragons, but some folks online have noted that he looks suspiciously similar to how we last saw Billy... Wouldn't THAT be a twist?!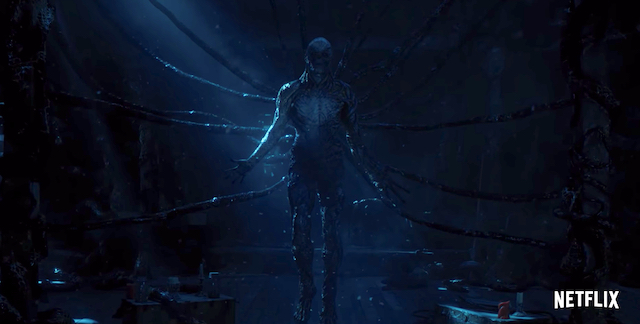 "Stranger Things" Season 4, Volume 1 (consisting of 5 episodes) premieres on May 27, while Volume II (the remaining 4 episodes) drops on July 1 on Netflix.