14 SXSW Movies & TV Shows We're Most Stoked About!
Written by Robert Sweeney and Katie Marzullo. Published: March 22 2023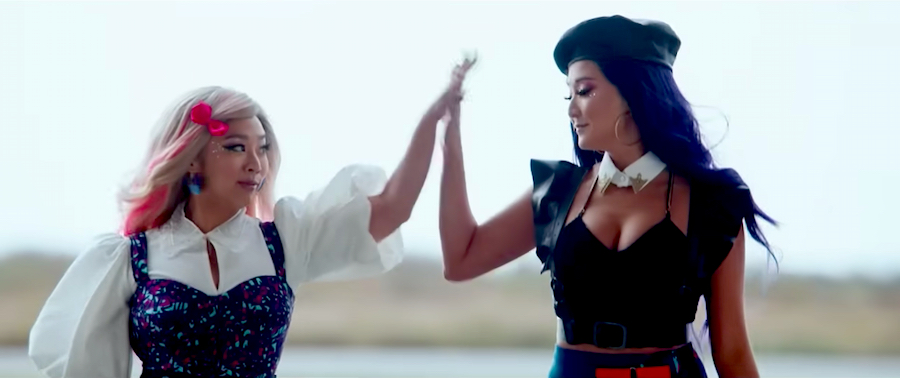 (Lionsgate)
What better way to ring in Spring than by celebrating your favorite music, films, and TV shows? In Austin, Texas, the annual South By Southwest Conference draws fans of the arts from all over the world to catch exclusive first looks at new films, dance along to concerts featuring their favorite musicians, and lounge in exclusive pop-up events themed from their favorite television series. During this year's SXSW, festival attendees were gifted with early screenings of new films and television episodes as well as stylish pop-up events to rest in between premieres and concerts.
Let's break down these special pop-up experiences as well as 10 movies and 4 television shows that made an appearance at this year's SXSW that we are most stoked for!
MOVIES
1. Dungeons & Dragons: Honor Among Thieves
No doubt the flashiest of the big movies making their theatrical debuts at SXSW was the fantasy action flick Dungeons & Dragons: Honor Among Thieves, starring Chris Pine,Michelle Rodriguez, Regé-Jean Page, Hugh Grant, and many more. The film is, obviously, based on the iconic RPG of the same name, bringing those archetypal characters to life in a way we've never seen before! See the film in theatres nationwide starting March 31.
2. Evil Dead Rise
The Evil Dead franchise lives with this fourth movie installment, which follows the 30-episode TV series from the late-2010s. NoBruce Campbell in this one, sadly – though he was on-hand for a live Q&A – but the thrills and scares are always a good bet with this series! Catch it in theatres April 21!
3. Flamin' Hot
A big trend in film and television these days is chronicling the start of some of our favorite brands. As you probably guessed from the title, this film tells the short of how one of our favorite snacks, Flamin' Hot Cheetos, made its way onto our shelves and into our bellies thanks to a Frito Lay janitor named Richard Montañez. The film is directed by Eva Longoria and will hit Hulu and Disney+ on June 9!
4. Joy Ride
Raunchy female-led comedies are nothing new, but having all Asian-American leads is! And we couldn't be more ready for it. Oscar nomineeStephanie Hsu is joined by "Good Trouble" starSherry Cola, Ashley Park, andSabrina Wu in Crazy Rich Asians writerAdele Lim's feature directorial debut about 4 friends who take a trip of a lifetime to Asia where, of course, hijinks ensue. See Joy Ride in theatres June 23!
5. Tetris
FollowingFlamin' Hot's lead, this film is all about the development of – you guessed it – Tetris, the highly addictive puzzle game from the '80s. Turns out, the story behind the creation of this simple game was… rather complex, involving cold war intrigue and espionage and all sorts of craziness! The film starsTaron Egerton and will hit Apple TV+ on March 31.
6. Parachute
Brittney Snow makes her feature directorial debut and also co-wrote this romantic drama about a woman, Riley (Courtney Eaton) who seemingly trades one addiction (eating disorders) for another (love) after she meets Ethan (Thomas Mann). Kid Cudi,Gina Rodriguez, and Joel McHaleround out the cast. No theatrical or streaming date has been announced yet but fingers crossed we will soon be able to see this one on our screens, big or small!
7.Blackberry
More brand origin stories, you say? You got it! Yes, the tumultuous age of the "Crackberry" craze is the subject of this whirlwind historical dramedy starring Jay Baruchel and Glenn Howerton as the men behind your favorite smart device… that is, before Steve Jobs and his iPhone came around and ruined everything! The bigger they are…Blackberry first premiered at the Berlin International Film Festival last month and will premiere in Canada in April; we'll hopefully get a U.S. release date soon!
8. Air
Making a surprise world premiere at SXSW on closing night was, yes, yet another brand origin story! Air tells the tale of how the now-iconic Air Jordan sneakers came to be, and the lengths both salesman Sonny Vaccaro (Matt Damon) and Nike went to secure Michael Jordan's partnership. Ben Affleck plays Nike co-founder Phil Knight and Viola Davis plays MJ's savvy and protection mom Deloris, while Jason Batemanand Chris Tucker round out the cast. Newcomer Damian Delano Young portrays the basketball legend himself. Air hits theatres April 5!
9. Theater Camp
This one is for all you theater geeks out there, you know who you are! This comedy, co-directed by Molly Gordon andNick Lieberman and co-written by Gordon, Lieberman, Ben Platt, and Noah Galvin, centers on a rundown but scrappy theater camp that has to scramble after its founder falls into a coma and her place is taken by her "crypto-bro" son. Will they be able to get their act together before opening night?! Theater Camp premiered at Sundance in January and is expected to hit theatres this July. Aaaaand scene!
10. A Disturbance in the Force
An event so monumental, so dire in its ability to both horrify and intrigue, it was only a matter of time before it got its own documentary. Yes, I am of course talking about the "Star Wars Holiday Special". The 1978 broadcast has divided and traumatized fans for decades, and now they're finally ready to talk about it. Find out how it got made and hear from celebrity Star Wars fans likeKevin Smith, Seth Green,"Weird" Al Yankovic, and more as they share their thoughts about this infamous TV special. Release date TBA.
TELEVISION
1. "American Born Chinese"
Everything Everywhere All At Once struck gold by bringing together Asian stars Michelle Yeoh, Ke Huy Quan, and Stephanie Hsu, and now Disney+ is doing the most logical thing ever – bringing the two Oscar winners and nominee back together for an 8-episode series! Ben Wangplays teen Jin who finds himself caught up in a battle between mythical Chinese gods – as if school isn't stressful enough! Actress Lucy Liu directs an episode of the series which is expected to premiere on May 24.
2. "Beef"
More Asian talent headlining their own series? Yes please! "The Walking Dead" star Steven Yeun and comedian Ali Wong play two people who get in a road rage incident and things just kind of deteriorate from there. The series is billed as comedy-drama, and it will be exciting to see Ms. Wong flex her dramatic chops alongside Oscar nominee Yeun when this series hits Netflix on April 6!
3. "Love & Death"
If you enjoyed Hulu's "Candy" starring Jessica Biel, which debuted last summer, then get ready for round 2! "Love & Death" stars Elizabeth Olsen as a churchgoing housewife who murders her lover's wife. The story is based on the real-life case of Candy Montgomery, who struck up an affair with her friend Betty's husband and got deadly about it. This version of the infamous story will hit HBO Max sometime this year (date still TBA).
4. "Swarm"
Chances are, you have already binged this twisted and addictive series fromDonald Glover which hit Prime Video last week. "Swarm" is a thinly-veiled commentary on the oftentimes unhinged fandoms of popular music artists, and focuses that theme of the misadventures of Dre (Dominique Fishback) who, shall we say, takes major issue with anyone who disses her favorite artist Beyoncé--er, I mean, Ni'Jah online.Chloe Bailey, Paris Jackson, and even Billie Eilish make memorable cameo appearances in this 7-episode series that will suck you into the Beehive!
Some other eye-catching performances included: Bodies, Bodies, Bodies's show-stealing Rachel Sennott  performing as a troubled stand-up comedian in I Used To Be Funny; Sydney Sweeney of "Euphoria" fame starring in the Wild West-inspired crime comedy Americana, and legendary actor Dennis Quaid portraying a golf coach in the inspiring story The Long Game. 
Aside from all the epic screenings, this year's South by Southwest boasted plenty of experiences for fans of television shows while building excitement for upcoming studio projects. Festival-goers were treated to specially-themed lounges sponsored by their favorite streaming services. Three of the biggest pop-up events this year were Amazon Prime's Prime TX, Showtime's Camp Yellowjackets, and Paramount+'s The Lodge. Each pop up event sported their own unique cocktails, photo booths, and decorative spaces. 
Amazon's Prime,TX event delivered to various fans of their unique shows by providing specially-themed cocktails and decorative lounge spaces. For fans of the raunchy superhero show "The Boys", fans could attend the XXXclusive Bar with drinks named after the show's heroes and memorable moments. Fans of the new musical drama series "Daisy Jones and the Six" could grab a drink at the bar inspired by the band's recording studio. This eccentric experience hosted live music and record spinning DJs to soundtrack the pop-up event. 
Showtime's attention to detail shined with their Camp Yellowjackets experience, providing attendees with an immersive pop-up event themed around the hit Showtime show of the same name. The set around the pop up event was decorated with set pieces native to the world of "Yellowjackets", a story set in the Canadian wilderness in 1996. From the snowy trees to the looming wooden lodge, fans of the series could anticipate the approaching second season by grabbing cocktails and resting in a lounge set in the snowy wilderness.
The Lodge was a pop-up presented by Paramount+ that appealed to both fans of the Western series "1923" and the "Star Trek" spinoff, "Picard". While the beautifully decorated woven rugs and wooden bar referenced the Western Era of "1923", neon lights and the memorable Star Trek insignia drew in fans of both the old "Star Trek" series and newer fans of "Picard". The Lodge was particularly successful in drumming up excitement for both their exciting new season of "1923" and the highly-anticipated final season of "Picard".