STUDIO SPOTLIGHT: "This Is Us" Kids
Written by Jillian Malone. Published: February 28 2018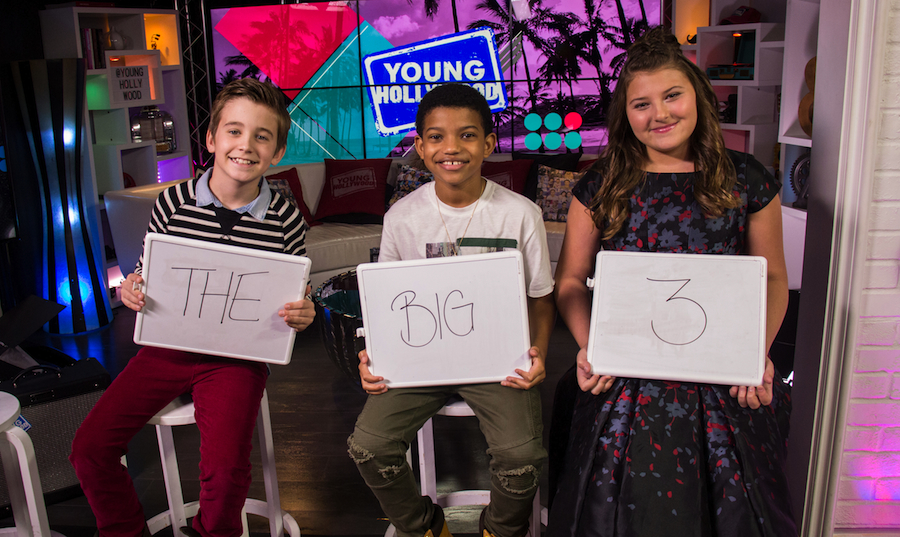 "First came... Me.
And Dad said... Gee!
And then came... Me!
And Mom said... Whee!
And then came... Me.
And they said... That's three!
Big Three! Big Three!"
"This Is Us" fans, get your tissues ready! Don't worry, we're not crying over Jack's death today (even though we'll never recover from that). We're laughing 'til we cry because we had the adorable, little "Big Three" in the Young Hollywood Studio! Mackenzie Hancsicsak, Parker Bates, and Lonnie Chavis, who play Little Kate, Little Kevin, and Little Randall, respectively, dropped by to talk all about the hit show on NBC.
Warning: If you came here hoping for some "This Is Us" spoilers, we're sorry to disappoint. The kids let us know that even they don't know what's in store next for the Pearson family. "On the script, I only read my parts because I don't want to know spoilers, I just want to watch the show like everybody else," said Lonnie.
But our favorite triplets aren't just like everybody else -- Mackenzie shared with us how she rushed out of school to get her hair and makeup done before heading to our Studio; Lonnie has his eyes set on being in a Black Panther sequel; and Parker gushed about how excited he was to meet the one and only Reese Witherspoon at the SAG Awards, where the entire cast of "This Is Us" won the award for Outstanding Performance by an Ensemble in a Drama Series.
When they aren't running off to award shows with Sterling K. Brown, Chrissy Metz, and Justin Hartley or hanging out with their TV parents, Mandy Moore and Milo Ventimiglia, the kids are just trying to be exactly that -- kids! Lonnie is constantly perfecting his dance moves (which he busted out in the Studio for us), Parker is trying to beat his personal record for solving a Rubik's Cube, and Mackenzie is a Girl Scout who is trying to sell as many cookies as possible to go on a trip to SeaWorld with her entire troop. We even caught the three playing Tag outside our studio!
Sit down, relax, and grab yourself a box of Mackenzie's Girl Scout cookies! You won't want to miss out on the little "Big Three" answering your burning questioning and spilling all of the on-set secrets in our "Who's Most Likely To" game. Join in on the fun by watching our 2-part interview below!
- Jillian Malone, YH Contributing Writer