Selena Gomez's New Hulu Show + Looking Back At Her Best Performances!
06-07-2021 by Derin Yilmaz
  ( © James Devaney/GC Images/Getty)  
Hold your magic wands because the sassiest TV wizard of the Waverly Place is back with a new Hulu series called "Only Murders in the Building". Clarification (if needed for some reason): The sassiest wizard is of course none other than Disney Channel's Alex Russo, played by the one and only Selena Gomez.
In the past two years, the multi-talented Disney star launched her own makeup line Rare Beauty, released her vulnerable album Rare, followed by the release of her new Spanish album Revelación featuring hit singles like "Lose You to Love Me" and "De Una Vez". And very soon -- more specifically, on August 31, 2021 -- Gomez will finally be back on our TV screens with her new Hulu series, "Only Murders in the Building", something we've been waiting for ever since the actress graduated from her TV career in Disney Channel. 
The crime/comedy mini-series is about three strangers, played by Selena Gomez, Steve Martin, and Martin Short, who share an obsession with true crime and suddenly find themselves caught up in one. The series was created by Martin and John Hoffman ("Looking", "Grace & Frankie") and the episodes are directed by Jamie Babbit ("Gilmore Girls"), Cherien Dabis ("Ramy", "Ozark"), Gillian Robespierre (Obvious Child), and Don Scardino ("30 Rock", "2 Broke Girls"). The producers are Jane Raab ("Sex and the City") and Thembi Banks (Home Before Dark), and the executive producers include Babbit, Short, Martin, Gomez, Hoffman, Dan Fogelman ("This Is Us"), and Jess Rosenthal ("This Is Us"). With a talent pool like that, this is sure to be a hit!
Oh, and the set pics look insane: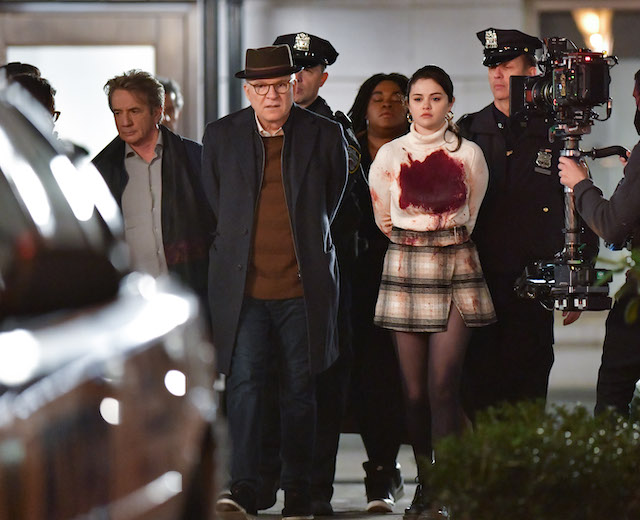 ( © James Devaney/GC Images/Getty)
Selena Gomez can do it all, and we knew that for years now. Let's take a trip down Memory Lane and remember some of her best movie projects that we loved (and still love)!
1. Monte Carlo (2011)
Who can ever forget about this romantic comedy set in Europe, where Gomez played two characters who are each other's identical doppelgangers. One of them is a British heiress, and the other is a young woman vacationing in Paris with her girlfriends, who gets mistaken for the heiress and spontaneously ends up in Monte Carlo. The cast was a dream come true with "Arrow"'s Katie Cassidy, "Gossip Girl"'s Leighton Meester, and "Glee"'s Cory Monteith alongside Gomez.

2. A Rainy Day in New York (2019)
Timothée Chalamet and Selena Gomez. This should be enough reason to see this movie, but oh well, I'll give some more details. Ignoring the director/writer of the movie, let's focus on the good things: the cast, the romantic New York setting, Gomez's amazing outfits, Chalamet's perfect portrayal of a sophisticated New York local, and a great ending. As the movie's name suggests, in this romantic gem, a young college couple (played by Chalamet and Elle Fanning) travels to New York City for the weekend and is met with bad weather, unexpected company, and a series of mishaps. 
3. The Princess Protection Program (2009)
Don't say you forgot about this Disney classic starring the iconic childhood best friends Demi Lovato and Selena! Lovato plays Princess Rosalinda, whose country gets invaded, and has to go into hiding by moving in with the General who saved her and his daughter Carter, played by Gomez. Rosalinda has to learn how to act like a normal teenager and Carter could care less about this princess who's living in her home. The heartfelt classic is fun and full of surprises!
4. Another Cinderella Story (2008)
Didn't we all pretend we were Selena Gomez at some point, doing the unforgettable dance routine from Another Cinderella Story in front of that see-through mirror on the wall, while Joey Parker (Drew Seeley) is dancing on the other side of the mirror? Anyone who's seen this modern take on the Cinderella story will know exactly what I mean! In this 2008 movie, Mary Santiago has to live with and work for her evil stepmother and stepsisters is also secretly a very talented dancer, and one day she gets the chance to dance with her idol, Joey Parker, at a masquerade ball. 
5. Ramona & Beezus (2010)
If you were looking for the perfect throwback movie for the weekend, Ramona & Beezus is here for you. A young(er) Joey King ("The Kissing Booth") plays Ramona Quimby, and Gomez plays her older sister, Beezus Quimby. After their father loses his job, Ramona and Beezus go through big changes at home. In the meantime, with the hopes of saving their childhood home, the very adventurous Ramona uses her big imagination and ends up in all kinds of mischief.