Selena Gomez's 5 Best Fashion Moments From The First 3 Episodes Of Hulu's "Only Murders in the Building"!
09-04-2021 by Derin Yilmaz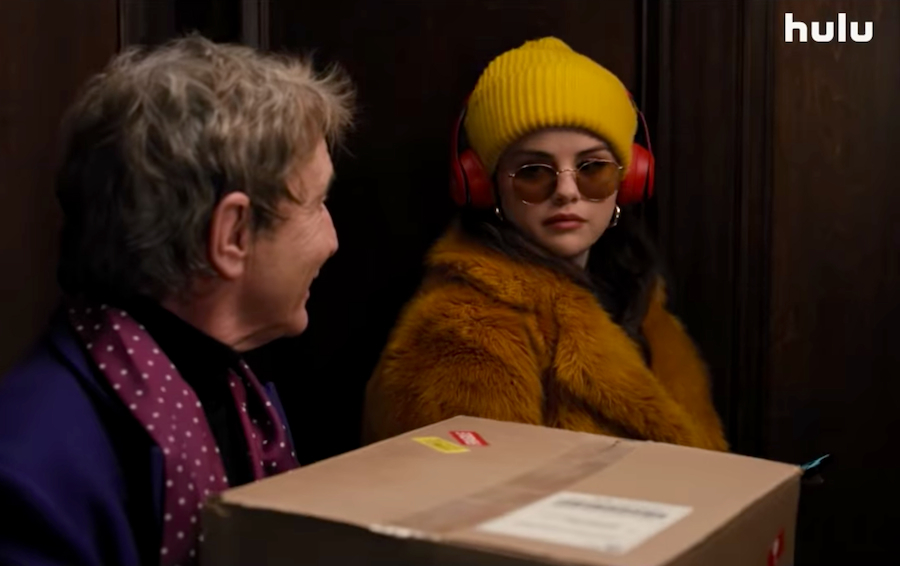 (Hulu)
This past Tuesday, "Only Murders in the Building" finally premiered on Hulu, and as much as we're completely hooked on the murder mystery, we can't keep our eyes off of Selena Gomez's on-point New Yorker fashion in each scene! She even looked amazing while looking guilty!
Selena's character Mabel has some big secrets, the coolest attitude, and the best closet in the series. From her colorful sweaters, sunglasses, trendy coats, and plaid pants, here are 5 of Mabel's best outfits from the first 3 episodes of Hulu's "Only Murders in the Building"!
1. The NYC Fall Look
The first time we meet Mabel, she wears a yellow sweater topped with a darker yellow furry coat, plaid pants, red Beats, a yellow beanie, and sunglasses. She grabs all the attention in the New York streets and definitely makes a trendy fashion statement in the Arconia elevator!
2. Late Night Fashion at the Arconia
Selena Gomez is the master of stylish cozy outfits. Her "just got out of bed to solve a crime" look with a natural bun, silk black top, and grey cardigan is our new favorite nighttime look!
3. '90s NYC Inspo
The red sweater tucked in blue jeans with a black belt… Monica Geller from "Friends" Alert! Mabel completes the look with the gold hoops and proves that, if you're Selena Gomez, even the simplest outfit looks divine!
4. ''Sweater Weather''
We are obsessed with Mabel's sweaters, and this confetti sweater might be the standout. The colors and the vintage hand-made look makes it even more unique!
5. Cute AND Elegant While Solving Crimes
Who says you can't wear a taupe skirt and black tights while trying to find a murderer? Mabel is a natural-born detective, and she investigates with style! In this look, Selena looks feminine and classy. 
New episodes of "Only Murders in the Building" drop every Tuesday on Hulu!