Sabrina Carpenter, Jordan Fisher & Liza Koshy Show Off Their Dope Moves In Netflix's "Work It"!
07-22-2020 by Victoria Martinez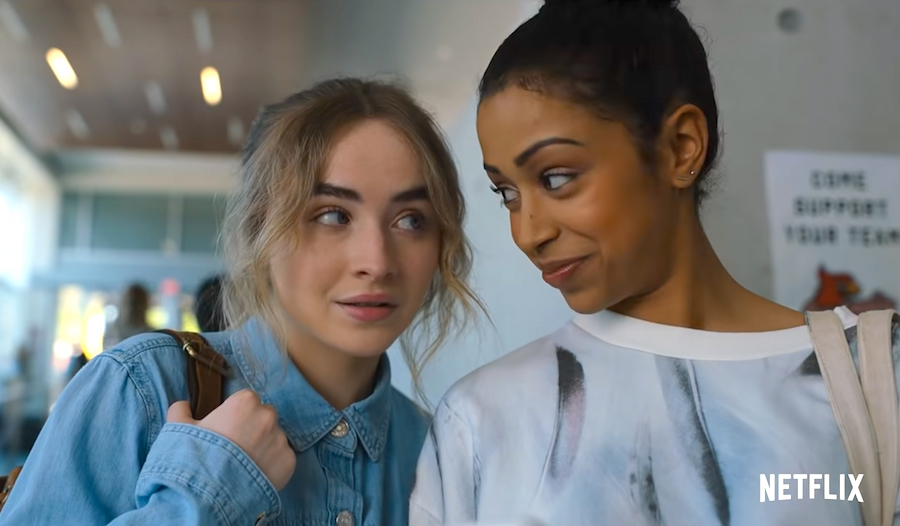 ( © Netflix)  
Your new dance obsession is on its way!
Netflix dropped the trailer for the upcoming teen movie, Work It, and the hype is REAL. Bringing back familiar faces from the current Netflix catalog, Jordan Fisher (To All the Boys: P.S. I Still Love You) and Sabrina Carpenter (Tall Girl) are among the star-studded cast.

The story follows Quinn (Sabrina Carpenter), an enthusiastic high schooler and huge Beyoncé fan, seeking to join her school's dance team in hopes of getting into her dream college. The only problem is… she doesn't know how dance. Therefore, she persuades Jas (Liza Koshy) to help her get onto the team. Her plan doesn't work out as intended, but Quinn isn't someone who gives up. With only five months of preparation, Quinn assembles a dance team of her own to compete with the school's OG team, The Thunderbirds. Practice makes perfect when they get a hold of the award-winning dance captain, Jake Taylor (Jordan Fisher). The team has to make it through other competitions in order to participate in the Work It dance competition. The dancing isn't the only thing they improve, but also the fashion. From wearing scrubs for their first competition, it's clear they find their sense of uniqueness in time for the final competition (let me just mention that they SERVED).
Work It seems to be Gen Z's take on the classic, Step Up. There's comedy, there's romance, and, most importantly, it will make you want to get up on your feet. Also, overheard in the trailer is Sabrina Carpenter singing a new track (bop incoming!). 
The film also stars Keiynan Lonsdale (Love, Simon),Drew Ray Tanner ("Riverdale"), andMichelle Buteau (Always Be My Maybe,Someone Great).
Will Quinn and her fresh dance team manage to win the competition? Guess we will wait and see! Work It will be available for streaming on August 7.