S Club 7 Will "Bring It All Back" for 2015 Reunion Tour!
Written by Amanda Baltazar. Published: November 19 2014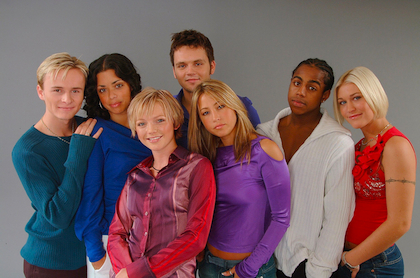 "Bring it all back now!"
11 years after they broke up, British pop group S Club 7came back together for a reunion performance for BBC's Children In Need 2014, where they proved once again that "there ain't no party like an S Club party!" Check out the performance below:
And this isn't just a one-shot reunion -- after the performance, they confirmed a 2015 tour! They went on to explain that they came together a couple years ago and brought up the idea of bringing the band back together, so this tour has been over two years in the making!
So its official, S Club 7 will be bringing it back in 2015!
But only in the U.K. I know, I'm sad as well. But I'm praying for sold-out arenas and an overwhelming amount of fans demanding some U.S. dates or even a U.S. tour!
So if you're in U.K., get your tix here and fill up those seats!
Now, for those of you who don't remember, or for the young'uns who have never heard of S club 7, they are an English pop group created bySimon Fuller, the former Spice Girls manager, consisting of Jo O'Meara,Hannah Spearritt, Tina Barrett,Bradley McIntosh, John Lee,Rachel Stevens, and Paul Cattermole. Their sound and style ranged from '90s pop and dance to R&B and a few ballads here and there. One thing you could always count on was S Club 7 knowing how to turn up!
Oh, please bring me back to the '90s!
S Club was not just a musical group; they also had a children's television series and a movie! Yes, I've seen every episode, and I am proud of it. It very much resembled a '90s version of today's "Big Time Rush" -- each episode featured comedic storylines about the band's shenanigans while also showcasing their music. It was also on the show where I heard two ballads that basically shaped the soundtrack of my tween life outside of N'sync,Backstreet Boys, and other popular boy bands of the time.
This song for when 11-year-old me was in love:
And this song for when my poor, little tween heart was broken:
But we can't leave S Club 7 on a sad note because that's just unacceptable! S Club 7 is all about being young and having a good time! After over 10 years of feeling like I'm the only one still singing their songs, I am so happy to hear about their tour!
So, appropriately, we can close on their hit song, "Bring It All Back"!
(Photo via WENN)
- Amanda Baltazar, YH Staff