Rowdy Rod Piper is Here to Chew Bubblegum and Kick Cthulhu's Butt (In a Short Film)!
Written by Kevin Donaldson. Published: December 08 2014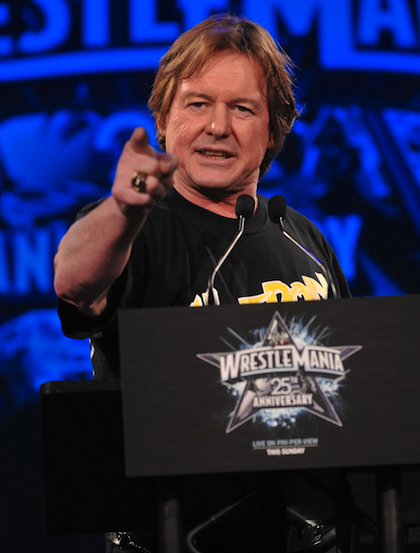 Have you been watching actor, wrestler, and all-around tough guy Rowdy Roddy Piper in John Carpenter's They Live and thought to yourself, "This would be even better if he went to hell and fought Cthulhu"? I'll settle this one for you right now and say, "Who wouldn't be thinking about this on a daily basis??"
For those who are unfamiliar, this is all you need to know:
Now that I've got your attention, let me tell you about a great new short film called "Portal to Hell" that could use a little extra help right now. Conceived by a couple of Canadians, Matt Watts (the writer) and Vivieno Caldinelli(the director), they even managed to get Rowdy Roddy Piper himself attached to the project. But wait! I haven't even told you what "Portal to Hell" is about. Here is Watts and Caldinelli's synopsis: (By the way, they haven't specified that the main character is a janitor. There you go, he's a janitor.)
"Jack (Rowdy) is a simple man with simple needs. Mostly he just needs to be left alone to read his book. It's a good book and he likes it, or at least he would if the tenants of the building he manages weren't so damn needy themselves. And it's not just blown fuses and clogged toilets here ... no, when the building power goes out the culprit is a pair of tenants opening a portal to hell in the basement. Does this count as building maintenance? Is battling the supernatural part of Jack's job description? Maybe not, but if Jack can't close the portal the entire building and – let's face it—the whole world is screwed."
"Portal to Hell" could use some help right now. They have an Indiegogo account, but they seem more concerned about getting the word out than the money. They may already have the necessary funding, but it's something I really don't know. No matter what this looks like, it could be awesome. Cthulhu has been the bane of my existence quite a few times during extensive games of Eldritch Horror (a board game… I'm a dweeb). To see tough guy-turned-janitor Rowdy Roddy Piper take him out would end SOME of my frustration. Screw you,Cthulhu!
For more information check out their video below and visit their Indiegogo page!
(Photo via WENN)
- Kevin Donaldson, YH Staff