Rising Star Stephen Sanchez Releases Revolutionary Visual Album!
Written by Skylar Zachian. Published: November 03 2023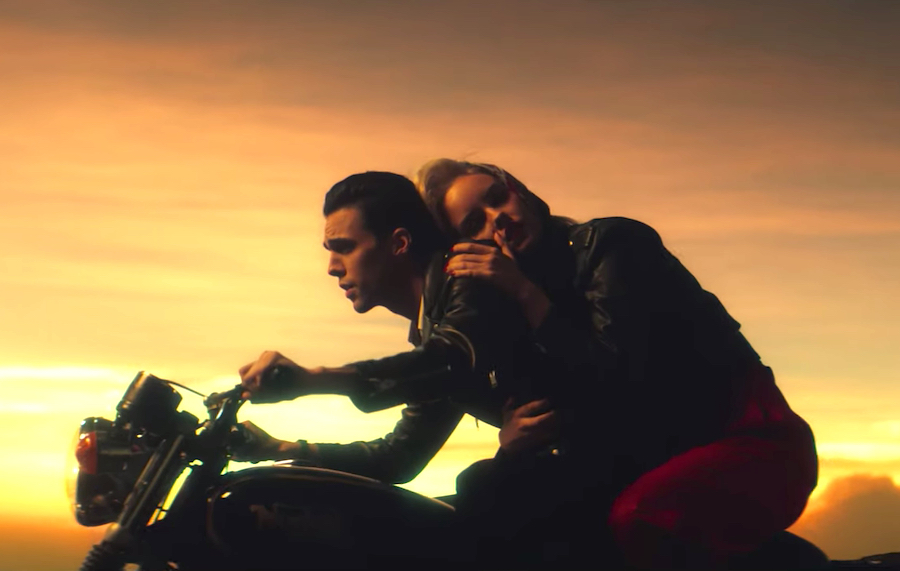 (Photo: Stephen Sanchez/Lenovo/Intel Evo/YouTube)
With over 2 billion streams, high praise from Sir Elton John, and appearances on various late night shows, Stephen Sanchez has quickly become an artist to watch. Chances are you'll recognize his song "Until I Found You", which went mega viral on TikTok — Stephen was even invited to sing it atSofia Richie's wedding!  
Stephen's new album, Angel Face, came out on September 22. With this release, not only did Stephen give us a range of delicate yet passionate songs to obsess over, but he also worked with Universal Music Group for Brands, Lenovo + Intel® Evo™, & Evolve Studios to create an incredible visual album experience. The 40-minute film showcases all 13 of the songs on his Angel Face album through a mixture of narrative storytelling and live performance. As if it couldn't get any cooler, this live visual album uses cutting-edge technology to immerse Stephen in a virtually created world! 
The premise of this project relies on an alter-ego that Stephen dreamed up while writing Angel Face. This character is none other than "Troubadour Sanchez", a singer in 1960s Hollywood whose love for a forbidden girl leads to his demise. The visual album is split into three acts: (1) Sanchez's rise to fame, (2) budding love, and (3) his ultimate destruction. 
The director of this visual album, Evolve Studio's Joel Edwards, explained to us the importance of combining traditional narrative acting and live music performance, saying that, "If we were to just do a live performance, it would be short-cutting the cinematic nature of this story. The story is incredibly cinematic." On the other hand, the live element is just as important, since "the way he performs is really emotional. The themes — whether it be love, wonderlust, melancholy, lament — all come through powerfully in the live recorded performance sessions. We put those tracks together in a very specific way to carry that emotional arc that, in a screenplay narrative, you would normally get through scripted scenes."
Check out some behind-the-scenes footage here:
This project was filmed in just 2 days, but many weeks of preparation went into creating a virtual world that would become Stephen's backdrop. Rather than filming on-site in Hollywood, the team wanted to leverage technology to create a fictitious, conceptual 1960s Los Angeles. To do this, Evolve partnered with Vū Network™, a network of LED Volume stages. This is the same LED technology used in movies and TV shows such as Disney+'s "The Mandalorian" and the upcoming "Percy Jackson" original series, as well as the now-infamous Las Vegas Sphere.
Edwards describes the technology as "a massive cave of small LEDs. You build and host the virtual environments on a computer server. Our lead VFX artist, Ryan Trommer, used Unreal Engine, which was originally a video game engine. Games likeFortnite use it to create their environments. We used it to build a real-time virtual 1960s Hollywood Strip landscape. Lights flicker. Leaves move. You can control the time of day and which way the light is hitting! It all gets presented and 3D-tracked on the LED wall. It's kinda like dropping your film camera into a video game!"
"Sunset Strip" — what the team calls this virtually created section of Hollywood with "beautiful neon signs and speakeasies and old motels and tattoo parlors" — is a great example of using this technology to turn big dreams into reality. But not everything on-set, other than Stephen himself,was virtual. In fact, "what really makes virtual production work well is bringing in practical elements.'' From classic cars and trash cans to park benches and extras walking in the background, props and people were very important in making this project come to life.
You're probably wondering what challenges the team faced while using such high-tech equipment and software. Apparently, the crew of Stephen's project had "multiple times where [they] were literally pushing the technology to the absolute maximum of what could be handled. There are a couple shots in the visual album where one of the neon signs that says 'King of Hearts Tattoo', the 'oo' is out. It's just shaking and everyone's like, 'Oh, the sign's out!' But that was one sign out of thousands of elements." Clearly, this technology proved itself more than capable of providing outstanding visuals.
Given just how unique this visual album is, it's no surprise that fans had a very positive reaction when watching it on live stream. When it was first streamed, the director notes that "the fans were just going bonkers. I've never seen anything like it! We were just sitting there looking at this thread of comments and realizing these fans are in love with this." Evolve Studios loved making the project just as much as fans loved watching it. They hope to work with more music artists and brands in the future to create similar hybrid film and music videos.
Ready to watch Angel Face: The Live Visual Album? Watch the full piece below!
Through its combination of storytelling and live performance and its use of cutting edge virtual technology, Angel Face: The Live Visual Album may just revolutionize how we consume music. It might be the first of its kind, but it shows no signs of being the last.