Race for Best Director Oscar Narrows Thanks to DGA Awards!
Written by Sarah Osman. Published: January 29 2014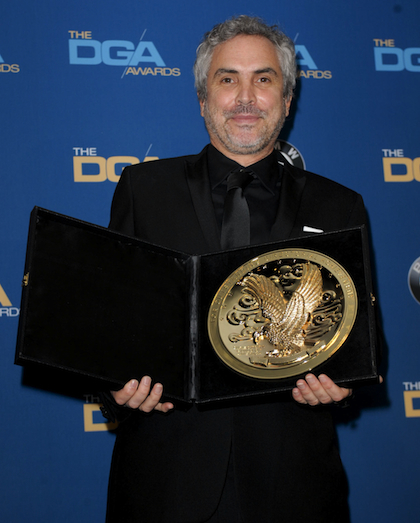 The Oscar race just keeps getting more interesting! This past weekend, the Directors Guild of America Awards were held in Los Angeles, and guess which little film, set amidst the horrors of space, took home the grand prize? Alfonso Cuaron was awarded the honor for Outstanding Directorial Achievement in Motion Pictures for his film, Gravity. Of the last 65 award ceremonies that the DGA has held, the winner of the prestigious Guild's top prize has gone on to win the Best Director Oscar on all but seven occasions, and that director's film has gone on to win the Best Picture Oscar on all but 13 occasions. With this in mind, we can safely predict that Cuaron will win the Oscar for Best Director as well as Gravity for Best Picture.
As we previously reported, Gravity and 12 Years a Slaveboth tied for Best Motion Picture at the Producers Guild Awards earlier this month. In addition, Cuaron has also won the Critics' Choice and Golden Globe Award for Best Director. As of this current moment, I'm putting my money on Cuaron to win the Best Director Oscar -- Gravity was a serious bit of innovative filmmaking that deserves to be recognized. I have yet to decide who could take home the coveted Best Picture Oscar though. 12 Years a Slave, a sweeping tragedy about the horrors of slavery, certainly has everything that Oscar voters look for -- strong writing, beautiful visuals, and heart-wrenching performances. On the other hand, though, Oscar voters may be more inclined towardsDavid O'Russell's American Hustle, a quirky comedy about con men (and women!) living in 1970s America. The Academy seemed to enjoy O'Russell's equally oddball filmSilver Linings Playbook last year, but not nearly enough to award it Best Picture. Now, we have the new wild card,Gravity, which has been picking up steam as of late. I personally would love it if a complete wild card won, such asHer. It'd be quite fun if the Academy really decides to mix it up!
All right, dear readers, it's time to place your bets: who will win the Best Director Oscar? Best Picture? Let us know!
(Photo via Apega/WENN)
- Sarah Osman, YH Staff