Q&A: Singer/Songwriter Dylan Gardner
Written by Alexis Holt. Published: May 08 2015
Dylan Gardner is just your average 18-year-old guy – well, except for the fact that he collects classic '60s rock albums, he just dropped his debut EP, AND he's going on tour this summer! With a sound reminiscent of Neon Trees andImagine Dragons, the "Too Afraid To Love You" singer is hitting the road soon with "The Walking Dead" starEmily Kinney!
I got the chance to chat with Dylan about recording his EP, Adventures In Real Time, and how he's prepared so far for the tour, which kicked off on May 1!
YH: How did you get your start in the music business?
DG: I started writing songs when I was about 14, and I would demo the tracks on my computer and show them to my friends and family, and they encouraged me to keep writing and recording. I would make EPs and show it to this person who introduced me to this person and so on. In 2013, I started creating what became Adventures in Real Time, my debut album. The record was co-produced bySubmarines member John Dragonetti, and the record was released on Spotify and iTunes independently. After a couple weeks, the lead single "Let's Get Started" generated over 2,000,000 plays! Since then, I've signed to Warner Brothers Records and they reissuedAdventures this past January!
YH: Can you tell us about the recording process behind your debut album, Adventures In Real Time?
DG: Ah, the most exciting part! I had demoed each song in my bedroom in San Tan Valley, AZ, and I'd give the Pro Tools session to [co-producer] John Dragonetti, where he then gave the sonic touch to it that it needed. From there, we'd email parts and overdubs back and forth to each other while we were in two different states. I'd be at home researching some of the recording process of my favorite groups, from The Beatles to Animal Collective, and I'd take whatever object in the house I could get noise from and try to get an awesome texture or sound effect from it. John and I just had a blast recording the record; recording was the best part of the whole process!
YH: How are you preparing for tour with Emily Kinney this summer? What can your fans expect from this tour?
DG: I'm preparing by playing as many shows as I can beforehand to be super in shape and 1,000% to give great shows every night! I just got off a tour a month ago, so I'm still kind of in the tour mentality, which is eat, play, sleep, repeat. I know it's going to be a killer time! My fans can expect a super fun and energetic sing-along concert experience, and I meet everyone I can after every show! 
YH: What's the story behind your album title, Adventures In Real Time?
DG: I wanted a title for my first record to jump out of the box, not some title that is just a placeholder. I also wanted a title that went along with the vibe that the record had, so after an hour into a brainstorming session, "Adventures in Real Time" perfectly rolled off the tongue and set the record into orbit!
YH: Who are some of your biggest musical inspirations?
DG: The Beatles are my blood type. Singer/songwriters like Sam Cooke, Ben Folds, Elliott Smith, Elvis Costello, Harry Nilsson, Ray Davies, Dan Wilson, and Nick Drake are also inspirations that make up my core songwriting spirit eagle.
YH: You collect classic '60s rock albums; would you say that your sound and style are influenced by this era of music? Any artists in particular?
DG: I would agree that there's an element of the '60s rock element in my music, because my music is who I am, and I listen to that stuff a lot! I know when it comes to recording, I try to apply modern techniques to sounds I hear from the '60s. I'm influenced by all the music I listen to from all genres. I tap into the '70s pretty heavily, especially around '77, and golden age hip-hop is a must for me. Some great '60s records off the top of my head includeLove's "Forever Changes",Tomorrow's "Tomorrow", The Pretty Things's "S.F. Sorrow", The Zombies's "Odessey and Oracle"… Don't even get me started!
YH: Can you tell us a little bit about your creative process? What comes first when writing, the music or the lyrics?
DG: The music always comes first with me. I'm a melody guy! A vivid melody will plop into my head from the sky out of nowhere, whether I'm at a restaurant or a movie theater, etc. I record the idea down on my iPhone's voice memo app and take it straight to the piano or Wurlitzer at my house. I work out the melody, then the instrumentation in my head, followed by the lyrics. After the three parts come together, I decide whether it's good enough to demo.
YH: How do you prepare for a concert? Do you have any sort of pre-show ritual?
DG: That's a great question to ask because I always wondered what people I admired do backstage (although I'm sure I don't want to know). I eat two hours before the show, warm up one hour before, then sit down and watch Elvis Costello's "Pump It Up" music video to get my feet moving and my heart racing. Before walking up on stage, [band mates] Mark, Nick, and I join hands on 3, chanting whatever phrase that pops into our heads, and we walk on stage to give it our all!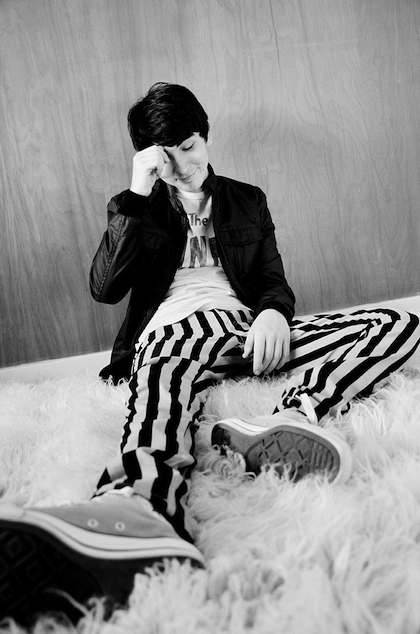 It's not too late to catch Dylan on tour this summer – you can get your ticketshere! You can also stay current with everything Dylan's up to by following him on Twitter, Instagram, and YouTube!
- Alexis Holt, YH Staff