Q&A: "Shameless" Star Madison Moellers
Written by Sarah Osman. Published: March 13 2013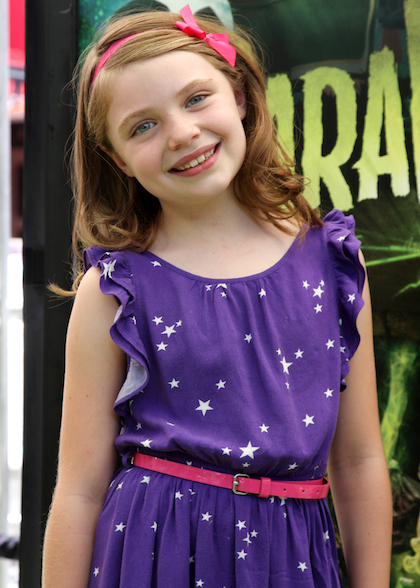 Up-and-coming actress Madison Moellers is originally from Estes Park, Colorado, and may be one of the sweetest people I have ever met. She has recently booked a brand new pilot, has appeared on the hit show "Shameless", and voiced a "kid" monster in the upcoming Pixar sequel, Monsters University. In addition to being an actress, Miss Moellers is also a budding journalist. On her video blog, Influential Women of Hollywood, Miss Moellers chats with some of Hollywood's most powerful and inspirational women. And if that wasn't enough to keep her busy, she also works with a number of charities.
As I chatted with Madison, I couldn't help but be instantly enchanted by her. Friendly and personable, she told me about her upcoming pilot, how her blog began, and what her baking specialties include!
YH: Tell us about your new pilot!
MM: It's called "Second Sights". I was really excited to book it. I am actually going to be flying out to New Orleans to shoot for it soon. It focuses on Tanner, who is played by Jason Lee (I play his daughter), and Tanner is the lead detective on his team, and he has an eye disorder that causes him to have really horrific nightmares. It's like "CSI" with a paranormal flair. 
YH: What is it like to work with the cast on "Shameless?" It seems like it would be a lot of fun!
MM: It was really, really fun. Mr. Bill Macy and MissEmmy Rossum and everyone was really nice. It was such an amazing experience to see such great actors at work. I really, really had a good time. We're all kind of like this big, goofy family. It's a lot of fun!
YH: What inspired you to begin your blog where you interview Influential Women of Hollywood, and who would you most like to interview?
MM: I was actually doing a school report on Laura Ziskin. When I was finished, I wanted Laura to see it. My mom called my agent to try to get a hold of her, and they told her that we would never be able to get a hold of Laura Ziskin. But my mom still looked up the number, and it turned out to be her assistant's number. So, I actually got to be on the phone with Miss Laura. When I was on the phone, I told her that I really wanted to interview her for my blog. I remember that my mom was in the background, asking "You have a blog?" [laughs] And then we did the interview, and that's how it started.  
I really, really want to interview Jodie Foster. I'm really close to getting that interview. I think that she is so inspiring, with acting, producing, and directing all under her belt. I really like outside-of-the-box roles, and I feel that she has done a lot of those. I really wish that I could interview her.
YH: You are actually from Colorado. Do you ski/snowboard?
MM: I am actually in Colorado right now. We go back and forth a lot. It's such an amazing experience to go from big city California to small town Estes Park where the mountains are everything. I recently learned how to ski a few months ago. I really, really love it! It's super fun.
YH: How was it working on Monsters University?
MM: It was really, really fun. You had seven kids in a room, and we were all huddled around the same microphone, and we're all supposed to be monster kids at school. We were in the background, having normal conversations, but as monsters. We would say something like, "What did you bring for lunch?", and someone else would say, "I got an eyeball sandwich."  
There's not too much to the movie itself. It's about Mike & Sully in college, and what monster college is like instead of monster work.
YH: You also work with a number of charities. Could you tell us a bit about that?
MM: One of them I work with is called Gavin's Groupies. It's for children who are blind. Gavin is six or seven, and he was born blind. There is an event where we have a dinner, but you eat dinner completely in the dark. We do mud runs, where you dig an entire road out and then fill it with mud. We all wear orange (it's the Gavin's group color) and we race in the mud. It's so fun! I also work Star Paws Rescue, which helps homeless dogs find homes every Sunday. I also work with Stand Up 2 Cancer, which I got into thanks to Miss Laura. I recently did a PSA with my school for it.
YH: You have mentioned that you enjoy baking. What is your favorite type of sweet to bake and what is your favorite sweet?
MM: I love to bake, but I'm not super good at it. [laughs] I bake cookies a lot. I guess I'm good at that. I'll invite my friends over and we'll bake tons of cookies and either ship them off to people or eat a few. Some of my specialties are macaroni and cheese on the stove and microwavable cookies. I can make French toast! One of my friends and I will wake up in the morning and it's actually really easy. You take toast and drench it in egg, and then you put it in the pan and flip it over. It's quite easy. My main specialty is microwavable cuisine [laughs]
"Second Sight" is currently in pre-production for CBS, and Monsters University hits theatres this summer. You can keep up with all things Madison on Twitter and her Official Website!
(Image via Nikki Nelson/WENN)
- Sarah Osman, YH Staff