Q&A: Michael Emerson
Written by Sarah Osman. Published: April 21 2016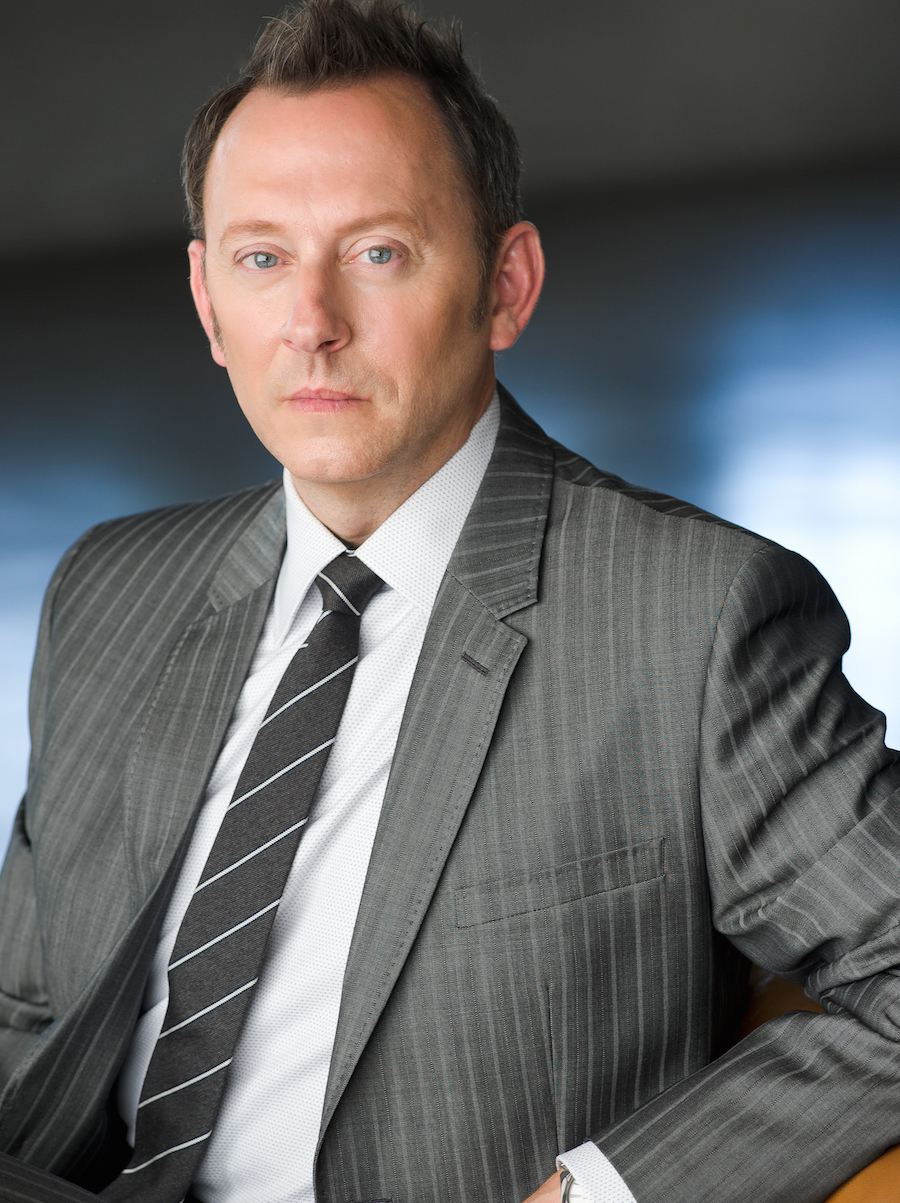 Emmy Award-winning actor Michael Emerson currently stars on CBS' "Person of Interest", in which he plays Finch, the mysterious tech billionaire who decides to team up with Reese (James Caviezel), an ex-CIA operative for a justice mission. Thanks to Finch's access to a secret government database of social security numbers of those involved in violent crimes, Finch and Reese are able to stop them before they happen. "Person Of Interest" will air its fifth and final season starting May 3rd.
Emerson is perhaps best-known for his breakout role as the dastardly Benjamin Linus on the hit series, "Lost". His portrayal of the twisted Linus won him an Emmy and he was named by Variety as "one of the the greatest villains in television history."
In actuality, Emerson is nothing like Benjamin Linus. Soft-spoken, highly intelligent, and incredibly friendly, he is the polar opposite of "Lost's" sneaky villain. During our chat, we discussed his favorite episode of "Person of Interest", what moving to New York from Iowa was like, and his strangest fan experience!
YH: Can you give us a sneak peek of what will happen on "Person of Interest" when Season 5 premieres on May 3rd?
ME: We'll pick up a heartbeat after the Season 4 finale with our team on the run with the machine having been compressed and possibly destructively into the chips that can in a single briefcase and the battery is dying; First order is to reconstitute the machine in some way. In the early part of the season, we'll have them on the run and trying to fix the machine. The season ultimately turns on an endgame. The writers will bring to an interesting and surprising resolution, but it's a satisfying one. I think they've done a very good job of wrapping the narrative of "Person of Interest". I think the fans will be happy to see it. I will be happy to see it! I was beginning to worry. I started to think "oh no, they're just going to put this on a shelf in the basement somewhere and never air it."
YH: Are there any great Root/Finch scenes this season?
ME: Oh my god, yes. The season is about Finch and Root. They are joined at the hip now, because together, they are the only hope of rebooting the machine. They have two different philosophies about the machine's function and whether it should be untethered or not. There will be a lot of tension between them, but also I think a growing acceptance of their relationship. Not just for the future of the world, but in their own hearts.
YH: Do you have a favorite episode from Season 5 (or a favorite episode from all the seasons)?
ME: Oh goodness. I have different categories of favorite episodes. A couple of them might be in Season 5. An episode that the world has seen and that is dear to my heart is (I think) in Season 2, where Mr. Finch goes undercover as a high school teacher. He finds a boy genius who a great programmer,but is bent on his own destruction. Mr. Finch talks him out of committing suicide in the subway. I really liked that episode. For me, as a theater actor, by training and by disposition, it had a couple of really beautiful speeches. There were a couple of speeches where [showrunner] Jonah Nolan thought "screw the rhythm of the episode, we have important points to make here," and he let me make them. I feel like I was given a great license and opportunity by the writers, and I hope I did not let them down.
YH: I take it that, since you are a theater actor, you are probably a fan of Shakespeare. Do you have a favorite Shakespeare play or character?
ME: Oh god, I have categories of favorites. The play I've done the most and know the best is Hamlet. I have a romantic soft spot in my heart for All's Well that Ends Well, because it gets done so little and because it's the most medieval of the plays. I think it has so much old magic in it and unanswered questions of character and humor. All of his plays have humor. Line for line, I would say the greatest play is Macbeth. It's pure poetic compression of language. It's unbelievable. We could talk all day about this!
YH: Since J.J. Abrams is now helming Star Wars, do you hope that he may one day include you in a future movie?
ME: That might be cool. I've worked for J.J. for 10 years now, but I very rarely see him. I think he doesn't have a lot of time to pay attention to his television empire. It's in good hands and it takes care of itself, so I think he's focused on the movies. It would be fun to have some interesting character turn in one of his films. I will have to find some subtle way to let him know I'm available, won't I? [laughs] It would be fun to play some alien, wouldn't it?
YH: What is the strangest "Lost" fan experience you have had?
ME: I had lots and lots of them in the days when the show was up and running. Which is not to say that  it's not still really popular. Half the people that stop me on the street are "Lost" viewers. Lots of young viewers are now just watching "Lost". They're streaming it from Netflix or Hulu. More so than the character on "Person of Interest", Benjamin Linus was a character that got under people's skin. They feel a little afraid and fascinated by you, and they just cannot stop themselves from coming up to you. They have to come up to you. They have a hard time believing that I, the actor that played that role, exists in the real world. I should take it as a compliment.
In the days when I was filming in Hawaii, one weekend, a couple from New Zealand crossed the street to tell me that they had stopped watching the show since I had come on. I had turned the whole thing to the dark side, and the show was no longer something they could watch. I ran into the same couple two days later and they came over and told me again! I had just pissed them off. Their whole vacation in Hawaii they had been talking about how I had ruined "Lost" for them. [laughs]
YH: You are actually from Toldeo, Iowa. What was it like to move to New York?
ME: It was certainly a shift. Especially coming to New York City in 1976. It was a much dirtier, rougher, and more dangerous town. It was overwhelming. But when I moved away from my hometown to go to college to go in Des Moines, I found Des Moines overwhelming. It was such a big city. I was ill with homesickness the first two or three weeks I was at college. I thought I might have to quit and go home. Des Moines was my transitional town. Des Moines does not prepare you for New York City. I came here with the idea of being an actor when I grew up, but I could not figure out how to make that happen. It was so hard to find an apartment and to get a job. I kind of let my dream slip away from me for a long time. I had another career before I came back to acting in my middle 30s.
YH: I was actually going to ask you about that. You actually worked as a magazine illustrator prior to becoming an actor. How did you transition into acting?
ME: It was a good job, it was creative, it was satisfying to see something you drew printed in a national publication. Somehow it was easier for me. I felt that less of me was at stake. If someone rejected my portfolio, I felt like they were just rejecting my pictures. But the rejection in an actor's situation feels more personal. Thank goodness I had enough twists and turns in my young adulthood that eventually I found myself in a situation where I could go back to being an actor. That worked out alright.
YH: During "Lost", you lived in Hawaii. Do you pick up any pidgin?
ME: Yeah, if you're an actor, you're also a mimic. And if you live around Hawaii for years and you hear it, you'll pick it up. I took part in some fundraisers where I had to pretend to be the volcano God. I picked up a little bit.
YH: What's next for you?           
ME: I don't have anything lined up. I'm in a period of idleness. It's kind of blissful. I'm not doing anything. For 10 years, I've been going at it on television. I'm glad to have the chance to recharge the batteries. Carrie [Preston], my wife, is real busy juggling a lot of projects, so I'm holding down the fort, walking the dog and taking care of home repair projects. It's very satisfying.
You can keep up with Michael Emerson on Twitter! 
(Photo via Anderson Group PR)
- Sarah Osman, YH Contributing Writer