Q&A: Actress Rachel Boston
Written by Felix Kay. Published: April 16 2013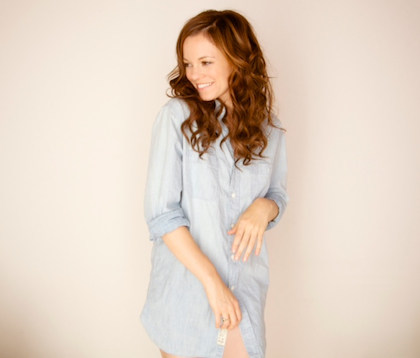 Rachel Boston is a kindred spirit. At age 17, she moved to New York from Tennessee to pursue a career in acting. After studying Shakespeare at Fordham University and The Actors Center, she went on to perform in theaters across New York and Pennsylvania for two years before taking the advice of one of her directors -- head west.
After just two months in Los Angeles, she landed a reoccurring role on the TV series "American Dreams", and from there she found work in numerous film and television projects.
Currently, Rachel stars opposite Julia Stiles,America Ferrara, and David Crossin the comedy feature It's a Disaster as Lexi Kivel, the whip-smart wildcard who happens to play the glockenspiel.
Along with her busy film schedule, Rachel most recently landed a starring role opposite Jenna Dewan-Tatum and Julia Ormond in the new Lifetime TV series, "Witches of East End", which goes into production later this summer.
YH had the pleasure of catching up with the wonderful actress. We talk about her new film, her upcoming series, and more.
YH: You recently starred in the new film It's a Disaster; tell us more about this project.
RB: It's a Disaster is a comedy about a group of friends and the end of the world! And while bombs and the impending apocalypse are very serious, eight different people processing their last day on earth while trapped in a house together is very funny. Secrets come out, fears burst to the surface, we laugh, we break down, and we all have to figure out how to spend our last day on Earth.
YH: Which aspect of the film got you really excited about being part of the cast?
RB: Living in a world where every person is exploring what it means to be alive and discovering how fragile and sacred life is. In the midst of tragedy, the walls we build up are broken down and matters of the heart become the most important. Todd Berger is an incredible writer and director and created a world of well-developed, funny characters and then locked us in a house together to face the biggest day of our life.
YH: Tell us about your character Lexi Kivel; how does she compare to past roles you have done?
RB: Lexi is wild. She is a wild dreamer and does not limit who she is or who she thinks she is supposed to be. She is not living in the same reality as everyone around her, which creates very awkward moments. She has also found a man who loves her and accepts her just as she is, so that gives her heart freedom. They are in a band together and she plays the glockenspiel, so this was my first glockenspiel-playing role.
YH: How was the dynamic on set? What was it like working alongside Julia Stiles and America Ferrera?
RB: The set was wonderful! I loved working Todd Berger and the entire cast and crew. We only had 14 days to shoot, so we dove right in. Julia Stiles and David Cross flew to Los Angeles from New York; we had a table read on Friday and started filming on Monday. Julia, America, Erinn and I had a girls' night over the weekend, and when we were filming, we didn't have trailers. The producers rented a house across the street so we were together all day. Last night, we were doing Q&As at a screening of It's a Disaster and came up with an idea for the sequel so we can all work together again.
YH: You landed a starring role opposite Jenna Dewan-Tatum and Julia Ormond in the new TV series, "Witches of East End"; tell us more about the show and the role you play.
RB: "Witches of East End" is a story about a family of witches living in the small town of Fair Haven. When my sister (played by Jenna Dewan-Tatum) and I are born, our mom (played by Julia Ormond) casts a spell on us so we don't actually know we are witches but we know we are different, and through a series of events, it is revealed that we have supernatural powers and have to step into them in order to help our community and fulfill our destiny. It's a wonderful family of women and we live in a very magical world. It's coming to Lifetime this fall, and I'm excited to get started filming!
YH: I'm sure being a working actress can be tiresome (in a good way). But when you do find the time to relax or enjoy your free time, what do you like to do on your time away from set?
RB: I love music! I also love road trips. I grew up on a mountain, so nature is good for my soul. I explore new towns, new places, and love meeting new people on different walks of life.
YH: If you could have a superpower, what would it be and why?
RB: To always trust my intuition. When I trust my heart, I find myself walking down the right path. And I would like to fly. Since I'm playing a good witch now, I will hopefully get to fly.
YH: Is there a director or actor you would like to work with that you haven't? Or is there someone that you have worked with that you would like to work with again?
RB: I loveClint Eastwood films. And I love how he works with the same cast and crew in so many of his projects. I would love to work with Sissy Spacek and Sigourney Weaver. And I'm thrilled to be working with Julia Ormond, Jenna Dewan-Tatum, and Madchen Amick in "Witches of East End". Very blessed to be surrounded by strong, truthful, authentic women.
Check out Rachel in a clip from It's a Disaster below and catch the full movie in theatres now! Keep up to date with Rachel on Twitter.
(Photo courtesy John Barr)
- Felix Kay, YH Staff