PLAYLIST PICKS: Keyser Soze
Written by Kate Ferguson. Published: November 21 2013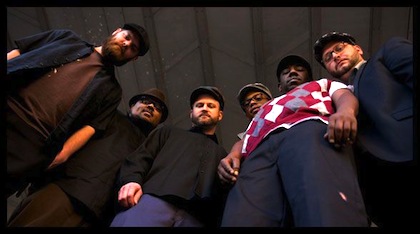 You could say that if a band rotates members but remains afloat for over fifteen years, there must be something good happening. You can't deny that there's passion, that's for sure. The group Keyser Soze was originally formed in Reno in 1998, and they have traded out and in some members over the years but still retain the original lead singers. Their journey and time spent on cultivating the band has allowed them to really create a unique sound that is very reggae-soul but infused with jazz. They do a lot of interesting things vocally by trading off between male and female singing.
The current six group members have been in place and solidified since 2009 and include: Jammal Tarkington, who does vocals and plays the saxophone; Rodney Teague, who does vocals and plays the trombone; Chris Williams on the trumpet; Ryan Hall on guitar and the electronics; Mike Mayhall on the bass; andJon Hall who plays the drums. And that name? That's a fictional character from the movie The Usual Suspects. A fictional character that is a legendary crime lord, both somewhat a mystery in identity and also somewhat a representation of all of the characters. 
The band just released a full-length album entitled The Remedy, which has a cohesive and recognizable sound that highlights the fact that they have been playing together for a very long time.  
Their song "Catch Your Breath", with clear jazzy vocals from Lauren Nagel over a classic reggae beat, follows the complexities of a relationship. Another one of the album's songs, "Next to Me", is lead with hearty deep vocals that feel emotional and expressive even in within a relative resting mode. The song is upbeat with a little more of an island flair to its reggae but with jazzy trumpets thrown in.
Keyser Soze has toured all over the world and will continue to tour in the U.S. within the coming year. Their last album in 2011 (But Not For You) got distribution in Germany, which opened their ska reggae sound up to the international markets, but this time around they got album distribution in North America as well as Europe.
Why wouldn't a longstanding group based on a powerful fictional character who changed the way characters could be portrayed in film be aiming towards world music domination?
Catch up with Keyser Soze on SoundCloud!
(Photo via James Moore)
Kate Ferguson is a Los Angeles local and freelance writer for a variety of blog genres. Look for article links (and the occasional joke) on her Twitter @KateFerg or check out her personal blog ThatsRandomKate.blogspot.com