Governors Awards Honors Martin, Jolie, & Lansbury
Written by Sarah Osman. Published: November 19 2013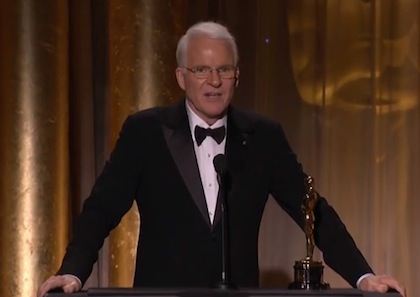 The stars came out to shine over the weekend for the annual Governors Awards, hosted by the Board of Governors for the Academy of Motion Pictures and Sciences. Angelina Jolie, Angela Lansbury, and Steve Martin each received an Honorary Oscar for their various contributions to the world of entertainment. Jolie accepted the Jean Hersholt Humanitarian Award for her work with the United Nations Refugee Agency. She began working with them in 2001 in Cambodia after she realized the devastation and hardship many refugees face every day. Lansbury was recognized for the sheer amount of roles she has played over the past 70 years, and for just how different each and every role has been. As for Martin, he was the recipient of the Oscar for a lifetime achievement in film. Martin has kept audiences laughing for nearly the last four decades and is well-known for his stand-up as well as films such as The Three Amigos, The Jerk, and Planes, Trains, and Automobiles.
A number of Hollywood's top talent came out to pay their respects, includingDiane Keaton, Judd Apatow,Amy Adams, Matthew McConaughey,Tom Hanks, and George Lucas, who was among the actors to speak about Jolie, who marveled at her ability to raise six kids, write, direct, and act in films... and keep Mr. Brad Pitt happy! He joked that, when he first met Jolie, the one thing he told her to do was have children. He had no idea that she would take him so seriously! (Perhaps a mini Pitt-Jolie will pop up in a Star Wars film in the future?)
America's treasure, Martin Short, gave a sweet speech to his long-time buddy Steve Martin, in which he had great fun teasing him. Short, who is known for his own great work in the the comedy world (as well as Martin's co-star inThree Amigos), commented that "Two things are timeless… the artistry of Steve Martin and community college." Ironically, his speech made Martin both laugh and cry -- the true mark of a thespian!
Check out Martin's touching (and hilarious) speech below!
(Screenshot via YouTube)
- Sarah Osman, YH Staff