Our Fave Fashion Looks From "Grown-ish"!
08-17-2022 by Jazlen Patrick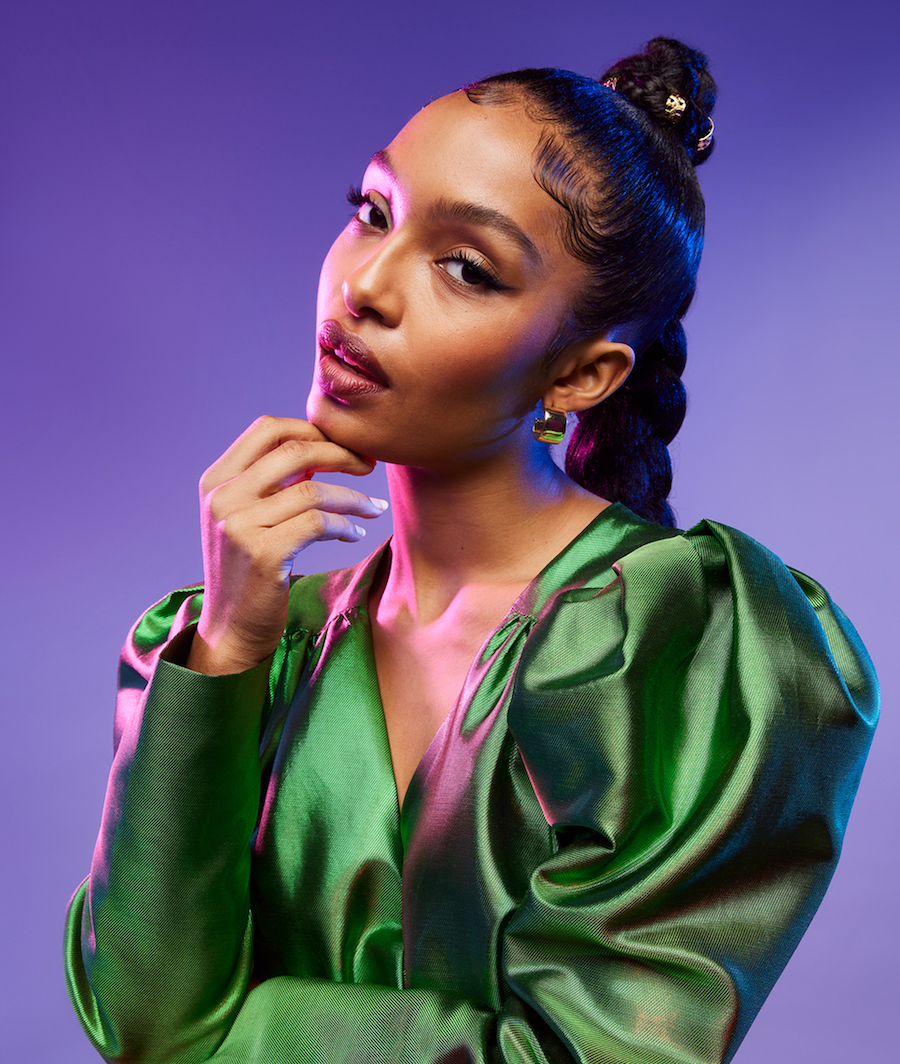 ( © Jabari Jacobs/Freeform via Getty Images)  
Freeform's "Grown-ish" is known for having its cast dressed in the latest and coolest fashion trends. If you've seen the show, you'll know that they NEVER miss a beat when it comes to putting a fit together. While we're still getting used to this new crop of characters in the current season, we won't soon forget the absolute serves from the OG cast, so let's take a look back on some of our favorite looks from previous seasons!
1. Did Somebody Say Pink and Green?
Pink and green are the colors of the Summer, and Zoey (Yara Shahidi) knows just how to pull it off! This look screams fashionista and is something that we all know Zoey is perfect for. This two-toned pink top is gorgeous. The light pink bows up against the darker pink sweater is the perfect pink piece (how many times did I just say pink?). The color blocking of the green is *chef's kiss*. I see why everyone loves this color combo. I mean, just look at them together! But this amazing look doesn't just stop at the outfit. The paisley printed heels paired with the pink socks seal the deal and is something we all know only Zoey can pull off!
2. Jazz Jazzin' It Up!
We're mostly used to seeing Jazz (Chloe Bailey) in her athletic or cutesy-casual fits, but seeing her in this look truly blew us away. I mean, seriously, we love everything about this outfit! From the super cute blouse to the platform heels, I don't even know where to start! This white blouse bodysuit is truly the star of the show. Yes, that's a bodysuit! But what really makes this look is the accessories! The matching earring and necklace set add the perfect pop of color to "jazz" up this outfit, pun intended! And her hairstyle with this look is super creative and cute -- the bangs really set it off. We love this girly look from Jazz.
3. Simple, Cute, and Comfy!
Knowing Sky (Halle Bailey), this is the perfect look for her! It's all about being cute and casual. This simple light blue dress is super stylish on top of being super comfy! I love that Sky wears sneakers with this, because it makes the outfit appear more casual even though she is wearing a dress. I'm all about cuteness and comfort. And hey, athletes can get cute too! And Sky certainly makes that known here with this look. But what's the best part about this look? How easily it can be recreated and made your own! The best television show looks are the ones we can relate to and get inspiration from, and with this look, you can do just that.
4. Majestic In Mexico
Ana (Francia Raisa) showed up and showed out when she went to Mexico during Season 4! This outfit gives off all of the Summer vibes. Ana always gives us elegant and girly outfits, but this look is definitely one of our favorites from her. This bright, floral two–piece set is the perfect look for a vacation getaway! The slick-back ponytail and the minimal jewelry paired with this look allows for the outfit to take over as the star of the show! This look captures a beautiful Latin flair, and Ana is the perfect person to pull this off. Bright red lips complete this look and bring it all together. Ana makes this ensemble look simply flawless!
5. Less Is More!
Last but not least, we can't forget about the guys! Though all of the guys have their share of super dope fits on the show, this one that Aaron (Trevor Jackson) wore is one of our favorites! This look is both casual and fly. We love this furry cardigan on Aaron. The orange and blue paired perfectly with his orange and blue Jordan's. And for all the sneakerheads out there, these Jordan 3s have definitely been worn right. A simple look can be just as nice as a more intricate one, and Aaron proves that here! Putting the right pieces together is all you need. We see you, Aaron!
Catch new episodes of "Grown-ish" every Wednesday night on Freeform. We can't wait to see what fashion looks they bring with this new cast!