Our 4 Favorite Recipes By TikTok's The Pasta Queen!
Written by Derin Yılmaz. Published: August 03 2021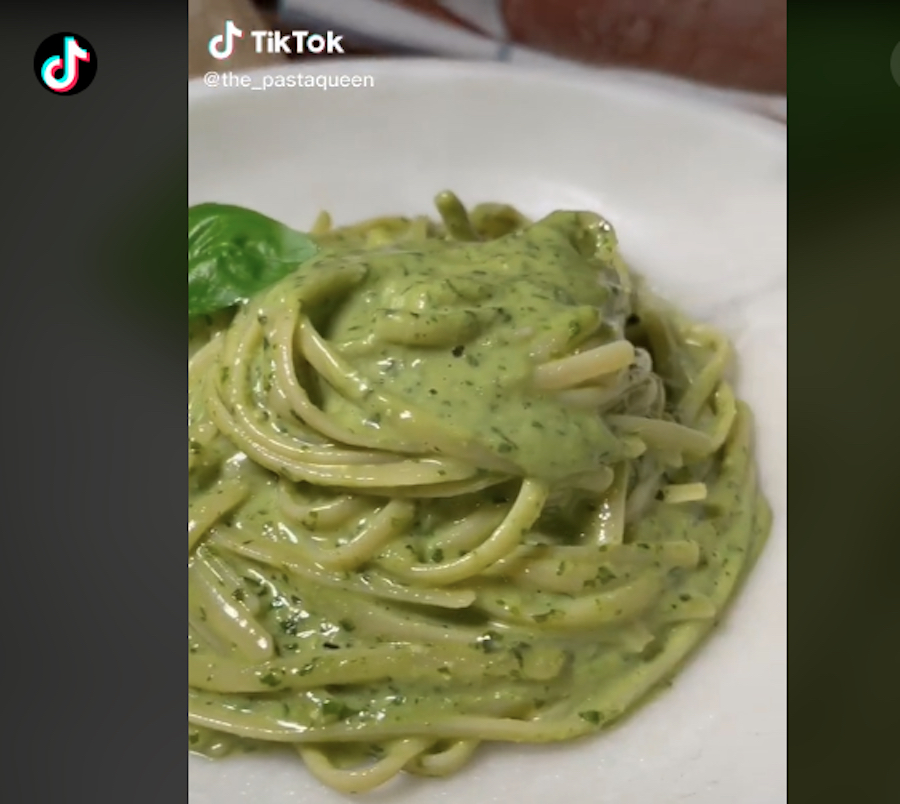 (Nadia Caterina Munno/@the_pastaqueen/TikTok)
If you haven't heard of The Pasta Queen (@the_pastaqueen, 1.9M) on Tiktok or haven't come across any of her recipes on your For You Page, especially during quarantine, you are on the wrong side of TikTok! Anything by the Pasta Queen, also known as Nadia Caterina Munno, is guaranteed to be "just gorgeous". She has the best personality, the most uplifting attitude (as she constantly reminds you that you are gorgeous), and, honestly, the most delicious and authentic Italian recipes. 
Here are some of our favorite recipes from The Pasta Queen! (For all these recipes, don't forget to reserve some pasta water to add into your sauce!) 
1. Pesto Genovese 
The Pasta Queen dedicated this one as a love letter to Pixar's Luca, and trust me, this pasta will make you feel like you are in Italy. For this recipe, listen to the queen herself, and do not use a store-bought pesto -- making your own pesto will make all the difference!
Ingredients: Fresh basil / Extra Virgin Olive Oil / Garlic / Pine Nuts / lots of Parmigiano.
2. Creamy Lemon Spaghetti
Like the Pasta Queen always says, when life gives you lemons you should make it into Spaghetti -- duh! This creamy lemon sauce is delicious and so fresh. So, make sure that life gives you lemons so that you can turn them into this heavenly pasta! 
Ingredients: Butter / Garlic / Olive Oil / Lemon Zest / Lemon Juice / Heavy Cream 
3. The Devil's Kiss
Legend has it (according to The Pasta Queen), Lucifer and Lilith declared their love for each other over this pasta dish.
Ingredients: Pancetta / Olive Oil / Garlic / Tomato Paste/ Vodka / Chilli Pepper Paste ("use it without mercy") / Fire Roasted Tomatoes / Heavy Cream / Salt / Parmigiano

4. Ricotta & Tomato Pasta
The Pasta Queen's Classic Ricotta & Tomato Pasta is so easy to make and will leave you thinking, ''Why haven't I put ricotta in my tomato pasta before??" The ricotta creates a creamy texture and blends in perfectly with the tomato… This might be the perfect summer pasta dish!
Ingredients: Garlic / Grape Tomatoes / Olive Oil / Ricotta Cheese (only four ingredients!! + the pasta, obviously)

Buon appetito!