Our 10 Favorite Looks From The 76th Cannes Film Festival!
Written by Daria Hodies. Published: May 27 2023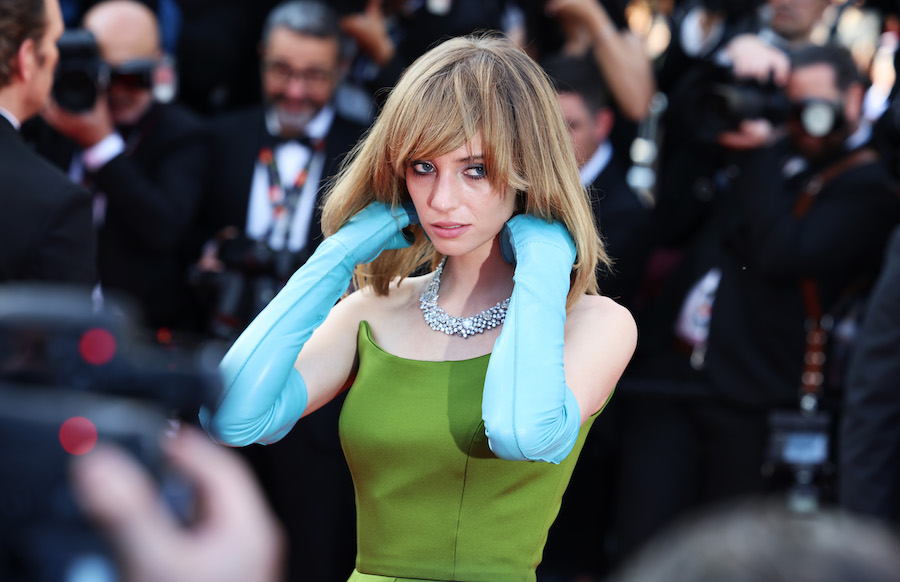 (Photo © Max Cisotti/Dave Benett/Getty Images)
Taking place in Cannes, France, every year, actors and actresses from all over the world come together to promote and premiere their films atThe Cannes Film Festival. As of 2023, the festival will be turning 76 years old. There are also awards given throughout the festival, with an official jury of film critics and fellow artists meeting together to decide who has earned which honor.
Alongside the amazing films being shown comes the glamorous red carpet. Each celebrity walking down this velvet path has the most alluring and captivating looks of the season. From bold glamour to old Hollywood and even some vintage Dior, we have all the details about your favorite looks from the 76th Annual Cannes Film Festival!
1. Jennifer Lawrence
The 32-year-old Oscar-winning actress stunned onlookers and photographers as a vision in a deep, rich red. Lawrence wore a Dior gown with a matching shawl and sparkling diamond necklace. She attended the film festival to support the premiere of Bread and Roses, a documentary she produced about the experiences women from Afghanistan had while under the rule of the Taliban.
2. Viola Davis
The EGOT-winning actress glided across the red carpet in a white gown and dramatic white-feathered coat, both made by Valentino Couture. Her smile was big and bright as she posed for photographers and chatted with reporters at the premiere for the 2023 filmMonster.
3. Rosie Huntington-Whitely
The 36-year-old model and owner of Rose Inc. gave off Old Hollywood vibes in a black strapless gown with sleeves that doubled as gloves. She also sported an array of diamond jewelry and a pair of black, sleek sunglasses that she took on and off throughout the photos. Photographers and onlookers adored Huntington-Whitely as she rocked her signature pout on the carpet for the Kering Women In Motion Awards.
4. Natalie Portman
The Oscar-winner came to Cannes to promote her new film, May December and did not disappoint on the fashion front. Portman wore a Dior gown that was inspired by a vintage dress originally designed for the Dior 1949-1950 Autumn/Winter collection. Portman dazzled cameras with her dress and oozed elegance as she smiled softly to the photographers.
5. Michelle Yeoh
The latest recipient of the Oscar for Best Actress wore a stunning bright green body-con dress and matching cape, designed by Balenciaga. She also added black gloves and a large black and white necklace to her look. Yeoh was the recipient of the 2023 Women In Motion Award, a huge honor and event held every year at the Cannes Film Festival.
6. Gigi Hadid
The blonde bombshell wore a custom Zac Posen nude fishtail gown and an array of diamond accessories that looked absolutely exquisite. Hadid's dress was inspired by a vintage gown that her sisterBella wore to Paris Fashion Week in 2018. We love to see sisters sharing clothes!
7. Elsa Hosk
If you think you're seeing double, don't be alarmed!  The supermodel's optical illusion dress, designed by Viktor and Rolf, turned heads on the red carpet for the premiere of the film Pot-Au-Feu. Hosk's gown features a deconstructed silhouette with a blush pink corset attached to another pale blue dress that looks like it's coming right off her body. From the sweetheart neckline to the bows and tulle, Hosk looked like a real-life Cinderella!
8. Scarlett Johansson
The award-winning actress arrived to the Asteroid City film premiere with a simple but romantic look, arm-in-arm with her husband Colin Jost. Johansson wore a baby pink custom Prada dress that featured a hint of a white brallette, topped off with a scarlet red lipstick, which is perfect for her if you ask us!
9. Karlie Kloss
The second-time mom to be glowed at the premiere for Indiana Jones and the Dial of Destiny. Kloss dressed up her growing baby bump with a gold, one-shouldered Dior dress that included a braided trim at the waist. Kloss also wore a thin gold headband with a netted veil draped over her face as she flashed cameras with one of her classic supermodel smirks.
10. Maya Hawke
The "Stranger Things" star wowed the red carpet with a retro yet glam look for the premiere of Asteroid City. Hawke wore a strapless green Prada gown that featured a full skirt, and also opted to wear blue gloves and white heeled patent-leather boots. Hawke's look was complete with a diamond necklace, which sparkled as she danced her way down the red carpet with co-star Rupert Friend.
We hope you loved these looks as much as we did, and cannot wait to see the films our favorite stars were here to promote! As the French say,au revoir!