Oscar Race Heats Up at The 2019 SAG Awards!
Written by Katie Marzullo. Published: January 28 2019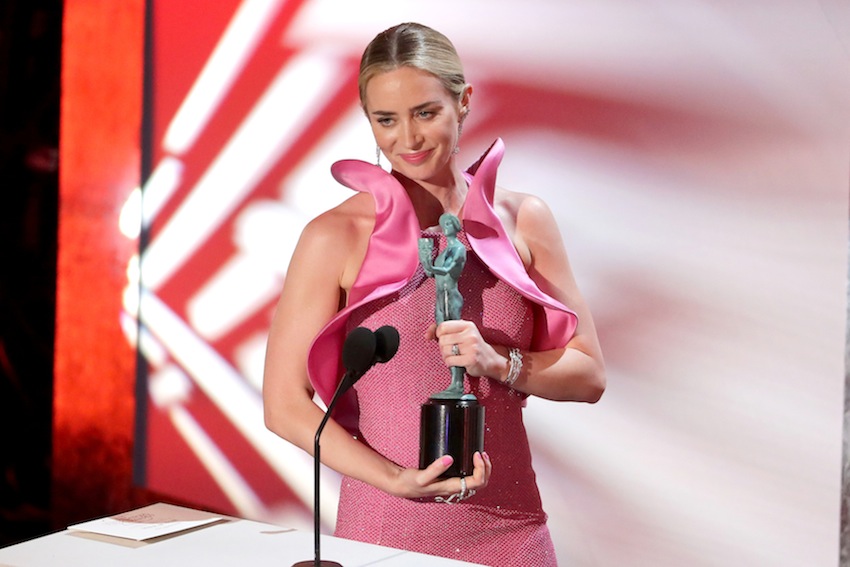 With theScreen Actors Guild Awards being the last stop before Oscar Central, we now have a much better picture of what we can expect when the Academy Awards come our way next month. A few surprises here and there, but for the most part, the SAGs seemed to have cemented the biggest Oscar contenders!
The Kingdom of Wakanda Reigns Supreme
Back in December when the nominees were first announced, I explained how Best Ensemble Cast categories should not be confused with a Best Picture-type category, since the former is judging the merits of the acting alone, and I implied that Black Panther had a shot at being a real contender for this one. Well, it seems my hunch was correct! Having come up empty at the Golden Globes, Black Panther went 2 for 2 last night, nabbing Best Motion Picture Stunt Ensemble and Best Motion Picture Emsemble, which is probably the best they can hope for this Awards Season. But that isn't anything to sniff at! Whether you think the movie itself deserves all these accolades, you cannot deny that that was one stellar ensemble cast, and if the film is going to win anything, this was the one to win!
A Star Is Dying
A heavy favorite going into Awards Season, the romantic drama A Star Is Born continues to draw multiple nominations only to go home empty-handed, and once more they were completely shut out at the SAGs, making their Oscar chances for anything other than Original Song rapidly fade…
A Blunt Surprise
Emily Blunt has been popping up at pretty much every award show this season, graciously accepting nominations for both her roles inA Quiet Place and Mary Poppins and perfecting her gracious smile when someone else takes home the prize. She was roundly snubbed at this year's Oscars, so the SAGs were her last chance to cash in on her Awards Season run – and thank goodness it paid off! Up against heavy-hitters like Rachel Weisz, Emma Stone, Amy Adams, and Margot Robbie, Blunt at last got her chance to make an acceptable speech for Best Supporting Actress for A Quiet Place. I was kinda hoping she would do it in sign language but I guess you can't win 'em all…
Sure Bets
There is always room for surprises at the Oscars (I'm still shook byHilary Swank beating Annette Bening for Best Actress back in 2000), but at least 3 out of the 4 major acting categories seem to be locked in:Glenn Close for Best Actress, Rami Malek for Best Actor, and Mahershala Alifor Best Supporing Actor. The only category that kind of has a question mark next to it is Best Supporting Actress. However – and taking nothing away from Emily Blunt – the absence ofRegina King on the SAG ballot opened the door for Ms. Blunt to come away the winner, but given King's victory at the Golden Globes (and Blunt's absence from the Oscar ballot), and with Rachel Weisz and Emma Stone likely splitting the votes, the odds are in King's favor.
Amy Adams Can't Catch a Break
PoorAmy Adams. She's considered one of the top-tier A-list actors in Hollywood but she has almost no hardware to show for it. She's been nominated for an individual SAG Award 5 times without any wins; she's also on her 6th Oscar nomination in 13 years (only one of those has been for a Lead role). She's had slightly better luck at the Golden Globes, making good on 2 of her 8 total nominations. What's this gal gotta do to get some Awards Season respect around here?!
TV Roundup
The television side of things ended their Awards Season run last night.Rachel Brosnahan and the cast of "The Marvelous Mrs. Maisel" cemented their authority as the best comedy on TV right now (and added the glorious Mr. Tony Shaloubto the mix as well). Sandra Oh received one last victory lap for her role in "Killing Eve". Netflix's "Ozark" finally got a win on their side when Jason Batemanwas selected as Best Lead Actor in a Drama Series. Patricia Arquette and Darren Criss continued (and ended) their respective winning streaks for their highly-praised roles in a Limited Series or TV Movie. And "GLOW" finally got some love by taking home the prize for Best Stunt Ensemble in a TV Series. On the other side of things, it looks like the shine on "The Handmaid's Tale" is starting to wear off – where once the Hulu series seemed pretty much unbeatable in its first season, the second season is a whole different story, barely making a dent in nominations and laying a big goose egg in terms of wins. How the mighty do fall…
So there you have it! Be sure to tune in on February 24 for the Academy Awards to see the apex of all this Awards Season excitement!
(Image via Richard Heathcote/Getty Images)
- Katie Marzullo, YH Staff Editor